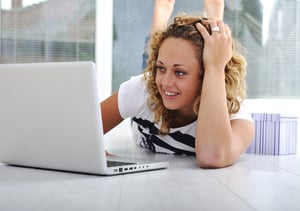 The COVID-19 pandemic has created new challenges and opportunities for the education technology industry, which has had to cope with an unprecedented volume of students needing online courses and distance learning.
The field of education technology has many different players, with a mission to facilitate student learning through online and computer-based training.
These companies serve different market segments including public and private schools, corporations, and government organizations. They provide products and solutions related to virtual classrooms, e-learning materials, learning management systems, computer-aided assessment systems, and much more.
Top EdTech Companies 2021
Education technology is a growing but highly fragmented market made up of both Fortune 500 companies and startups. The recent report Educational Technology and Solutions Market by Mind Commerce, a specialized market research firm focused on digital technologies, profiled the market leaders in this industry.
Here is a quick rundown of the top 14 companies based on research from the report.
Blackboard is headquartered in Washington, DC, and provides a variety of online platforms and tools including Blackboard Collaborate, Blackboard Connect, and Blackboard Learn.
Cisco Systems is based in San Jose, California, and offers the Cisco Digital Education Platform that connects learning spaces across schools and creates secure virtual classrooms.
Instructure is a public company headquartered in Salt Lake City, Utah, that provides a cloud-based learning management platform called Canvas.
Pearson is a British multinational conglomerate with a variety of education technology products including Learning Studio, OpenClass, and Acclaim Badges.
Samsung Electronics offers remote learning, collaborative, and communications solutions for the classroom as well as smart education products.
Dell Technologies provides smart education solutions to schools and offers products that are designed for the classroom including the Dell Chromebook 11.
Adobe Systems has entered the smart education and e-learning market with EdTech content authoring tools and new education solutions to support personalized learning.
Discovery Communications provides multimedia content, professional development, and digital textbooks. Discovery Education is active in more than 50 countries.
Echo360 is a private company based in Dulles, Virginia, and provides a video training platform used by more than 500 global institutions.
Fujitsu offers a broad range of technology solutions, services, and products that serve the education sector.
Jenzabar provides a learning management system and virtual campus solutions to more than 1,300 schools around the world.
IBM offers consulting services to K-12 and higher education institutions as well as education agencies.
Promethean World is an interactive learning technology organization that provides software used for presentations and meetings.
Ellucian provides software and processing solutions to help educational institutions transition to digital education.
Top EdTech Startups 2021
In addition to these 14 companies, Mind Commerce profiles top EdTech prospects with more than 50 million in funding, including Newsela, Dreambox Learning, Guild Education, Coursera, Chegg, and many others.
Where to Learn More
For more complete information, read the full 48-page report by Mind Commerce Educational Technology and Solutions Market. In addition to company profiles, the report provides background on the EdTech industry and describes different types of EdTech technologies and systems. It also provides a market forecast and assesses the impact of COVID-19.
Visit the report page on MarketResearch.com to learn more. The report is also available to subscribers on Profound.
---
About Mind Commerce
Mind Commerce is a trusted source for research and strategic analysis focused on digital technologies and the telecommunications industry. Mind Commerce reports are designed to provide decision makers with technological insights to improve business intelligence. Mind Commerce reports provide key trends, projections, and in-depth analysis for infrastructure, platforms, devices, applications, services, emerging business models and opportunities.