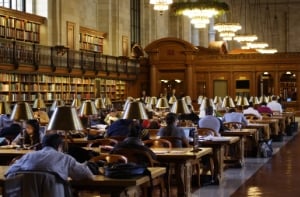 Market research serves as a helpful tool and an integral part of education in academic institutions. Whether at a large public university or a small private college, all institutions of higher education use research products in a variety of ways. To understand how your institution can best utilize market research, you should analyze who will require access and how they will be using market research, as well as consider the benefits of using a syndicated market research solution. In this blog post, we'll share some of our insights into the benefits and best uses of market research by colleges and universities.
Numerous Offices and Departments within Academic Institutions Need Market Research
There is an essential need for market research within numerous areas of higher education. It's not a question of if you need a market research solution, but instead, which solution (or combination of solutions) fits your needs. So, how does market research fit into the functionality and needs of each institutional department?
The Library: College and university libraries can benefit greatly by providing students, faculty, and research departments with a database of diverse market research content. Students will have access to the same real-world business intelligence that professionals use on a daily basis, allowing them to produce higher-quality research projects. These students will be better prepared to enter the workforce, and hit the ground running, after gaining a realistic and accurate insight into the world of market research while in school. In addition, professors and faculty can take advantage of their institution's market research solution for their professional academic endeavors such as contributing to trade publications or scholarly journals and conducting research projects. Not to mention, it's a great teaching aid!
Business Schools: It is imperative that business students leave school with a real-world view of market research and how research is used in a corporate setting. Classes can now incorporate market research, and professors can design assignments to reflect some of the research-based professional problems that students will encounter in business. Through the use of market research, students will begin to develop critical research skills, analytical thinking, and strategic planning.
Office of Technology Transfer, Commercialization Center, and/or Small Business Development Center: Most colleges and universities have some form of research department that serves as an incubator, developing new products, patents, or next-generation business ideas. These departments are essentially performing the same functions as many entrepreneurs and businesses, and it is imperative that they have access to the same vital research. Not only will the research be critical in the success of their ventures, but it can also help secure funding for future projects.
Whether it's used by business professors to educate the next generation of researchers or by offices of technology transfer and commercialization centers to research and develop new products, academic institutions have a diverse need for current and comprehensive market research.
The Benefits of Investing in a Syndicated Market Research Solution
Rather than having your research departments, students, and faculty spend valuable time and money conducting a substantial amount of primary research that might turn out to be impractical and too difficult to perform, institutions can save through investing in a syndicated market research solution. Syndicated market research is typically cheaper, quicker and easier than conducting the study on your own. In addition, utilizing a variety of published reports allows you to gain a comprehensive view based on numerous perspectives. MarketResearch.com's academic solution offers content from seven different publishers so that universities can have a variety of perspectives and approaches to choose from on a range of industries. The ability to maintain a database of diverse content across numerous industries is also particularly beneficial for academic institutions. With research focusing on markets from health to business to science, comprehensive coverage allows your institution to address the needs of all departments.
On the other hand, the ability to tailor syndicated research to the needs of a single department or project without taking a huge budget hit can be immensely advantageous for your institution. With MarketResearch.com's Profound solution for academic, departments can purchase slices of reports, including individual tables, charts, graphs, chapters, or sections, for pro-rated prices rather than buying the full report. This way, departments can stretch their research budget while still obtaining the critical data they need. However, regardless of your specific needs and which type of solution will most effectively address them, investing in syndicated market research is definitely a beneficial decision when it comes to higher education.
MarketResearch.com offers multiple solutions for integrating business-critical research into the academic setting based on your institution's needs. Interested in learning more about how one of our market research solutions can help your academic institution maximize its research budget? Contact Lisa Raker at 1.301.461.8703 (+1.240.747.3039 International) or lraker@marketresearch.com.
To learn about some of the challenges students will face when entering the market research industry and how they can come out on top, download our free white paper!

Thanks for reading!
Editor's notes:
This post was co-written by Ashlan Bonnell, Managing Editor, and Sam Eichberg, Marketing Intern, for MarketResearch.com.