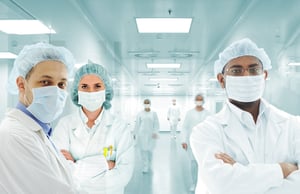 The novel coronavirus, SARS-CoV-2, also known as COVID-19, has now become a pandemic, leaving all healthcare institutions and government officials baffled, and researchers and scientists on high alert.
The virus has managed to claw at every corner of the Earth inhabited by humankind. With no effective cure at hand, several trials and studies are ongoing to find a "magic bullet" for the treatment of COVID-19. So far, more than 300 active clinical trials are registered in different clinical trial registries for the disease.
Some of the most promising drugs and therapies under investigation are as follows:
Remdesivir (GS-5734): Gilead Sciences
Remdesivir at the moment is looked upon as the most promising drug (by Johns Hopkins University) that can bring relief to millions of patients affected with COVID-19. Gilead has begun two Phase III clinical trials to study the drug in adults diagnosed with COVID-19. The first of the two-Phase III trials will evaluate safety and efficacy of both a 5-day and a 10-day dosing duration in severe patients; while, the second one will evaluate the safety and efficacy of the same dosing regimens with moderate manifestations of COVID-19, in addition of standard of care in both.
Remdesivir has already been granted U.S. Food and Drug Administration's (FDA) rapid review and investigational new drug (IND) designation. The drug was developed in the face of Ebola and is an antiviral medication – an adenosine analogue, which causes premature death of viral particles by inserting into RNA viral chains.
In addition to the two-Phase III trials, several other trials are testing remdesivir for COVID-19. Two studies by the China-Japan Friendship Hospital in Hubei province, one Phase II by the U.S. National Institute of Allergy and Infectious Diseases (NIAID), part of the National Institutes of Health, and another by INSERM in France are also underway testing remdesivir, which is provided by Gilead at no charge.
Name: Remdesivir
Company: Gilead Sciences
MoA: Adenosine nucleoside analogue
Status: Phase III
Repurposed Ebola virus drug
NCT04292899, NCT04292730
CD24Fc: OncoImmune, Inc.
CD24Fc is being tested in Phase III clinical trials for its safety and efficacy in hospitalized COVID-19 patients (SAC-COVID) in the U.S. by OncoImmune. The trials will study the ability of the drug candidate in diluting the inflammation caused due to virus-induced cellar injuries, ultimately providing relief in COVID-19 patients suffering from cytokine storm, immune dysfunction and pneumonia.
CD24Fc is the company's lead drug and a first-in-class recombinant fusion protein. The drug targets novel immune pathway checkpoint and has shown efficacy in animal models of GVHD, multiple sclerosis and rheumatoid arthritis. Moreover, CD24Fc has completed Phase II trials in patients with prophylactic treatment of graft-versus-host disease (GVHD) for leukemia undergoing hematopoietic stem cell transplantation. The company is hopeful that its drug will likely sharpen the saw by adding value to existing antiviral treatments chloroquine and Remdesivir.
Name: CD24Fc
Company: OncoImmune
MoA: DAMPs & Siglec G/10 Dual Inhibitor
Status: Phase III
In trials for several indications
NCT04317040
Actemra (tocilizumab): Roche
Actemra/RoActemra aka tocilizumab is undergoing a randomized, double-blind, placebo-controlled Phase III clinical by drug developer – Genentech, now acquired by Roche. The trials began on March 19, 2020, in the U.S. The trials are in effect by a collaboration of Roche with the Biomedical Advanced Research and Development Authority (BARDA), a part of the U.S. Health and Human Services Office of the Assistant Secretary for Preparedness and Response (ASPR).
At the moment, no robust evidence or study has shown the effectiveness of Actemra in the clinical treatment of COVID-19 pneumonia. However, the trial, COVACTA, proposes to evaluate the efficacy and safety of the drug in hospitalized COVID-19 patients with severe pneumonia. ACTEMRA is a humanized monoclonal antibody (mAb) and inhibits IL-6 signalling by binding to IL-6 receptors. The drug is indicated for moderately to severely active rheumatoid arthritis (RA), active polyarticular juvenile idiopathic arthritis, giant cell arteritis (GCA) and active systemic juvenile idiopathic arthritis.
Name: Actemra
Company: Roche
MoA: IL-6 inhibitor
Status: Phase III
Indicated for several forms of arthritis
NCT04335071, NCT04320615
Kevzara (sarilumab): Regeneron/Sanofi
Kevzara (sarilumab) is under Phase II/III trial jointly by companies Regeneron and Sanofi. The companies are conducting trials of the drug across the world to treat COVID-19 patients. At the moment, Sanofi is leading trials outside the U.S., namely in Italy, Spain, Germany, France, Japan, Canada and Russia, while Regeneron is leading U.S. trials. The ongoing trial is a part of the second global clinical trial assessing the medication as a treatment for COVID-19.
The companies began testing Kevzara after the administration of Roche's Actemra showed efficacy up to a certain extent in Chinese COVID-19 patients. Kevzara might be a potential drug to treat inflammatory responses in the lungs and organs due to COVID-19. The drug is an injectable IL-6 inhibitor therapy and is indicated to treat moderately to severely active rheumatoid Arthritis (RA) patients who have not responded to previous therapies.
In addition to this, Sanofi has also pledged to provide 100 million doses of Plaquenil (hydroxychloroquine) for the currently approved indications of the medicine, i.e., lupus and rheumatoid arthritis to 50 countries.
Name: Kevzra
Company: Regeneron/Sanofi
MoA: IL-6 inhibitor
Status: Phase II/III
Indicated for rheumatoid arthritis
NCT04315298, NCT04327388
DAS181 (Fludase): Ansun Biopharma
DAS181 is also under evaluation by Ansun Biopharma for the treatment of severe COVID-19 infection. The company has begun to enroll patients in a proof-of-concept study. The company plans to conduct the first stage in the U.S. with 22 patients and then proceeding to the second stage with 60 more patients in the U.S. and Europe.
DAS181 – the company's lead drug – is a recombinant sialidase protein and boasts of the potential to cure every strain of the virus that uses sialic acid as its infecting weapon. DAS181 works by eliminating the sialic acid sites on the epithelial cells of the human respiratory tract, thus, blocking the interaction of viral particles with the cells. The drug uses Aerogen Solo aerosol drug delivery technology and is delivered in the nebulized formulation. At the moment, the drug is in multicenter Phase III clinical trial for the treatment of hospitalized, immunocompromised patients with lower respiratory tract parainfluenza virus infections (STOP PIV), and in Phase IIb clinical trial in China for the treatment of severe hospitalized influenza infections (STOP FLU).
Name: DAS181
Company: Ansun Biopharma
MoA: Recombinant sialidase enzyme
Status: Phase II/III
In trials against viral infections
NCT04324489, NCT04354389, NCT04298060, NCT03808922
Tradipitant (VLY-686): Vanda Pharmaceuticals
Tradipitant is under Phase III double-blind placebo-controlled trial – ODYSSEY – by Vanda Pharmaceuticals for the treatment of neurogenic inflammation of the lung secondary to SARS-CoV-2 (COVID-19) infection. The trials are being jointly run by the company and with the research arm of Northwell Health.
Tradipitant targets the neurokinin-1 receptor, which is coded by the TACR1 gene and is the primary receptor for substance P, an 11 amino acid neuropeptide with a diverse set of functions. It has been shown that the substance P neurokinin-1 receptor system is involved in the neuroinflammatory processes. The compound was initially developed By Eli Lilly and was later on purchased by Vanda. The drug, at the moment, is under clinical evaluation for gastroparesis, motion sickness and atopic dermatitis.
Name: Tradipitant
Company: Vanda Pharmaceuticals
MoA: NK-1 receptor
Status: Phase III
In clinical trials for several indications
NCT04326426
IFX-1: InflaRx N.V.
IFX-1 – its company's lead product - is under randomized clinical trial investigation for the treatment of pneumonia associated with COVID-19. The company has presented promising results from the data of two patients suffering from COVID-19-induced severe pneumonia.
IFX-1 is a first-in-class monoclonal anti-human complement factor C5a antibody and is currently in clinical development for several indications. C5a is a key player in many acute and chronic inflammatory processes, thus an attractive pharmacological target. However, to effectively control the target a special technology – Anti- C5a technology – is leveraged by the company to manufacture IFX-1. The drug has shown promising outcomes in first clinical Phase IIa multicentre, placebo-controlled, dose-escalation study in patients suffering from early septic organ dysfunction. It is further under clinical trials for treating various inflammatory disease, cancers and other indications such as including Hidradenitis Suppurativa, ANCA-associated vasculitis and Pyoderma Gangraenosum.
Name: IFX-1
Company: InflaRx N.V.
MoA: C5a antibody
Status: Phase II/III
In trials for several indications including cancers, and Pyoderma Gangraenosum
NCT04333420
Uncertainty Remains for Now
In the atmosphere walloped by the pandemic, the fear of life-loss and economic imbalance looms over the world. To diminish both, governmental organizations, the healthcare and pharmaceutical sector, and international organizations are taking draconian measures; however, the negative impact is inevitable, although it can be minimized to a certain extent.
Taking into consideration the trials underway to come up with a potential cure to treat COVID-19, the results do seem quite promising; however, until the date the treatment enters the market, the situation might continue to worsen.
Where to Learn More
For more in-depth information on the companies developing therapies, vaccines, and diagnostic kits for the treatment of COVID-19, see COVID-19 (Novel Coronavirus 19) Therapeutic Pipeline, Vaccines, and Diagnostic Competitive Landscape, 2020, a 200-page market research report by DelveInsight.
For a more concise view, check out the 90-page report COVID-19 (Coronavirus) - Pipeline Insight, 2020, also by DelveInsight. A sample of this report is also available on MarketResearch.com along with purchasing options.
---
About the Publisher: DelveInsight is a market research firm focused exclusively on the life sciences. It provides cutting-edge market and pipeline information to help organizations make important business decisions and identify potential market opportunities.