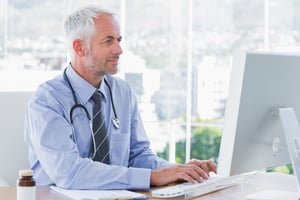 The COVID-19 pandemic has prompted the healthcare industry to expand its use of telemedicine — services that provide healthcare to people at a distance with the help of communication technology.
Governments have relaxed healthcare rules and regulations to help patients access virtual care during this time of crisis. As more patients and providers gain firsthand experience with this innovative delivery model, telemedicine will become more mainstream and gain wider acceptance, according to the new report Telemedicine Market Outlook and Forecasts 2020–2027 by Mind Commerce, a specialized market research firm focused on digital technologies and the telecommunications industry.
Mind Commerce expects telemedicine to continue its upward trajectory even after the pandemic ends. The global telemedicine market is projected to near $200 billion by 2025, with teleconsultation as one of the fastest growing solutions.
Top Telemedicine Companies
The field of telemedicine has become increasingly competitive as more solution providers enter the global market. Here is a quick summary of 33 players profiled by Mind Commerce in its recent report.
2nd.MD is a U.S.-based company that helps individuals and members to obtain second opinions from leading experts for every healthcare condition via telemedicine.
Advanced Bionics (acquired by Sonova Group) is a Switzerland-based company offering solutions for severe-to-profound hearing loss.
Aerotel Medical Systems is an Israel-based manufacturer of modular, mobile, and home-based telemedicine and telecare solutions.
Allscripts Healthcare Solutions is a U.S.-based company offering practice management and electronic health record technology along with virtual solutions to help healthcare providers fighting against COVID-19.
AMD Global Telemedicine is a U.S.-based company that operates in more than 100 countries — providing personalized telehealth solutions to connect patients with remote healthcare providers.
American Well (Armwell) is a U.S.-based company that provides telehealth solutions while connecting service providers, insurers, patients, and innovators.
Apollo Hospital is an India-based private healthcare service provider with a multi-specialty telemedicine network in the south Asian region serving both urban and rural communities.
BioTelemetry is a U.S.-based company providing mobile and wireless based medical technology solutions, including remote cardiac monitoring diagnostic services.
CISCO Systems is a U.S.-based multinational technology company with a wide array of products and services, including healthcare architecture strategy for telehealth.
CloudVisit is a U.S.-based software company that serves many different industries and provides telemedicine software.
Cochlear is an Australia-based company that produces a range of implantable hearing devices.
Doctor on Demand is a U.S.-based company that offers virtual visits with doctors and psychologists. The company offers solutions for urgent care, behavioral health, preventive health, and chronic care.
Encounter Telepsychiatry is a telehealth service provider that provides psychiatric, mental, and behavioral healthcare to residents of skilled nursing facilities and other long-term care communities.
Hoffmann-La Roche is a Switzerland-based multinational healthcare company providing pharmaceuticals and diagnostics products. The company also provides digital solutions including lab automation.
GE Healthcare is a U.S.-based multinational company providing medical technology and digital solutions including patient monitoring and virtual care.
GlobalMed is a U.S.-based company that offers advanced virtual care programs including fully integrated software and hardware solutions. The company offers services to more than 60 countries.
Haemonetics is a U.S.-based company providing blood and plasma supplies and services in more than 50 countries across Asia, Europe, and the Americas.
Honeywell is a U.S.-based multinational conglomerate. Its division Honeywell HomMed provides telehealth and remote patient care through its LifeStream manger solution.
IBM is an American multinational technology company that operates in many industry verticals, including healthcare. IBM has been involved in case studies to show the value of remote healthcare service delivery.
InTouch Health provides virtual care platforms and telehealth technology. The company was recently acquired by Teladoc Health.
Maestros is an India-based company providing telemedicine solutions including telemedicine software and patient monitoring systems.
McKesson Corporation is a U.S.-based company focused on pharmaceutical distribution, health information technology, medical supplies, and care management.
MED-EL Medical Electronics is an Austria-based company providing hearing loss solutions to more than 120 countries worldwide.
Medisoft Telemedicine is an India-based company engaged in medical research to improve healthcare delivery services with the help of telemedicine, ehealth, and healthcare IT.
MEDLIVE is a U.S.-based telemedicine company that provides consultations with physicians and licensed therapists through online video, phone, and mobile app.
Medtronic is a U.S.-based medical device company operating in 140 countries. The company provides solutions for remote patient monitoring and telehealth, including virtual care for patients related to COVID-19.
Nurotron Biotechnology is a U.S.-based medical device company providing neurostimulation systems.
Oticon is a Denmark-based company that operates in more than 30 countries and provides hearing aid solutions.
Philips Healthcare is a Netherland-based multinational company focused on health technology with a large portfolio of offerings including patient monitoring, imaging, diagnostic technologies, healthcare informatics, and more.
REACH Healthcare Foundation is a U.S.-based charitable organization aiming to improve health coverage and create affordable access for uninsured and medically underserved people.
SnapMD Telemedicine provides telemedicine tools and services to empower health systems to improve access and deliver more convenient care.
Teladoc Health is a U.S.-based company providing a comprehensive virtual care solution connecting a broad spectrum of services.
Telemedicine Inc. provides technology solutions to establish telemedicine platforms including hardware, software, and assessment services.
Where to Learn More About Telemedicine Companies
Need more in-depth information? Telemedicine Market Outlook and Forecasts 2020–2027 by Mind Commerce covers each of these companies in detail and evaluates the global telemedicine market including technologies, solutions, applications, and services.
The report explains the most important factors driving growth for the telemedicine market, provides a market analysis and forecast, and identifies the strategies, solutions, products, and services for major telemedicine vendors.
Visit the report page on MarketResearch.com to learn more. The report is also available to subscribers on Profound.
---
About Mind Commerce
Mind Commerce is a trusted source for research and strategic analysis focused on digital technologies and the telecommunications industry. Mind Commerce reports are designed to provide decision makers with technological insights to improve business intelligence. Mind Commerce reports provide key trends, projections, and in-depth analysis for infrastructure, platforms, devices, applications, services, emerging business models and opportunities.