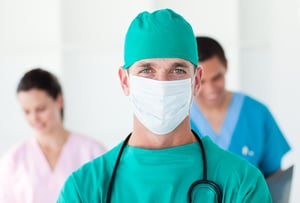 The global respiratory masks (N95 respirators, surgical masks, and others) market will grow from 14,600 million units in 2019 to 33,360.9 million units in 2023 at a compound annual growth rate (CAGR) of 22.9%, according the Respiratory Masks Global Market Opportunities And Strategies To 2030 report by The Business Research Company.
The market is expected to decline to 29,625.2 million units in 2025 as the demand stabilizes, and continue growing to 29,814.9 million units in 2030 at a CAGR of 0.1%.
The unprecedented outbreak of the coronavirus has caused a surge in demand for face masks including N95 respirators that are often used by medical professionals to help protect them from contracting the virus. Surgical masks are also in high demand — which in the case of this pandemic, are said to be most useful for patients with the infection to stop them from further spreading the virus in a clinical setting.
As the infection has spread globally, so too has the demand for the masks that help protect medical professionals and allow them to continue in their efforts to fight the virus. The masks are intended for single use; hence, as the COVID-19 pandemic continues, so does the pressure on demand for N95 respirators and surgical masks.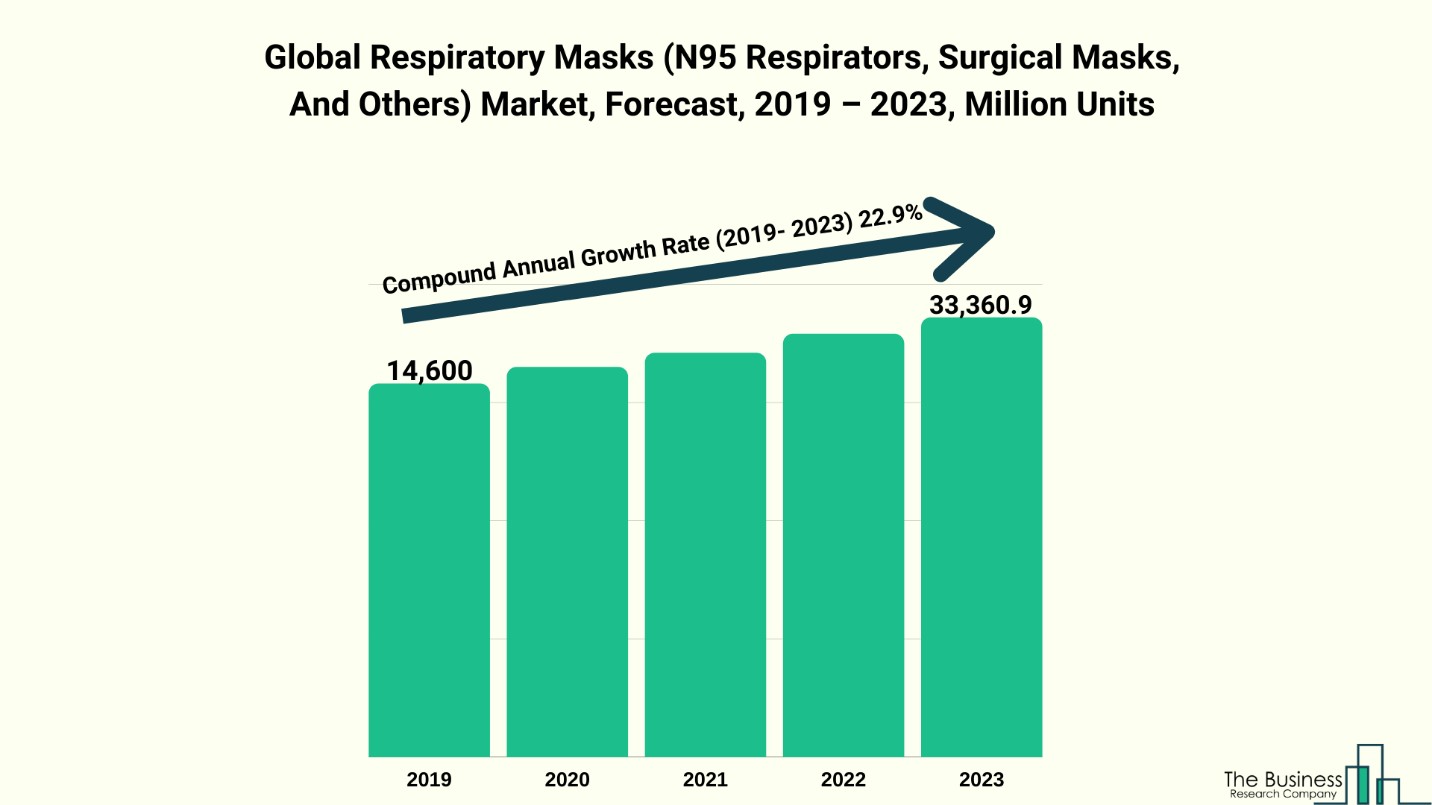 The Impact of COVID-19 on the Demand and Supply of Respiratory Masks
Countries that usually supply N95 respirators and other surgical masks, namely China and other Asian nations, have seen increased demand both domestically and internationally. The demand comes mainly from health systems in their battle against COVID-19, and their duty to equip staff with the appropriate PPE (personal protective equipment). However, there is a significant element of demand from the general public as they seek to protect themselves, and who believe that medical grade masks will offer them the best protection.
The growth in demand started in China alongside the start of the pandemic — despite being the biggest supplier in the market, China still struggled to keep up with even domestic demand at the peak of their epidemic. The surge in demand has led to an increase in price for all types of masks. In India for example, in January, the price for surgical masks ranged between INR 0.68 to INR 3 ($0.009 – $0.04) apiece, and by March had reached INR 6 to INR 18 ($0.08 – $0.24) apiece.
Of course, such a huge and sudden impact on demand has meant the supply has faltered. Global demand was outweighing standard capacity for production of masks. China is commonly the largest producer of face masks, with standard daily capacity of 20 million pieces. However, in February, domestic demand in China alone was estimated at around 50 to 60 million pieces per day.
Supply being concentrated in China has also presented issues for those countries reliant on Chinese imports. Owing to staffing shortages and lockdown regulations, many factories operated with reduced labor, meaning that despite the heavy demand, manufacturers were not able to work at full capacity: Chinese mask makers were only operating at 76% capacity in mid-February, according to Chinese officials.
In order to meet the shortfall, Chinese manufacturers usually engaged in other industries have switched their production to masks. Foxconn for example, is normally engaged in the production of Apple's iPhones, but has switched some of its capacity to producing masks. Despite this, there have still been countries scrambling to secure a sufficient supply of PPE for their healthcare professionals, and at many points the market has struggled to keep up.
Key Companies Producing Respiratory Masks
The respiratory masks (N95 respirators, surgical masks, and others) market is fragmented, with a large number of small players. The top ten competitors in the market made up to 35% of the total share in 2019. This is mainly due to the presence of a large number of local manufacturers who produce common surgical masks and dust masks. The top five players in the market include Honeywell International Inc., The 3M Company, Kimberly-Clark Corporation, Ansell Limited, and Owens & Minor, Inc.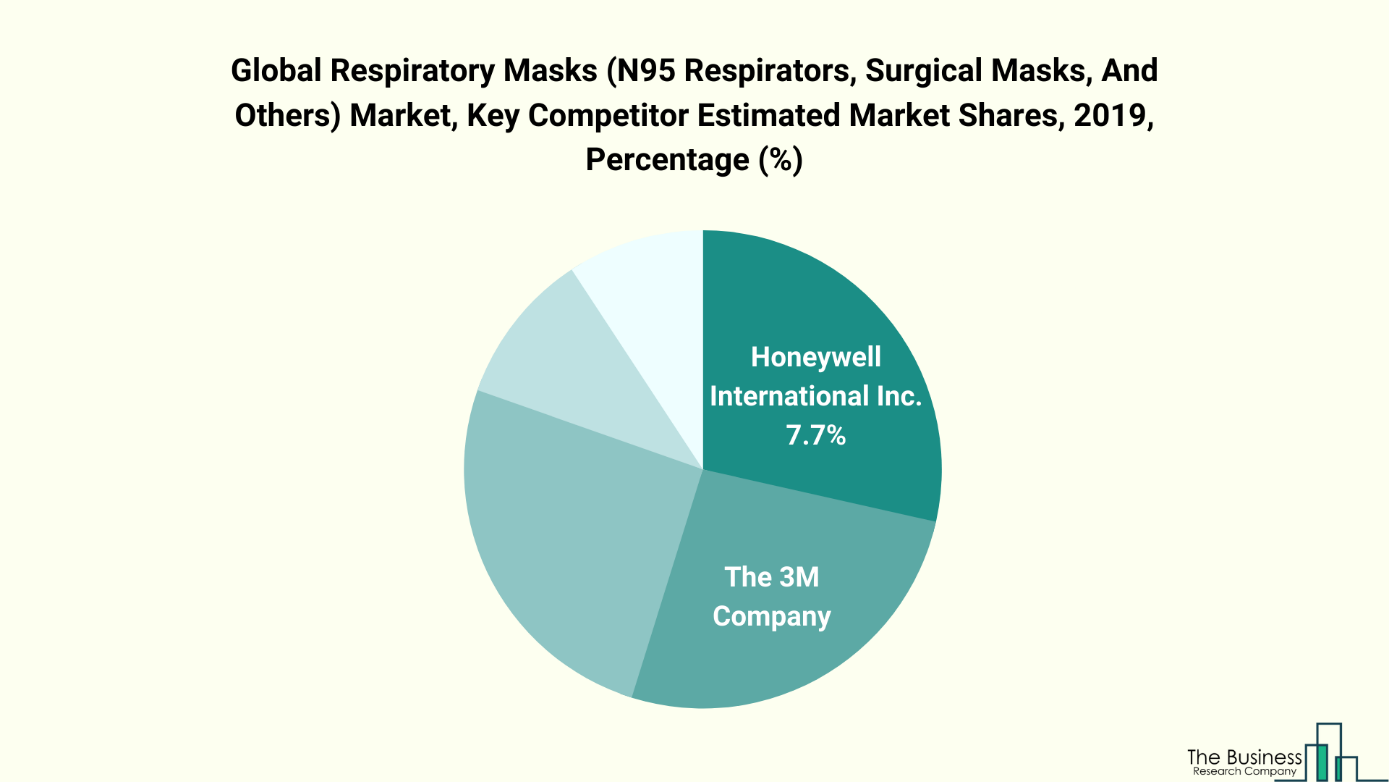 Market Research on Respiratory Masks
Read the report Respiratory Masks Global Market Opportunities And Strategies To 2030 by The Business Research Company for information on the following:
Markets Covered:
By Type: N95 Respirators; Common Grade Surgical Masks; Non-Medical Grade Masks
By End-User: Hospitals And Clinics; Individuals; Industrial; Others
By Distribution Channel: Hospital Pharmacies; Retail Pharmacies; Online Pharmacies

Companies Mentioned: Honeywell; The 3M Company; Kimberly-Clark Corporation; Ansell Limited; Owens & Minor, Inc.

Countries: China, Japan, India, Australia, South Korea, Indonesia, USA, Brazil, UK, Germany, France, Spain, Italy, Russia

Regions: Asia Pacific, Western Europe, Eastern Europe, North America, South America, Middle East, Africa

Time series: Five years historic and forecast.

Data: Ratios of market size and growth to related markets, GDP proportions, expenditure per capita

Data segmentations: Country and regional historic and forecast data, market share of competitors, market segments.
---
About The Business Research Company
The Business Research Company is a market research and intelligence firm that excels in company, market, and consumer research. It has research professionals at its offices in the U.K., India, and the U.S. as well as a network of trained researchers globally. It has specialist consultants in a wide range of industries including manufacturing, healthcare, financial services, and technology.