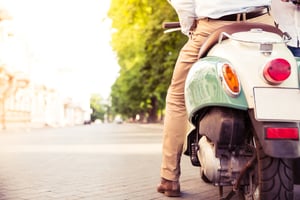 The global motorcycle market – which includes not only internal combustion engine (ICE) motorcycles but ICE and/or electric mopeds, scooters, and bikes – is expected to grow 4.4% per year through 2022, according to a white paper from The Freedonia Group. This marks an improvement over the anemic industry growth that characterized the period between 2012-2017.
In part, rising demand for motorcycles can be attributed to a stronger global economy and the increasing availability of more affordable models. Here are three important geographic markets that are expected to drive motorcycle sales going forward.
1. Asia
In 2017, Asia was responsible for 80% of worldwide motorcycle sales, which were generated not only in larger markets like China and India, but in smaller markets like Indonesia, Malaysia, Myanmar, Pakistan, the Philippines, South Korea, Taiwan, and Thailand.
In particular, motorcycle sales in Asia will be driven by:
strong economic growth and improving living standards
additional government investment in rural communities
overcrowding issues that render regional public transportation difficult to use
the inability of most households to afford conventional automobiles
The Freedonia Group also estimates that ICE mopeds, scooters, and other lighter duty products will remain the most widely used types of motorcycles in Asia – at least for the foreseeable future – because of their lower cost, wider availability, and convenience in densely populated urban centers.
2. North America
Though North America is a relatively mature motorcycle market, it is nonetheless expected to perform well through 2022. The industry will also showcase more product diversity than in years past, with consumers looking not only at new ICE motorcycles, but exploring more eco-friendly electric options as well.
New purchases will in part be inspired by improved economic confidence, as buyers who might have put off replacing outdated models in the post-recession years enter the market for newer vehicles. In particular, ICE motorcycle manufacturers like BMW Motorrad, Ducati, Harley-Davidson, and Piaggio should do especially well based on high brand name recognition and consumer affinity.
3. Western Europe
In Western Europe, ICE motorcycles will remain popular, though electric models – especially e-bikes – are expected to account for the lion's share of new product demand at 70%. Well-suited to both young and old riders, e-bikes are economical, compact, and often do not require a license for use. Competition in the e-bike industry is expected to intensify over time, spurring participation from:
motorcycle manufacturers like Yamaha
conventional bicycle manufacturers like Giant and Accell Group
automotive component suppliers like Bosch
Incentivization may also serve as a catalyst for growth in this sector, as private and public initiatives like Sweden's incredibly popular e-bike subsidy make it easier than ever to afford these products.
Want to Learn More About Motorcycle Industry Trends?
To learn more about the global motorcycle industry, be sure to download Growth Opportunities & Recommendations in the Global Motorcycle Market, a free white paper from The Freedonia Group.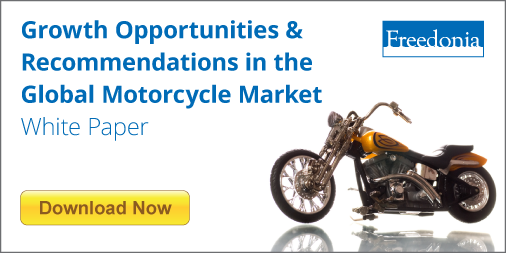 You May Also Like