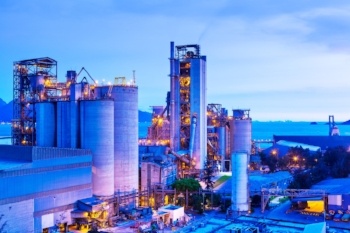 China offers many investment opportunities in the chemical sector. The country is expected to attract foreign investors in a variety of markets such as pesticides, rubbers and fibers, ethyl alcohol and plastic materials, according to the recently published Chemicals Market Global Report 2017 by The Business Research Company (TBRC).
The pesticide and other agricultural chemicals market will be the fastest growing market demonstrating an exponential growth of 15.4% over the next five years. Its value in 2016 was $33 billion. The main drivers of the market continue to be the agricultural industry, which feeds the world's largest nation, and the policy of China's government regarding planting and crop protection as well as environmental sustainability and consumer needs. China's pesticides exports amount to 50% of all pesticides sales.
The second most attractive market in China with growth of 10.2% is synthetic rubber and fibers. The market offers significant growth potential in the next five years. Driven by the steady development of automobile and tire industries, it is expected to reach $39 billion by 2020. Continued growth in the automotive industry resulted in an increase in tire manufacturing. Moreover, the rapidly expanding footwear market catering to China's population has led to a rise in the demand for synthetic rubber and fibers.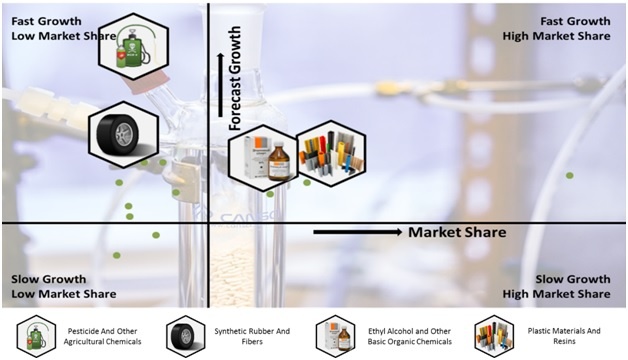 In 2016, China showed great potential in two more chemicals markets: plastic materials and resins, and ethyl alcohol and other basic organic chemicals markets. The markets were valued at $184 and $137 billion, projecting 10% and 9% growth rates, respectively.
China is the biggest manufacturer and exporter of plastics in the world. The increasing demand for plastics globally will continue driving the plastics market in China in the forecast period. The extended mandatory use of ethanol in China is the main driver of this market. China's ethanol demand is projected at 2.3 million tons and is projected to grow strongly if the 10% ethanol fuel content mandate currently applied in some provinces is extended nationally.
Chemical Industry Overview
The chemical industry is one of the largest manufacturing industries in the world; it encompasses a variety of chemical products, and processes raw materials such as air, water, natural gas, oil, metals and minerals.
While many of the products from the chemical industry, such as detergents, soaps and perfumes, are purchased directly by the consumer, 70% of chemicals manufactured are used by other industries, including other branches of the chemicals industry itself, to make products. Basic and specialty chemicals are used as raw materials in various industries; for example, chemicals are used to produce fertilizers and pesticides, which are then used as end products in agriculture.
Similarly, chemicals are used to produce synthetic dyes and fibers for the textile industry. Chemicals are also used to make plastics and rubber for the packaging and automobile industries, respectively.
Chemical Industry Trends
To stay one step ahead of competitors in the chemicals market, TBRC recommends that chemical companies start adopting green technologies. Evolution in technology and chemical sciences has enabled chemical companies to utilize alternative fuels to produce chemical products.
Some are using naturally available carbon dioxide to produce fuels, industrial products and other substances. For instance, Elevance Renewable Sciences, a specialty chemicals company, is using the green technology metathesis to produce highly concentrated detergents that reduce energy consumption significantly, thus minimizing the impact on the environment.
Where to Learn More
Read Chemicals Market Global Report 2017 from The Business Research Company for information on the following.
Markets covered: Petrochemicals, plastics materials and resin and general chemicals products
Companies mentioned: Sinopec, BASF, Dow Chemical, LyondellBasell, Bayer, Dupont, Saudi Basic Industries Corporation, Exxon Mobil, Ineos
Countries: China, India, Japan, UK, Germany, France, Italy, Spain, Russia, USA, Brazil
Regions: Asia, Western Europe, Eastern Europe, North America, South America, Middle East, Africa, Oceania
Time series: Five years historic and forecast
Data: Ratios of market size and growth to related markets, population, GDP, Expenditure Per Capita, Chemicals Indicators Comparison, Chemicals Enterprise and Employee Comparison, Energy Consumption in the Chemicals Industry, Chemicals Industry International Trade And Production
Data segmentations: Country and regional historic and forecast data, market share of competitors, market segments
Sourcing and Referencing: Data and analysis throughout the report is sourced using end notes.
Interested to know more? Here is a full scope of chemical industry reports to explore:
---
About the Author: Ramesh has five years of experience in market research and consulting. Prior to joining The Business Research Company, he worked with Kantar Operations, Hindustan Coca-Cola Beverages Pvt Ltd, and LeadCap Knowledge Solutions. During this time, he was involved in market research and consulting projects for Coca-Cola, McDonalds, EY, and Vodafone.
---
Additional Articles by The Business Research Company