Asia is one of the leading destinations for health tourism. Countries such as India, China, Malaysia, and Thailand are witnessing large numbers of medical tourists due to cheaper treatment costs and high-quality healthcare services. In 2016, Indians and Chinese spent around $68 and $431 per head respectively on medical treatment while Americans spent at least 19 times more. This is one of the key themes explored in The Business Research Company's recent Healthcare Market Global Report 2017.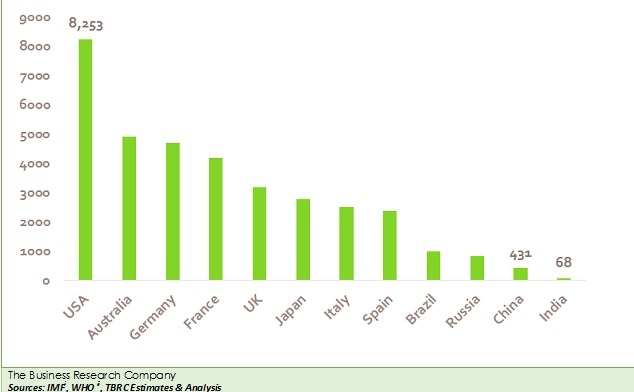 According to International Living, Malaysia was ranked the best in terms of global healthcare. The strong exchange rate between the Malaysian Ringgit and the US dollar, trained doctors, cheap air travel, and affordable healthcare costs, increased medical tourism by an average of 100% from 2012-2017.
Growing Investment Opportunities in Japan and India
There is a growing demand for healthcare services in Japan due to the aging population. One-fourth of Japan's population is over the age of 65 years old. It is forecast that the aging population will make up around 40% of the total population in Japan by 2060. Japan is the highest spender on inpatient care for individuals aged 65 or above. Despite having one of the best public healthcare systems in the world, there are still areas that need to be reformed. The Japanese healthcare sector presents great opportunities for investors in different areas of healthcare services such as hospitals and home care providers.
The underperformance of the public healthcare sector has opened opportunities for private healthcare providers in many countries in this region. Most of the economies in South East Asia have highly underdeveloped public healthcare systems. There is chronic shortage of medical personnel in this region. According to a report by Deloitte, the average number of physicians in South East Asia is only 0.6 per 1,000 persons. In the majority of South East Asia countries, public health care has been underperforming due to growth and funding issues. The underdevelopment of the public health sector in this area has paved the way for private healthcare providers especially in countries such as Singapore, Malaysia, and Thailand.
Where to Buy Drugs in Asia? In Japan, India and China!
Japan has long been one of largest pharmaceutical markets in the world with a rigorous regulatory regime and leading drug companies which are second only to the USA in terms of delivery of innovative drugs. India is one of the fastest growing pharmaceutical markets in the world. It exports to over 200 countries and recorded a total of $15.5 billion pharmaceutical exports during the financial year 2014-2015. China had about 5,000 pharmaceutical companies and 414,000 pharmacists, and the average revenue per pharmacist was $228,000 in 2015.
Overview of Asia Healthcare Market
Asia is the largest and most populated continent on Earth. It accounts for around 60% of the global population. The huge population, large economy, and advances in technology make Asia an attractive market for healthcare services. The growing middle class population in the region has resulted in increased demand for privatized healthcare offering modern treatments and western medical standards at higher prices.
The Asian medical equipment market is one of the largest in the world. Japan is among the top three producers of medical equipment. Despite the large number of manufacturers of medical devices, Asian countries import high-end devices from countries like the USA and acquire medical disposables from the local manufacturers.
For more information on the global healthcare market, see the The Business Research Company's new report. Below you'll find more information on the report's content and structure.
Scope of the Healthcare Market Global Report
Markets covered: Healthcare Services, Pharmaceutical, Medical Equipment
Companies mentioned: McKesson, UnitedHealth Group, CVS Health, AmerisourceBergen, Walgreens Boots Alliance, Cardinal Health, Express Scripts Holdings, Anthem, Johnson & Johnson, Aetna and Others
Countries: Brazil, China, France, Germany, India, Italy, Japan, Spain, Russia, UK, USA
Regions: Asia, Americas, Europe, Middle East & Africa, Oceania
Time series: Five years historic and forecast
Data: Ratios of market size and growth to related markets, population, GDP, Healthcare Indicators Comparison, Number of Hospitals, Number of Hospital Beds
Data segmentations: Country and regional historic and forecast data, market share of competitors, market segments
Sourcing and referencing: Data and analysis throughout the report is sourced using end notes.
Interested to know more? Here are two related market reports to explore
About the Business Research Company
The Business Research Company is a market research and intelligence company that excels in company, market, and consumer research. It has research professionals at its offices in the UK, India, and the US as well as a network of trained researchers globally. It has specialist consultants in a wide range of industries including manufacturing, healthcare, financial services, and technology.
The Business Research Company's management have more than 20 years of varied business research experience. They have delivered hundreds of research projects to the senior management of some of the world's largest organizations.
The Business Research Company's consultants have master's qualifications from top institutes and include MBAs, MSCs, CFAs, and CAs. The Business Research Company's consultants gain training and qualifications from the Market Research Society and are trained in advanced research practices, techniques, and ethics.
---
About the Author: Sandeep has over four years of experience in pharmaceutical research and consulting. He has worked on business research studies featuring industry analysis, strategic and financial analysis, opportunity assessment, competitor intelligence, and market sizing for pharmaceutical and medical equipment verticals. Sandeep holds a bachelor's degree in biotechnology and a post graduate degree in business management from Liverpool John Morees University.