Acute Kidney Injury (AKI) is a condition characterized by minor or complete loss of kidney function due to a sudden injury to kidneys. AKI is different from chronic kidney disease, wherein the kidney function is lost over a period of time.
The global burden of Acute Kidney Injury has increased over the years, according to a new report titled Acute Kidney Injury (AKI) - Market Insight, Epidemiology and Market Forecast - 2030 by DelveInsight, a market research firm focused exclusively on the life sciences.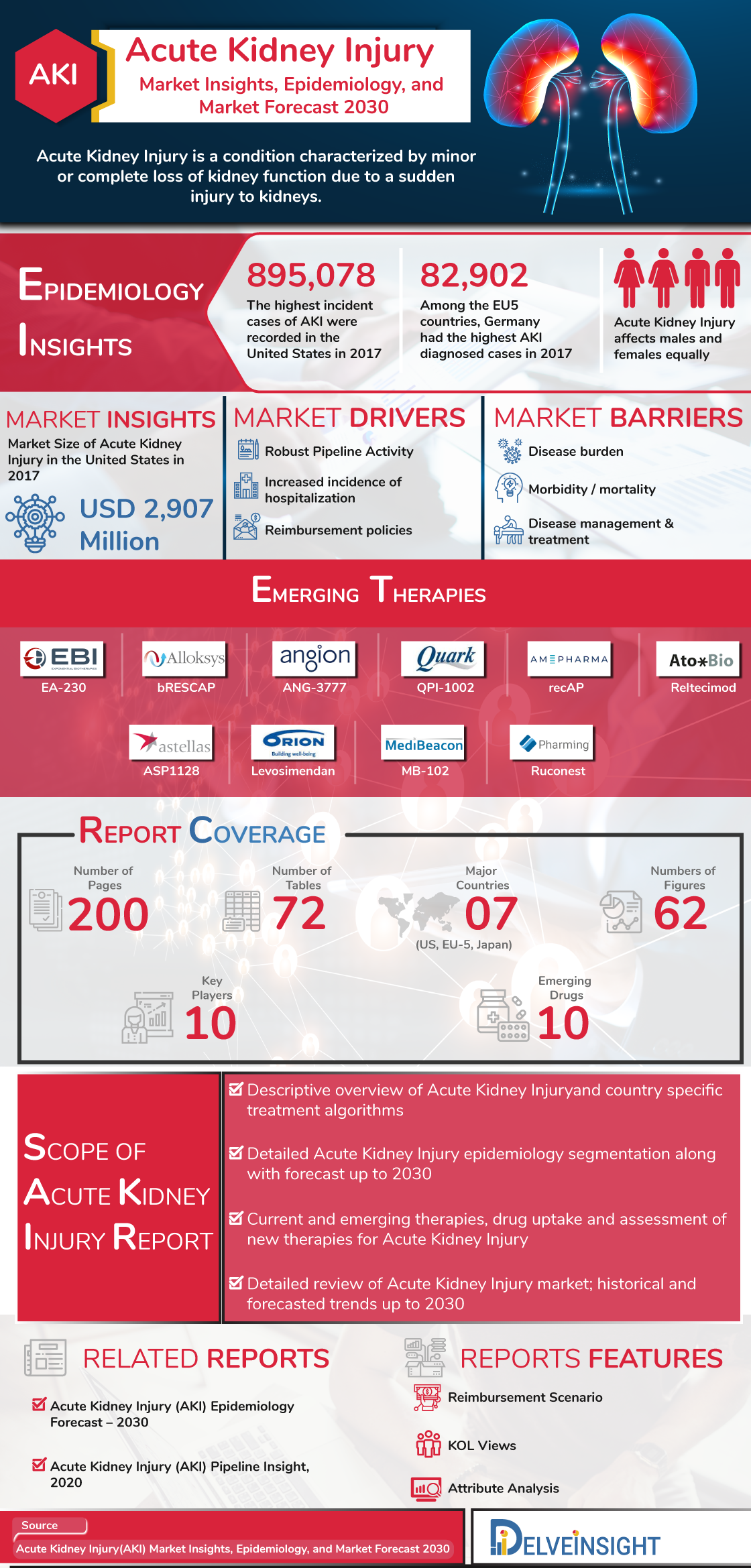 Among the 7 major markets, the United States has reported having maximum incident cases of AKI. Though the incident of AKI is high across the US, the condition is often undiagnosed, ultimately leading to lower treatable pool (when compared to the total incident population of the disease) that contributes to the market size of AKI.
There is no cure for AKI and the current treatment is aimed to manage the underlying cause and prognosis of AKI. Conventional therapies such as drugs to manage blood pressure, fluid overload and cardiac output, to stabilize hemodynamic and oxygenation parameters, glycemic control, nutritional support to reduce the severity of AKI are frequently used in manageable cases of AKI; whereas in critically ill patients, Renal Replacement Therapy (RRT) therapies are recommended.

In the coming years, the AKI market is expected to shift due to increasing awareness of the disease and incremental healthcare spending across the world, which would expand the size of the market to enable drug manufacturers to penetrate deeper into the market.
Major players such as Exponential Biotherapies, Alloksys, Angion Biomedica, Quark Pharmaceuticals Astellas Pharma and others are involved in developing therapies for AKI.
Where to Learn More
DelveInsight's Acute Kidney Injury (AKI) - Market Insights, Epidemiology and Market Forecast– 2030 report delivers an in-depth analysis of Acute Kidney Injury (AKI), historical and forecasted epidemiology as well as the Acute Kidney Injury (AKI) market trends in the United States, EU5 (Germany, Spain, Italy, France, and United Kingdom) and Japan.
This report is designed to help in developing business strategies and organizing sales and marketing efforts by identifying the best opportunities and evaluating future market competition.
---
About the Publisher: DelveInsight is a market research firm focused exclusively on the life sciences. It provides cutting-edge market and pipeline information to help organizations make important business decisions and identify potential market opportunities.