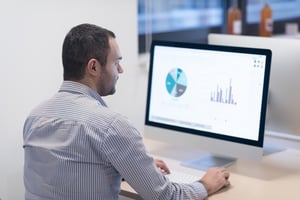 Many companies rely on syndicated market research reports to gain important insights into a variety of industries, but sometimes a more tailored approach — known as custom market research — is needed for strategic decision-making.
What Is Syndicated Research?
Syndicated market research reports are designed to answer the common questions that most companies need to know about a specific market — such as the overall market size, market structure, market forecast, market share of leading companies, industry trends, drivers, and restraints.
A syndicated research example includes the types of "off the shelf" reports that are available on MarketResearch.com. A syndicated report might cover the retail market for pet food in the United States, for instance, or the global roofing market with analysis of every major geographic region and product type.
Because these ready-made reports are intended to be purchased by multiple organizations, they can be a convenient and cost-effective way to obtain business-critical information. However, syndicated research may not always be enough to address every business need.
What Is Custom Market Research?
In contrast, custom market research goes beyond the scope of a traditional published report to provide targeted market insights designed to precisely fit your needs and goals. Custom market research is developed for your exclusive use and is kept confidential.
Custom market research may include more primary research, such as in-depth phone interviews and online surveys to elicit substantial and meaningful insights from leading market participants. This targeted intelligence can be especially useful for tough-to-size markets, or very specific market segments with little published data available.
Custom research solutions are ideal for pivotal decision points when there is much at stake, and companies need an unbiased third-party perspective to gain more granular insights, validate assumptions, and interpret conflicting information.
What Insights Can Custom Market Research Provide?
Custom market research can provide mission-critical insights concerning:
Market sizing, segmentation, and forecasting
Technology trends, industry drivers, and regulatory factors
Market share analysis
Competitive intelligence and profiling
Acquisition candidate identification and due diligence
Channel analysis
Value chain analysis, including profitability and level of integration
Voice of market, such as unmet needs and purchasing criteria
When Do You Need Custom Research Solutions?
Custom market research services can help companies more successfully navigate a variety of business challenges, providing reliable and actionable insights to support decisions where the costs of making the wrong choice are high. Targeted custom research engagements can ensure you have the right market intelligence to support strategic decision-making in a variety of scenarios, including:
Long-term strategic planning
New product development
Geographic market expansion
New vertical market expansion
Mergers and acquisitions
Competitive benchmarking
Capital expenditures
Custom Research Example
To illustrate how custom research projects can work in practice, here is a real-world custom research example.
A Japanese manufacturer was looking to expand a building and construction product into the U.S. market. To develop a successful market entry strategy, the company needed to pinpoint the market potential in each U.S. state, better understand the competitive landscape, and identify any factors that could help position their product successfully.
The company engaged a custom market research firm (in this case, Freedonia Custom Research, a division of MarketResearch.com), to help them obtain the needed information. In response, an experienced team of custom research analysts conducted in-depth interviews with key market participants, developed targeted demand estimates and forecasts, provided voice-of-market statements for key product specifiers such as price and performance, and analyzed the competitive positioning of suppliers in the market.
The clients used these insights to develop a plan for introducing its product to the US market and compete against established players.
What Clients Should Expect from Custom Research
In an engagement like this, it is important for custom research analysts to take a collaborative and consultative approach. Analysts must take the time to fully understand the client's motives and then design a project that is responsive and geared toward the client's success.
The use of robust methodologies can also ensure you receive superior qualitative and quantitative insights. Custom market research projects should include a broad range of research tools, such as in-depth interviews with key market participants, extensive secondary research, and development of engagement-specific market sizing models.
Relying on seasoned professionals that are already deeply familiar with your industry and have access to an extensive knowledgebase of research can also give you a competitive edge.
Find Out More
To learn more about our custom research solutions, please visit our Freedonia Custom Research page or request more information.
For more insights, please download a new white paper from Freedonia Custom "8 Steps to a Successful Voice of Market Project."
---
About the Author: Sarah Schmidt is a Managing Editor at MarketResearch.com, a leading provider of global market intelligence products and services.