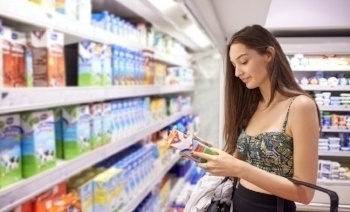 Increasingly people want the freshest and most natural products made from the fewest ingredients without artificial additives — and the dairy aisle is no exception.
Consumers are closely examining nutrition labels and factoring them into their purchase decision, often favoring clean-label foods and beverages made with natural and organic ingredients.
According to a 2017 Packaged Facts National Consumer Survey, more than a third of younger consumers, those between 18 and 34 years old, say they are paying more attention to product claims and nutritional information for plant milks, cheese, and dairy milk, among other products.
In the last few years, are you paying more attention to the product claims
or nutritional information for any of the following?
(U.S. adult grocery shoppers)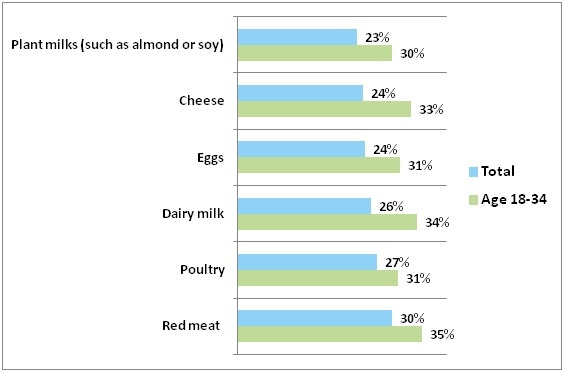 Source: Packaged Facts National Consumer Survey, February/March 2017
Understanding Clean Label
Food Business News named "clean label" the trend of the year. But what does this term actually mean to customers? Per FoodBusinessNews.net, a massive December 2015 survey of 27,185 respondents in 31 countries by London-based market research firm Canadean found that when asked what the term clean label means:
36% of respondents said free from artificial ingredients
34% said natural/organic
34% said they did not know what it means
Globally, other ways consumers defined the term were:
No pesticides/chemicals/toxins (31%)
Free from allergens (24%)
No GMOs (23%)
Minimally processed (16%
Simple/short ingredient lists (11%)
Transparent packaging (7%)

Examples of Products Embracing the Clean Label Trend
To appeal to natural-leaning consumers, a variety of big brands are overhauling products and portfolios. However, changes can often seem frustratingly slow due to the need to find clean ingredients that will work in iconic brands and products without negatively affecting their color, taste, texture, and shelf life. For example, most natural food colors are not as bright and lurid as the artificial dyes with which consumers are familiar.
Here is how some of the nation's largest food producers are responding to consumer demand for more company transparency and cleaner formulation.
Kraft Heinz Mac & Cheese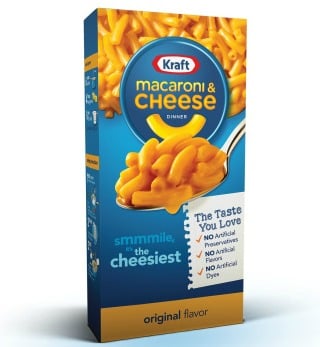 In December 2015, Kraft Heinz quietly removed artificial colors, flavors, and preservatives from its flagship macaroni & cheese—and consumers did not notice the difference. The artificial colors were replaced by natural colors from paprika, annatto, and turmeric. By March 2016 when the company revealed the switch, it had sold more than 50 million boxes of the new mac & cheese, according to CNN.com.
Nestlé Dreyer's Slow Churned Ice Cream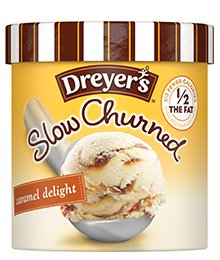 In April 2016, Nestlé Dreyer's Ice Cream announced improvements to six iconic ice cream brands as part of a multi-year initiative to update and simplify ingredient profiles. Nine of its Dreyer's and Edy's Slow Churned flavors have been re-branded as Slow Churned Simple Recipes, containing no more than eight ingredients, compared to the previous average of 22. Artificial colors and flavors, high fructose corn syrup, and GMO ingredients have been eliminated, and the milk comes from cows not treated with rBST growth hormones.
Nuestro Queso Cheese rBST-Free Milk-Based Products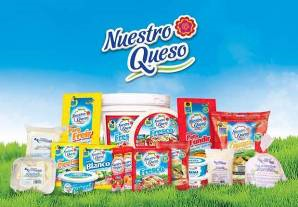 In August, 2015, Cheesemaker Nuestro Queso, a co-packer and manufacturer of Hispanic dairy products for retailers' store brands, switched to working exclusively with dairy farmers that do not use the rBST growth hormones. The company now uses only rBST-free milk to produce its cheeses, creams, and drinkable yogurts. Nuestro Queso made the switch based on feedback from its Hispanic customers who said rBST-free milk is one of their top preferences for dairy products.
WhiteWave Foods Simply Pure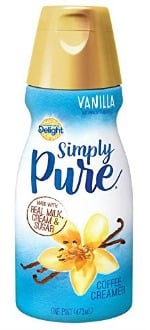 In March 2016, WhiteWave Foods' International Delight brand launched a new line of coffee creamers called Simply Pure, made with skim milk, cream, cane sugar, and natural three flavors including vanilla, caramel, or hazelnut.
Download Our Free E-Book
The article above is an excerpt from a new e-book by Packaged Facts titled Product Innovation in the Dairy Case. Download this e-book for free to gain more valuable insights into the latest food trends.