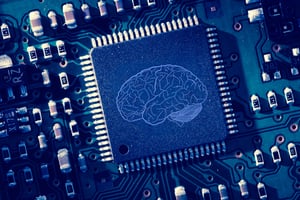 Artificial Intelligence and its application are endless. Along with technologies such as machine learning and deep neural network, artificial intelligence can be applicable in different industry sectors to generate maximum output.
Moreover, almost every day, 2.5 quintillion bytes of data is created as of 2021, owing to rising digitalization and smartphone penetration worldwide. With advancements in distributed computing and cloud computing, the ability to store, analyze, and process data is on an unparalleled scale. The emergence of AI technologies has helped the world population revolutionize data processing and analyses with high accuracy. AI comprises various domains, including machine learning, deep learning, neural networks, natural language processing expert systems, and other programming processes. It has also made its way into computer vision and image processing, which requires high computing power.
AI software techniques and paradigms have emerged from theories of cognitive science, psychology, and logic, which are not mature sufficiently due to the experimental foundation upon which they were based and partly on inadequately powerful hardware. AI programs require more powerful hardware in the speed of operation and memory than conventional software. Additionally, the emergence of digital technologies such as the Internet has positively impacted the evolution of AI systems across the globe.
Impact of Artificial Intelligence by End Use Sectors
Healthcare: In the healthcare sector, a high potential use case is data-based diagnostic support in which AI uses the patient's history as a baseline against which possible health conditions in need for treatment and investigation are analyzed. The continuous interaction between the physician and AI-powered diagnostics will improve the accuracy of the system, and overtime, provide confidence for patients to allocate the task entirely to the AI system to operate autonomously. For instance, researchers from RADAR-CNS use deep learning technology to identify people with COVID-19 from heart rate data fed by wearable physical fitness monitors.
Automotive: Autonomous cars are as inherent to the vision of the future as space travel and holograms. Automobiles have been seen as the final leading edge of technological innovation. In the meantime, artificial intelligence has slowly begun to transform the vehicles through integrated innovations such as preventing accidents through risk assessment and driver monitoring, personalized vehicles, and in-car assistance. The impact of technology on automobiles and the entire automotive sector will expand in the coming years with the increasing penetration of AI for different operations. Moreover, neural networks and specific algorithms are used in autonomous vehicles to collect data, analyze objects, and make accurate decisions on the road. For instance, Tesla manufactured self-driving cars which are equipped with personal AI assistants, cameras, and radar detectors.
Financial Services: One of the probable use cases of AI in financial service is personalized financial planning. While a human financial advisor is costly and time consuming, AI advances such as robo-advice which have made it possible to develop customized investment solutions for the mass market consumers. Finances are managed to match goals and optimize the client's existing funds. The only barrier that might hinder AI adoption is the consumer trust and regulatory acceptance.
Manufacturing: Self-learning monitoring through AI would enhance the manufacturing process and make it more controllable and predictable, diminishing cost delays and defects/deviations from product specifications. Ample amount of data is available from the manufacturing process, which allows for intelligence monitoring. Moreover, Industry 4.0 is using robotics along with artificial intelligence with a programmable robot to navigate around a warehouse for different purposes. For example, robots are increasingly used in inspecting and assembling due to their lower cost as compared to manual laborers, and they can also manipulate tools to complete a process like arc welding and spray painting.
Revolutionizing the digital infrastructure, AI can help boost the world economy by up to USD 15.7 trillion by 2030. Since AI used in the above-explained applications is narrow AI (weak AI), many researchers' long-term goal is to create general AI (AGI or strong AI). The market is also experiencing research through the applications of AI for the public and military. While some industries, markets, and enterprises are more developed than others, AI development is still in its infant stage. From a macroeconomic perspective, artificial intelligence offers many prospects for emerging markets.
Future Use Cases of AI
Artificial intelligence can help to cut down cost and impediments and serve the development of innovative business models that can overtake traditional models. Emerging industries are currently using artificial intelligence technologies to resolve their significant complex problems, while many new private firms are using artificial intelligence to grade their new business models, methods for delivering services, and increasing their local market competitiveness through leveraging AI solutions. Here are some of the future use cases of AI:
Cryptocurrency: Cryptocurrencies are continuing to be an extraordinary phenomenon in today's era. Digital coins have emerged as a powerful investment tool, when investing in these assets over the long term. Artificial intelligence helps to calculate the fluctuated prices pattern, predicting the cryptocurrency market, sentiment analysis, finding parties to make deals and offering security while using cryptobots.
Sustainability: A world with greater energy efficiency and sustainability may be possible with artificial intelligence. To manage environmental consequences and climate change, AI can be developed across a wide range of economic sectors. It is anticipated that artificial intelligence applications for environment could contribute up to USD 5.5 trillion in 2030 to the global economy. For instance, Al applications can balance electricity supply and demand need in real time by optimizing energy use and storage to reduce rates. Moreover, in a green-energy future, renewable energy will come from a diversity of sources such as solar panels, wind farms, and microgrids.
Top Artificial Intelligence Companies
The tech giants are leading the market by providing machine learning (ML) and artificial intelligence (AI) through their cloud platforms, enabling companies to incorporate AI into applications without in-house development. Here are some of the market leaders in artificial intelligence.
Amazon Web Services: Amazon Web Services (AWS) is undoubtably a cloud leader that offers both consumer and business-oriented AI products and services. For instance, in 2022, AWS and SK Telecom collaborated to co-develop computer vision AI services. The aim of this collaboration was to make it more cost-effective and easier for consumers to build, use, and scale computer vision applications, which maintains the equipment, enhances the productivity, and improves facility safety.
Google Cloud Platform: Google, a leader in data analytics and artificial intelligence, is on an AI acquisition binge, having acquired a number of startups in past few years. For instance, in July 2022, Vodafone and Google Cloud collaborated to give rise to AI booster platform. The aim of this enhanced platform is to increase the customer experience, improve network performance, and accelerate the pace of Vodafone in-house R&D efforts.
IBM Cloud: IBM is also a leader in artificial intelligence and with its recent initiatives centered around IBM Watson, AI software as a service, and an AI-based cognitive service for offering cloud-based analytics and AI services. For instance, in Nov 2022, IBM collaborates with PyTorch to bring massive AI models to any cloud. Additionally, the company has built an open-source operator for optimizing PyTorch deployments on Red Hat OpenShift on IBM Cloud.
Microsoft Azure: Microsoft Azure offers a mixture of consumer-facing and business AI projects. On its cloud platform, Microsoft Azure sells AI services such as machine leaning (ML), bot services, and cognitive services.
Alibaba Cloud: Alibaba Cloud provide clients a sophisticated machine learning platform for AI and visual interface for ease of use, so that companies can assemble their AI functionality. In 2022, Alibaba Cloud announced the largest intelligent computing center to provide powerful intelligent computing services for AI large model training, automated driving, spatial geography, and other AI exploration applications.
Companies that acquire AI with the right strategies and innovative products can expand their revenue shares. While AI is still new for many, those companies or industries implementing AI applications are becoming more diverse because the technology helps in finding solutions to complex business problems.
AI is being applied to smart cars and robots along with various business solutions. Artificial intelligence plays a critical role for leading companies because through this they can predict market and customer insights and use process automation tools for data unlocking, efficient sales processes, and personalized customer experiences.
Hence, the addition of AI in the industry has allowed small enterprises and leading companies to implement tested and successful methods to achieve higher business goals. Through its rapid evolution, artificial intelligence has established itself as a core requirement across a broad range of industries.
Where to Learn More
Check out these reports for more information on the artificial intelligence market:
About TechSci Research
TechSci Research is a research-based management consulting firm providing market research and advisory solutions to its customers worldwide, spanning a range of industries. It provides off-the-shelf market research reports to its clients along with customized research solutions and helps global companies to enter, expand, and succeed in different markets. With the help of its strategic solutions and business implementation assistance, TechSci has helped many companies to make crucial strategic decisions.