The global supercapacitor/ultracapacitor market is expected to grow from $1.2 billion in 2018 to $4.6 billion in 2023 at an annual growth rate of 30.0%, according to a report by The Business Research Company.
Supercapacitors, also known as ultracapacitors, are used in automobiles and electronics such as smartphones, laptops, digital cameras, and solid-state drives. Key companies in the supercapacitors market include Murata Manufacturing Co., Ltd, Maxwell Technologies, Panasonic Corporation and AVX Corporation.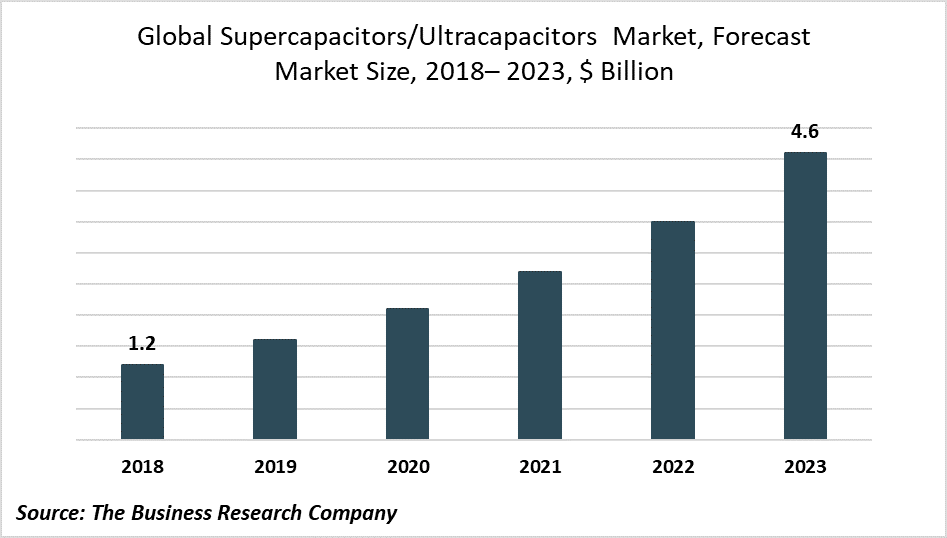 Key Market Drivers and Trends
The supercapacitors/ultracapacitors market is expected to benefit from technological advances such as the use of graphene and carbon nanotubes in these products. Graphene is a form of carbon which consists of a single layer of carbon atoms arranged in a hexagonal lattice. Carbon nanotubes (CNTs) are cylindrical molecules that consist of rolled-up sheets of single-layer carbon atoms (graphene). These substances are increasingly being used in the production of supercapacitors to improve their electrical conductivity.
CNTs significantly increase the power density of supercapacitors as carbon nanotubes have high capacitance and low resistance. Power density is the amount of power transferred per unit volume. For instance, in 2014, researchers at the George Washington University developed a new ultracapacitor with high performance and low cost than traditional supercapacitors by using graphene and carbon nanotubes. Major companies manufacturing graphene supercapacitors include Skeleton Technology, Angstron Materials and Sunvault Energy.
Other supercapacitor companies are using metal nitrides as the raw material for electrodes in supercapacitors, because it offers high electrical conductivity, chemical stability and cycling stability. Metal nitrides such as molybdenum nitride, titanium nitride, vanadium nitride and chromium nitride are being used as the material for electrodes to manufacture supercapacitors.
In 2016, researchers at VTT Technical Research Centre of Finland developed a hybrid nano-electrode, which consists of porous silicon coated with a titanium nitride layer. Similarly, in 2015, researchers at Agency for Science, Technology and Research developed a supercapacitor using iron nitride and titanium nitride as electrodes.
Additionally, companies in this market are partnering and collaborating to pool their resources and accelerate the research and development process for supercapacitors. For instance, Versarien, 2-DTech and Warwick Manufacturing Group are partnered to develop a working supercapacitor system in 2018. These factors are likely to increase the product portfolio of companies operating in this industry, thereby driving the market.
The supercapacitors/ultracapacitors market is also expected to benefit from growth in the automobile industry during the forecast period. Supercapacitors are used in electric and hybrid vehicles for various applications including braking systems. Additionally, a number of applications for supercapacitors in automotive manufacture are under development, and so likely to increase the demand for these products in the forecast period.
Where to Learn More
For more information, see the report Supercapacitors/Ultracapacitors Global Market Opportunities and Strategies to 2023 by The Business Research Company. This report is available on MarketResearch.com and provides strategists, marketers and senior management with the critical information they need to assess the market, identify growth segments for investment, and develop strategies based on likely future developments.
---
About the Business Research Company
The Business Research Company is a market research and intelligence firm that excels in company, market, and consumer research. It has research professionals at its offices in the U.K., India, and the U.S. as well as a network of trained researchers globally. It has specialist consultants in a wide range of industries including manufacturing, healthcare, financial services, and technology.
The Business Research Company's management team has more than 20 years of varied business research experience. They have delivered hundreds of research projects to the senior management of some of the world's largest organizations. The Business Research Company's consultants have master's qualifications from top institutes and include MBAs, MSCs, CFAs, and CAs. The Business Research Company's consultants gain training and qualifications from the Market Research Society and are trained in advanced research practices, techniques, and ethics.