Sustainability is huge trend in the food and beverage industry right now. In a recent video interview, The Freedonia Group's Research Analyst Peter Kusnic sat down with Industry Studies Manager Jennifer Mapes Christ to discuss how the food industry is working to reduce its environmental impact.
Watch the video to hear their insightful conversation or read a summary of key points below.
How Food Companies Can Meet the Demand for Sustainability
1. Sourcing is one key aspect. Consumers want to know if food ingredients are local, organic, fair trade, or produced using sustainable farming practices. People who are looking for more sustainable food products may lean towards "clean label" products that have ingredients they recognize, no preservatives, and a whole food, farm-to-table approach.
2. Packaging is another big component of sustainability. More sustainable packaging is often recyclable, compostable, lighter weight, and increasingly reusable. Using less packaging is another sustainable practice, such as opting to leave out a liner from a package.
3. Producing more plant-forward products is an additional way the food industry is working to embrace sustainability, particularly as factory animal farming can be controversial. More people are looking to adopt vegan or vegetarian diet habits, either for health reasons or environmental reasons, or just because they like it. However, even omnivores are intentionally eating more plant-forward meals and trying meatless protein like Beyond Meat or the Impossible Burger. People often see plant-based foods as healthier than a meat product.
4. Reducing food waste in the supply chain is also very important. Many companies are looking to eliminate waste in their manufacturing, during shipping, and at retail. They are also working to re-use food waste in their products. For example, an ice creamery in Cleveland gets extra food waste from a local brewery and uses it as ingredients to make ice cream flavors. Many food companies are creating similar partnerships to reduce waste and promote sustainability.
Related Research and Resources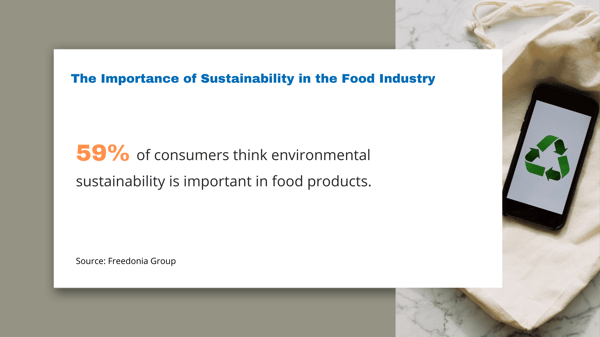 To stay on top of new industry research in the fields of your choice, subscribe to monthly Industry Update Emails from MarketResearch.com. Use this link or the button below to sign up for free.
About the Author: Sarah Schmidt is a Managing Editor at MarketResearch.com, a leading provider of global market intelligence products and services.
You May Also Like