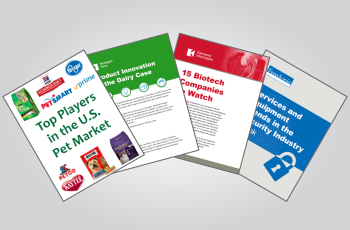 MarketResearch.com has five in-house publishing divisions that produce quality market intelligence for top industry decision makers.
These publishers not only provide market research reports, they have also released a number of free white papers, presentations, and e-books on a variety of dynamic markets. These resources are designed to give you a quick view of an industry, leading companies, or trends.
---
In this PowerPoint presentation, Packaged Facts discusses the top nine players by estimated revenues in the U.S. pet product market, along with additional billion-dollar range participants. The presentation also highlights major pet brands and product trends. This is a must-read for anyone interested in the pet market.
---
America's diet has changed drastically over the years, and the dairy industry is facing a new era of disruption and change. In this e-book, Packaged Facts explores five influential trends in the dairy case. Read this e-book to learn how brands big and small are adapting to the changing consumer landscape.
---
Biotechnology has the potential to provide solutions for a host of problems that traditional technologies have been unable to fully address. It's no surprise that new entrants are joining the field and investors are highly interested. This e-book describes 15 innovative companies that come from various aspects of biotechnology.
---
Services & Equipment Trends in the Security Industry
Get clear insight into this complex sector. The Freedonia Group's new e-book highlights key developments related to security alarms, global security services, law enforcement, and more. Helpful infographics are also included.
---
These are just a few of the free resources MarketResearch.com has to offer. To access additional downloads, visit our archive of white papers and e-books.