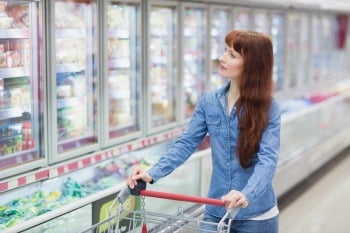 Packaged Facts is a premier source of market information for top industry decision makers in the food and beverage industry. Packaged Facts reports are frequently quoted in leading news outlets such as the Wall Street Journal, New York Times, Forbes Magazine, and the Associated Press, in addition to many trade journals.
So far this year, Packaged Facts has released four new market research reports on the food industry that are packed with current insights to help drive business growth.
U.S. frozen food product sales totaled $22 billion in 2016, according to a new report by Packaged Facts. Survey results show that 90% of consumers buy packaged frozen hot meal items, a share that has increased significantly in the last two years.
The Packaged Facts report on the US frozen food industry tracks key drivers and growth opportunities, providing detailed information on product trends and leading frozen food brands, including those by Nestle, Conagra, Schwan's, Pinnacle Foods, Kraft Heinz, Amy's Kitchen, General Mills, and others.
From chia seeds and acai berries to kale and coconut water, we've seen many different health foods ride waves of popularity. The new culinary trend report from Packaged Facts helps executives and product marketers stay ahead of new food trends that are on the rise in 2017 — and not just health foods — but also ingredients and dishes that provide authenticity, sensory adventure, premium quality, and indulgence.
The report includes a Trend Maturity Map for quick reference. Emerging food trends are classified in Stages 1 and 2. Trends that are nearly mainstream are in Stage 3, and those that are completely mainstream are Stage 4.
Released at the end of January, the new ice cream market research report by Packaged Facts has already been cited in a number of industry publications including FoodNavigator-USA, VegNews, Convenience Store Decisions, Food Dive, and Natural Products Insider.
The report covers global food giants and the newest start-ups, highlighting changing consumer preferences, health concerns, consumption patterns, and marketing efforts related to ice cream and frozen desserts.
Healthy snacks made from kale, chickpeas, and sweet potatoes are creating a thriving market that syncs with the health-conscious lifestyles of today's busy consumers—particularly parents, Milennials, and Gen Xers. Sales of alternative ingredient snacks in 2017 are expected to reach $1.2 billion in 2017, according to Packaged Facts' new report on snack food nutrition trends.
The report draws on current sales data and consumer survey results, in addition to interviews with snack experts and on-site examination of retail providers. The analysis is presented in concise text and easy-to-read charts, tables, and graphs.
For more information on these market research reports, click to the Packaged Facts website.
---
About the Author: Sarah Schmidt is a Managing Editor at MarketResearch.com, a leading provider of global market intelligence products and services.