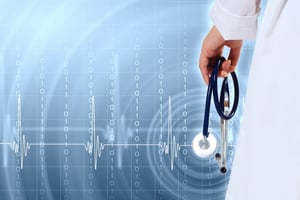 In the United States alone, there are roughly 38,000 patents containing the terms artificial intelligence or machine learning (excluding overlap terms). Of all the fields where artificial intelligence (AI) is promising, healthcare seems to be essential. This is because healthcare systems are plagued with problems of staff shortages, ineffective treatments, and increased patient loads and incorrect diagnoses, all of which to a degree could be helped by new technology.

Future prospects for AI in healthcare include health assistance and medication management, precision medicine applications, drug creation, and helping people make healthier choices and decisions. There has been an increase in the number of companies that are focused on the development of AI in healthcare. Nearly every industry — automotive, manufacturing, retail, gaming, and the media, etc. — has been impacted by the growing development of artificial intelligence, as well as machine learning and deep learning.
Artificial Intelligence in Healthcare Market Size
With strong investment from major players in the healthcare industry, promising use cases, and a growing amount of data to support cutting-edge analytics, artificial intelligence will likely play a central role in the landscape of providing quality care in the future.
The global market for AI in healthcare is estimated at $1.9 billion by Kalorama Information. This market is generated largely by sales in the workflow solutions market segment, followed by population health management. The market is expected to keep pace with the total AI market growth, reaching $11.4 billion by 2024, at a CAGR of 42.6%. Markets in the United States and Europe generate the majority of sales.
Key Applications for AI in Healthcare
There are several hundred companies active in developing and marketing AI technologies for the health industry, in a variety of fields:

1. Workflow Solutions: With the droves of information that are contained in EMRs and the intersecting of artificial intelligence to compile that information, physicians, clinicians, nurses, patients, and others will be able to make more informed decisions about healthcare diagnosis, delivery, and personal wellness and disease management. AiCure, APIXIO, Amazon Web Services, Google, IBM are notable vendors in this growing field.
2. Population Health Management: Population health is a term that is used to identify individual patients and groups of patients who are most likely to require some kind of medical intervention to stay healthy. After identifying these patients, healthcare personnel can target them at the optimal time to achieve favorable outcomes.
The CDC views population health as an interdisciplinary, customizable approach that allows health departments to connect practice to policy for change to happen locally. This approach utilizes non-traditional partnerships among different sectors of the community — public health, industry, academia, health care, local government entities, etc. — to achieve positive health outcomes. Amazon Web Services, CloudMedx, Google, IBM are among vendors in this area.

3. Imaging, Diagnostics, and Disease Management: It is becoming increasingly clear that AI will transform the diagnostic imaging industry, both in terms of enhanced productivity, increased diagnostic accuracy, more personalized treatment planning, and ultimately, improved clinical outcomes.
AI will play a key role in enabling radiology departments to cope with the ever-increasing volume of diagnostic imaging procedures, despite the chronic shortage of radiologists in many countries. Following the introduction of deep-learning technology and affordable cloud computing (graphics processing units) and storage, the pace of product development for AI-based medical image analysis tools is faster than ever before. Among the companies competing include: Butterfly Network, Cisco Systems, Cyrcadia Health,Enlitic, GE Healthcare, Google, IBM, Lifegraph, Microsoft, Philips, and Sense.ly.

4. Drug Discovery & Development: Drug discovery and development are key aspects of healthcare. AI is being used in several areas of drug discovery and development. Through advancements in AI, it is now possible to automate drug design and compound selection. Researchers are using AI to select appropriate characteristics to design products that would reduce complexity in design, detect production and characterization issues, and discover new entities. Key companies in this space include Atomwise, Berg Health, BioXcel Therapeutics, Cloud Pharmaceuticals, Recursion Pharmaceuticals, and Sophia Genetics.
Where to Learn More
Kalorama Information's report The Market for Artificial Intelligence (AI) in Healthcare quantifies the opportunity and future market opportunity for AI in healthcare. This comprehensive report covers:
Recent company developments in AI in healthcare
Artificial intelligence: population health
AI in healthcare workflow solutions
AI in imaging, diagnostics, and disease management
AI in drug discovery and development
AI in risk analytics, cybersecurity, and other applications
Global AI in healthcare markets
Profiles of AI healthcare companies
View the full abstract, table of contents, and purchasing options for Kalorama's AI in healthcare report on MarketResearch.com.
The report is also available to Profound subscribers on Profound.com.
---
About the Publisher: Kalorama Information has been a leading healthcare market research publisher for more than 30 years. Kalorama only publishes in healthcare and is a premier source of market information for top industry decision makers and media outlets.
---
Additional Articles