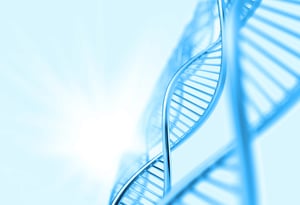 The global biologics market is expected to see a 12% growth rate and reach $420.55 billion by 2025, according to a new report by The Business Research Company. The report highlights the key trends that will shape the biologics industry going forward and gives information on the size of this fast-growing market, along with which regions and segments are most important.
Biologics products are subjected to various laws and regulations that deal with patenting, testing, safety, efficacy, and marketing. Biologics products are isolated from natural sources such as humans, animals, and microorganisms by biotechnological methods and other cutting-edge technologies.
The biologics market consists of sales of biologics and related services by entities (organizations, sole traders, and partnerships) that produce biologics or biosimilars to treat and prevent various microbial diseases and cancers. The market comprises of companies that manufacture biological products which are derived from genetically modified proteins and human genes. Biologics products include a wide range of recombinant therapeutic proteins, gene therapy tissues, somatic cells, vaccines, and allergenics.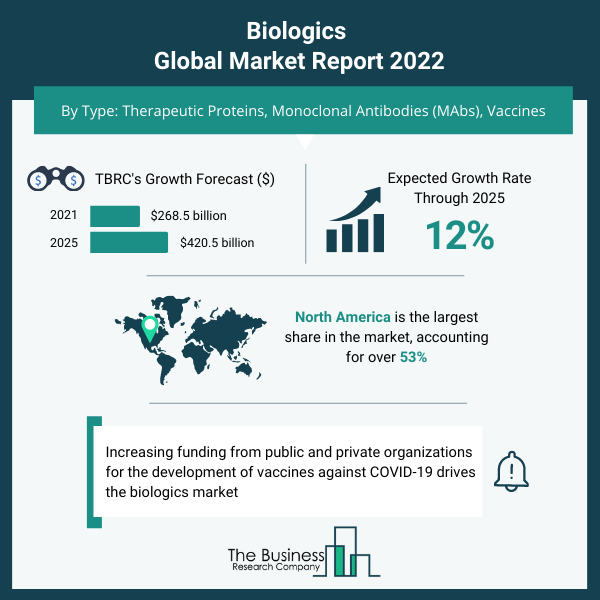 TBRC's research report highlights the major trends in the biologics market, from approvals, R&D, to returns on investment:
1. Robust Research & Development
The biologics market is witnessing robust research and development activities. These research and development activities have led to increasing success rates in clinical trials for biologics. Research and development is being carried out by market leaders in the biologics market as they continuously strive to make breakthroughs in the market in the form of new and effective biologics.
2. Revised FDA Regulations to Facilitate Biologics Drug Development
The US Food and Drug Administration (FDA) has revised its regulations to eliminate outdated biologics requirements, thus allowing drug manufacturers to employ new manufacturing technologies and testing capabilities. Standard preparations (standard solutions containing a precisely known concentration of an element), which help to ensure safety, purity, and potency of biologics, can now be obtained from sources other than the FDA's Center for Biologics Evaluation and Research (CBER), or can be developed internally by the biologics license applicant.
The FDA has also removed a rule (Section 610.21 of FDA code) which specifies minimal potency limits to be met for certain antibodies and antigens. In addition, the FDA is also updating regulations (Section 610.53 of FDA code) regarding storage periods and storage conditions for biologics. These amendments in regulations are expected to increase regulatory flexibility by allowing the pharmaceutical industry and the FDA to incorporate current scientific technologies in the manufacture of licensed biological products.
3. Higher Profit Margins for Biologics
Companies in the biologics market are generating high profit margins due to high prices of biologics and their effectiveness. Pharma companies have been focusing on small molecules for decades, but the rate of innovation in that field has slowed dramatically, leading to the shift towards biologics. Biologics treatment, being nearly 22 times costlier than small molecules, is expected to generate a higher profit margin of around 40% in the future.
Further and detailed key drivers, opportunities, and strategies can be found in TBRC's Biologics Market 2022 – Opportunities And Strategies – Global Forecast To 2030, one of a series of reports from The Business Research Company that provides biologics market overviews, analyzes and forecasts biologics market size, biologics market players, biologics market segments and geographies, the market's leading competitors' revenues, profiles, and market shares.
About The Business Research Company
The Business Research Company is a market intelligence firm that excels in company, market, and consumer research. Located globally, it has specialist consultants in a wide range of industries including manufacturing, healthcare, financial services, chemicals, and technology. Find the company on LinkedIn, Twitter, Facebook, or YouTube for more.
Related Articles