Because the pegfilgrastim biosimilars market is highly concentrated with only a few large players, gaining an in-depth understanding of the top competitors and their key strategies is crucial. A new report by The Business Research Company provides detailed information on the pegfilgrastim biosimilars competitive landscape. Read on to learn key insights from the report.
What Are Pegfilgrastim Biosimilars?
Pegfilgrastim biosimilars are used for the treatment of febrile neutropenia—a life-threatening complication of cancer chemotherapy—and to increase the production of infection-fighting white blood cells following transplantation. Biosimilars are biological products that are identical to a biologic that has already been FDA-approved, known as a reference drug. Pegfilgrastim biosimilars are copies of the originating medication, Amgen's Neulasta (pegfilgrastim).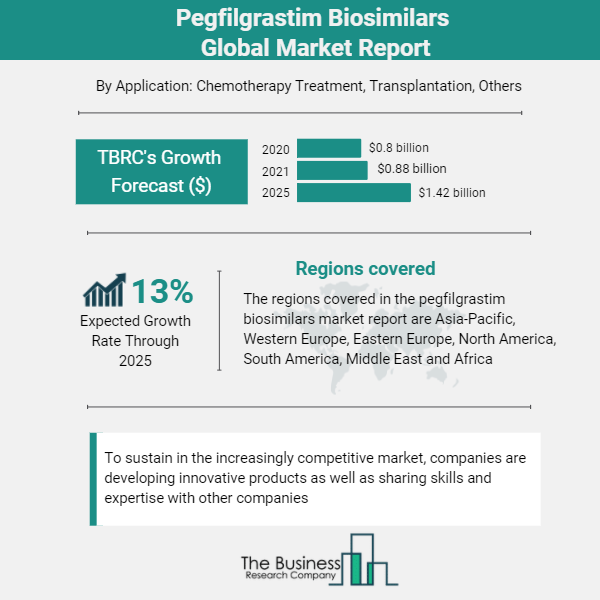 The Competitive Landscape
The top 9 competitors in the market made up a 100% share of the total market in 2020. The market concentration can be attributed to the high barriers to entry in terms of high costs associated with the research and development of pegfilgrastim biosimilars and the stringent regulations set up by regulatory authorities. Going forward, the market is expected to see some fragmentation with the rising number of new entrants.
Coherus Biosciences Inc. was the largest competitor with 52.75% of the market. Coherus Biosciences' growth strategy aims at expanding its pegfilgrastim biosimilars business through commercialization of its pegfilgrastim biosimilar UDENYCA® in different geographies. In terms of market share size, it was followed by Sandoz (Novartis), Biocon/Mylan, Intas Pharmaceuticals Ltd, Mundipharma GmbH, Dr. Reddy's Laboratories, Pfizer Inc., Emcure Pharmaceuticals (Gennova Biopharmaceuticals Ltd.), and USV Private Limited.
The Impact of COVID-19 on Major Players
The COVID-19 crisis has impacted many major players in the pegfilgrastim biosimilars market. Biocon Biologics reported that the pandemic had significant impacts on its biosimilar business. Due to delayed regulatory inspection, operational slowdowns and lower consumption caused by COVID-19, Biocon's aspiration of reaching $1 billion in annual biosimilar revenues diminished. The company's pegfilgrastim market volumes in the US were down by 7% in Q2 of FY 2021. It was more challenging for commercial teams to switch customers to biosimilars and enter new markets.
However, the recent commercialization of Fulphila (biosimilar Pegfilgrastim) in Canada and Australia added to the company's oncology portfolio with Trastuzumab in both countries. Biocon expects sales of biosimilar Pegfilgrastim and Trastuzumab to pick up in the US and gain traction in many markets across Europe. During FY20, Biocon received the US FDA's approval for enhanced manufacturing capacity for two key biosimilar products, Trastuzumab and Pegfilgrastim. These approvals will enable Biocon to scale up capacity multi-fold and address the growing market opportunities in the US and other global markets.
Similarly, Coherus BioSciences was also impacted by the onset of the COVID-19 pandemic. Coherus BioSciences, a US-based biopharmaceutical company that developed UDENYCA®, pegfilgrastim biosimilar of Neulasta, reported decreased sales of UDENYCA®. The company faced difficulty in maintaining and commercializing the use of UDENYCA® due to factors such as healthcare providers, payers and patients not utilizing or adopting UDENYCA® due to resources being strained or otherwise focused on the COVID-19 pandemic, and their sales team efficacy in selling UDENYCA® being limited due to such strained resources and other factors such as travel restrictions.
In addition to this, primary care patient visits, preventive treatments, diagnostic interventions and nonurgent surgical procedures all displayed a downward trend during the pandemic, causing financial hurdles and potential long-term, negative clinical consequences, which negatively affected the pegfilgrastim biosimilars market.
Large Number of Strategic Partnerships
Companies in the pegfilgrastim biosimilar market are increasing their product innovation through strategic collaborations. To maintain their position in the increasingly competitive market, companies are developing innovative products as well as sharing skills and expertise with other companies.
While companies have long collaborated with each other as well as with academic and research institutions in this market by way of partnerships, in- or out-licensing deals, this trend has been increasing over recent years. For instance, in July 2018, Fulphila, co-developed by Biocon Biologics and Mylan, was the first biosimilar pegfilgrastim to be approved by the FDA. In February 2021, Biocon Biologic Ltd. signed a partnership agreement with the Clinton Health Access Initiative (CHAI) to expand their lifesaving cancer biosimilars in more than 30 nations in Africa and Asia. The partnership is a crucial initiative in delivering advanced cancer therapies.
Growing Mergers and Acquisitions
The focus areas for many companies in the pegfilgrastim biosimilar market has shifted to increasing mergers and acquisitions to acquire more production capabilities. Large prime manufactures are forming joint ventures or buying small or midsized companies to acquire new capabilities or gain access to new markets.
In October 2020, Ligand Pharmaceuticals announced its plan to acquire Pfenex to expand the product portfolios and capabilities of the company for $438 million. The acquisition is expected to build Ligand Pharmaceuticals capabilities and to significantly increase its market share in the pegfilgrastim biosimilars market. In October 2018, Mundipharma, a UK-based company engaged in manufacturing, developing, and commercializing high-quality biosimilars for inflammatory diseases and oncology, acquired Cinfa Biotech.
Player-adopted strategies in the pegfilgrastim biosimilars market overall include expanding business through commercialization of their products, strengthening business through different expansion strategies in different geographies, and getting drugs approvals in different geographies.
Access the Full Report
More key trends, opportunities, and strategies can be found in The Business Research Company's Pegfilgrastim Biosimilars Global Market Report 2021: COVID-19 Growth And Change to 2030, one of a series of reports from The Business Research Company that provides pegfilgrastim biosimilars market overviews, analyzes and forecasts pegfilgrastim biosimilars market size, pegfilgrastim biosimilars market players, pegfilgrastim biosimilars market segments and geographies, the market's leading competitors' revenues, profiles and market shares.
About The Business Research Company
The Business Research Company is a market intelligence firm that excels in company, market, and consumer research. Located globally it has specialist consultants in a wide range of industries including manufacturing, healthcare, financial services, chemicals, and technology. Find the company on LinkedIn, Twitter, Facebook, or YouTube for more.