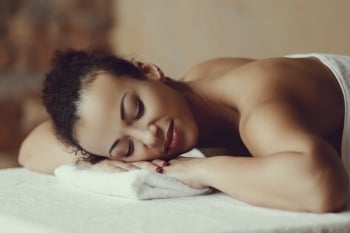 You can find spas in strip malls, high-end resorts, and fitness centers.
Some spas are simple facilities with not much more than a massage table, while others are luxurious destinations that draw travelers from around the world.
Spas cater to a wide variety of clientele who are looking to unplug and find stress relief. Some premier health spas have designed multi-day wellness boot camps for executives with regimented diet plans, physical evaluations, and personalized treatments.
Spas have also become a popular alternative for bachelorettes who want to relax and be pampered rather than go clubbing. Others seek out spas in order to attend retreats that focus on mindfulness, or to receive anti-aging skincare treatments.
What Is a Spa?
A spa provides a range of services for health management and body relaxation; these may include massages, body scrubs, steam baths, facials, waxing, and nail care.
The word "spa" is often used to describe a resort located by mineral springs that are thought to have health-promoting properties, but the term is also associated with a wider array of commercial facilities offering wellness treatments.
The International Spa Association (ISPA) simply defines spas as places "devoted to well-being through a variety of professional services that encourage the renewal of the mind, body, and spirit."
Impact of the COVID-19 Pandemic on the Spa Industry
As one might expect, the demand for spa services took a hit during the COVID-19 pandemic. Revenues and spa visits in the United States both fell by more than 35 percent during the pandemic, according to a 2021 study on the US spa industry released by ISPA. The total number of US spa employees dropped by more than 20 percent, and the number of spa locations fell by about 4 percent.
Resorts and hotel spas were especially challenged by the pandemic and closed for an average of 3.4 months during 2020. Day spas were fully closed for about 2.6 months in the same period.
However, the spa industry is expected to recover. Demand is on the rise, as consumers increasingly focus on the importance of their wellbeing, mental health, and stress relief. The challenge now is to hire and retain enough workers, including massage therapists and spa managers.
Global Spa Industry Analysis

The global spa market is forecast to rise at a compound annual growth rate (CAGR) of 6% from 2021 to 2025, according to a report by the market research firm TechNavio.
The demand for spa services is connected to personal income, tourism, and other demographic trends, but the hectic pace of modern life may also increase the need for these wellness services, according to Beth McGroarty, Director of Research and PR at the Global Wellness Institute.
"What's driving this trend is today's state of unprecedented stress: being connected 24/7, the lack of boundaries between work and life, and the fact that by 2030, 80% of the human population will live in urban, nature- deprived areas," she said in an article published in DAYSPA.
As McGroarty puts it, spas are "oases" where people can detach from the chaos of daily life, enjoy quiet time, connect to nature, and find a sense of balance.
Top Spa Trends
Wellness tourism is expected to drive the growth of the spa industry, as consumers seek to reset their physical, spiritual, and psychological wellbeing and bond with a likeminded community on wellness trips. Consumers are likely to indulge in a variety of spa services when they attend a cruise or retreat centered around wellness, but people who travel for business or leisure often incorporate wellness activities into their itinerary as well.
Because the global spa industry is highly fragmented, marketing plays an essential role in differentiating one company from the next. Spas are focusing on strengthening their advertising and brand positioning to support premium prices. Offering top-notch facilities and modern innovative equipment is another way to boost demand for high-end spa services.
Notable Spas Around the World
Technavio identifies ten key vendors in the spa industry:
Aspira Spa is located in Wisconsin and features beautiful lakeside scenery, an indoor and outdoor whirlpool, sauna, meditation sanctuary, and treatment rooms.
Cal-a-Vie Health Spa is a European-style spa and luxurious wellness retreat in Southern California that focuses on self-care, fitness, health, and nutrition.
Hand & Stone Franchise offers massage, facial, and hair removal services at nearly 400 locations throughout the US and Canada.
Hot Springs Resort & Spa is located on 100 acres in North Carolina. Guests can take long hikes along the Appalachian Trail or enjoy scenic mineral baths.
Kempinski is Europe's oldest luxury hotel group with spa facilities around the world offering facials, massages, exfoliating scrubs, and wraps.
Lanserhof offers a blend of modern and holistic medicine, including detox treatments, Vital Aging, movement therapy, mental training, and beauty and skincare treatments.
Marriott International, a worldwide hotel chain, provides luxury spa packages in a variety of destinations including Phuket Island, Maui Resort, Cancun, and Napa Valley.
Massage Envy Franchising focuses on massages and facials. It has a network of 1.65 million members across 49 states and recently opened its first franchise in Australia.
Rancho la Puerta is a fitness and spa retreat in the mountains of Baja, California, that offers exercise classes, holistic therapies, mindfulness classes, and farm-fresh meals.
From bare bones facilities to luxe destinations, spas offer an antidote to the pressure of modern life and an avenue for preventive health, anti-aging, and wellness. As the middle class expands and urbanization increases, the demand for spas is expected to rise in emerging economies as well, providing new opportunities for expansion and growth.
You May Also Like
---
About the Author: Sarah Schmidt is a Managing Editor at MarketResearch.com, a leading provider of global market intelligence products and services.