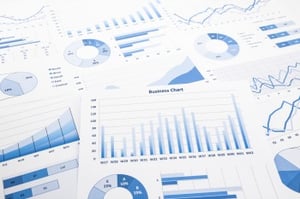 From financial services firms to car manufacturers, all types of companies can benefit from understanding their customers on a deeper level.
Demographic information can be particularly useful for analyzing target markets. By segmenting consumers according to specific variables — such as age, gender, ethnic background, geographic location, or income — you can more readily identify different customer profiles and tailor your marketing and product development to meet the unique needs and preferences of these customers.
Demographic research can help you design more effective business strategies and uncover opportunities for growth, but you don't have to source this data all on your own. A variety of market research firms regularly publish demographic data and present their findings in reports that are easy to access and download.
These reports often contain both secondary data and primary data to give you multiple layers of demographic information. Consumer survey results published in these reports can help you dig into consumer attitudes and behaviors as well — and you'll save the time, effort, and cost of having to conduct these types of surveys on your own.
Curious to learn more? Here's a look at 11 recent consumer research reports available on MarketResearch.com. Although there are a wide variety, you'll likely see some that are relevant to your interests.
Read this report by Packaged Facts for detailed information on net worth, assets, and debt trends, as well as attitudes toward money management and perceptions of discrimination. The report also analyzes reasons for choosing a primary bank and factors important to opening a checking account.
Those born between 1965 and 1979, known as Generation X, have reached their prime earning years and are an attractive — and sometimes overlooked — market. This 28-page report by Euromonitor International explains how to best target this generation.
In Shanghai, students spend the highest amount of time on homework in the world, an average of 13.8 hours a week, according to a report by Mintel. But they are also known for being sporty and are more willing to express themselves than previous generations. When it comes to advertising, humor is key.
More women are being recruited and promoted in the workplace, and men are sharing more household and childcare tasks. Women are also gaining influence in politics and higher education. This report explores these trends as well as key habits and spending priorities of female consumers.
How are consumers feeling about their financial situations? How does this vary by geographic location? Have consumer spending and savings plans changed? This report delves into these questions and many more.
Gen Z consumers are still teens and young adults but knowing how to reach this demographic is becoming increasingly important for marketers. Read this report to learn their shopping behavior and receptivity to media and marketing approaches.
Millennial parents are distinct from previous generations and are moving away from traditional roles and expectations. Euromonitor's report explains the changing family structure, what millennials value, how they shop, and where they look for guidance.
Consumer spending accounts for 70% of the U.S. gross domestic product, but how is this spending distributed? A 544-page report by Richard K. Miller & Associates provides clear summaries of dozens of surveys for a full spectrum of consumer psychology, demographics, and purchasing influences across 25 different segments.
Rural Americans account for 20% of the U.S. population, and their routines and habits differ from the general population. If you need a snapshot of this consumer group, look no further. This Mintel report explains their finances, lifestyles, priorities, shopping behaviors, social media use, and more.
Seniors have much more spending power than younger generations, and they are a vital target market for a variety of companies, including those in technology, real estate, financial services, and travel and leisure. Read this MarketLine report to learn what products really appeal to seniors.
This report explains key traits of five personality-driven consumer types in the UK, including the cautious planner, the conservative homebody, empowered activist, secure traditionalist, and undaunted striver. The report explains the lifestyle habits and path to purchase for each type of consumer.
Frost & Sullivan surveyed end-consumers in Germany, France, the United Kingdom, Italy, and Spain to evaluate how sustainability and environmental concerns influence car purchasing decisions.
Interested in Another Type of Consumer or Market?
The reports highlighted above are just a small sample of what is available on MarketResearch.com. You can find many other reports about customer demographics on our site, which provides a one-stop shopping experience with access to hundreds of market research publishers.
To start, click to our demographic research report listing page and click the "refine your search" button to narrow your search by keyword, region, or publisher.
You can also contact our knowledgeable research specialists for personalized assistance. They can save you time and help you find the right report for your needs at no extra cost to you.
---
Additional Articles