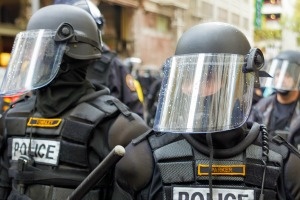 The Democrats and the Republicans don't agree on much, but there is one thing that their conventions have in common: huge requirements for security. The Republican Convention in Cleveland, with controversial candidate Donald Trump expected to secure the party's nomination, could be especially contentious.
Concerns have intensified after the July 7th death in Dallas of five police officers shot by a sniper during a large public protest and continuing unrest following the shooting deaths of two African American men at the hands of police in Louisiana and Minnesota. With the Cleveland Police Department operating under federal supervision due to a past pattern of excessive force and Ohio being an open carry firearm state, the potential for violence ratchets up even further. And even though the Democratic Convention held later in the month in Philadelphia is expected to be less problematic, security remains a high priority as is the case with any high-profile political event.
Over the past few decades, increasing security needs at public events like political conventions as well as ongoing concerns over terrorism and racial unrest have increased the use of military-style equipment including riot gear by local police forces. Law enforcement agencies purchased over $100 million of body armor alone in 2015, according to Katie Brink, security market analyst at the Freedonia Group.
This trend has increased calls for more oversight of police activities, resulting in a spike in the use of street, vehicle, and body cameras in recent years. Sales of body cameras to law enforcement agencies have seen a fivefold increase since 2010. When video storage and management services are included, the market for body cameras will soon approach $1 billion according to some estimates, with sales of the cameras themselves reaching almost $100 million.
Much of the growth in law enforcement equipment usage in recent years was driven by government programs designed to distribute excess military equipment. In addition, cities hosting conventions are eligible for federal grants to improve security. Together, the Cleveland and Philadelphia conventions received nearly $100 million in grant money to be used for the purchase of both products and services. Cleveland used this money to purchase riot gear, batons, handcuffs, body armor, and video surveillance equipment, specially equipped bicycles, and barricades, among other items.
An estimated 4,000 officers from Cleveland and around the country are expected to handle security at the Republican convention. They will face off against perhaps a record number of protest groups including the New Black Panthers, The Traditionalist Workers Party, Code Pink, The Coalition to Stop Trump, Bikers for Trump (who are promising a rally with 500,000 bikers), and Occupy the RNC.
Some of these groups plan to carry firearms at the event, and confrontations seem inevitable. The city of Cleveland says it's prepared after a year of planning and millions spent on equipment. While security efforts for the recent Cleveland Cavaliers victory parade, which attracted one million people to downtown, were largely successful, the crowd at next week's convention will be much more divided and will present a true test of the city's security preparedness.
Find Out More
Current events have brought a major focus to security issues. The Freedonia Group, a leading international market research firm, has released a number of security-related studies covering both equipment and services. To learn about these studies, visit the security page on the Freedonia website.
In addition, be sure to check out a free, newly released ebook by The Freedonia Group titled Services and Equipment Trends in the Security Industry, which offers a concise overview of this complex sector.
---
About the Author: Teresa Hayes is the Executive Vice President at The Freedonia Group.