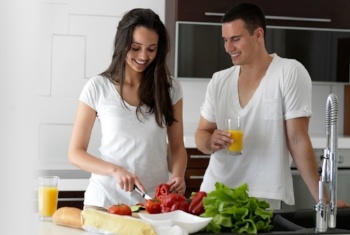 The $1.5 billion dollar meal kit delivery industry is a godsend for consumers who are strapped for time but still want quality meals. While the industry has matured in recent years, new entrants continue to target specialized niche markets that are sometimes overlooked by more established and widely known companies.
Packaged Facts takes a look at 10 up-and-coming meal kit services (listed alphabetically) that are emerging in this exciting market.
1. BurgaBox
Target: Burger lovers who crave convenience
Overview: BurgaBox is an offshoot of the successful Boston Burger Company, making it one of the few meal kit competitors with direct ties to foodservice. Instead of promoting healthy eating like many other meal kit services, BurgaBox launched in September 2016 as "the most ridiculous meal kit on Earth." BurgaBox offers signature a la carte items that can be ordered for two or four people, as well as a BurgaBox of the month subscription service, which delivers never-before-seen recipes and ingredients to your doorstep.
What's Inside: Every box comes with all the ingredients needed to create burgers, fries, and mac & cheese, with a side of beans and coleslaw. Ingredients are freshly frozen in insulated boxes with freezer packs. For the more healthy-minded burger lover, the company also offers vegetarian burger kits for The Happy Hippie and The Herbasaurus .
Delivery Information: BurgaBox delivers nationwide with no shipping charges on Monday-Wednesday. Meal kits take between 1-2 days to arrive to customers.
Cost: Product prices range from $65 (2-serving kits) to $354 (6 months of BurgaBox of the Month Club). Customers can cancel or skip a month at any time before subscriptions renew.
2. Farmhouse Delivery Supper Club
Target: Locavores who want the farmer's market in the form of a box
Overview: The Farmhouse Delivery Supper Club is the extended service of Farmhouse Delivery, an Austin, Texas-based produce delivery service and offshoot of the Community Supported Agriculture (CSA) movement. The club offers "a subscription to the farmer's market" with weekly changing menus based around seasonal cooking. Produce and proteins are sourced exclusively from Texas farmers and ranchers who use sustainable and organic practices, and meals can made in under an hour.
What's Inside: Menu items showcase local proteins, seasonal fruits, and veggies, with easy-to-follow instructions inside for the whole family. Virtually all recipes are for healthy, nutritious meals, with both vegetarian and meat-based options.
Delivery Information: Farmhouse Delivery Supper Club order deadlines are 10 a.m. two days before delivery. Orders can be put on hold or canceled at any time, as long as it's through phone or email.
Cost: A one-time $20 membership fee is applied on the first order. Servings are $12 each, with a minimum of 4 servings per week ($48 weekly).
3. Feastive
Target: Groups/parties looking for a catering alternative
Overview: Born "from a love of gastronomy," Feastive is a New York-based meal kit delivery service that has plunged into the market by focusing on party-size deliveries, offering seasonal meals with an Asian-style flair. Feastive encourages customers to make the cooking experience an event, getting guests involved and making meal-prep enjoyable.
What's Inside: Feastive uses its own food experts to craft recipes, drawing on worldwide inspiration. The company works with local suppliers to showcase seasonal, farm-fresh produce as well as its more exotic ingredients. Meals are easy to make and can be completed in under thirty minutes.
Delivery Information: Feastive requires a minimum of three days' advance notice, currently delivering to Manhattan and Brooklyn.
Cost: All meals include free delivery, with dishes ranging from $40 (Feastive Wonton Kit) to $220 (Hot Pot).
4. Foodstirs
Target: Bakers who don't want to leave home
Overview: Foodstirs, a niche meal kit delivery service, focuses on desserts (and specifically baked goods). Founded by actress Sarah Michelle Geller & friends, Foodstirs promotes its services with the following messaging: "Only six steps from box to bowl and pan to plate, baking with us makes it as simple as it should be to make moments you'll treasure." Subscribers receive themed baking every other month, which also come with baking mixes. Customers can also purchase items independently from subscription plans, like the popular celebration rainbow pancake.
What's Inside: Foodstirs includes only dry ingredients, signature organic mixes, chemical-free edible decorations, decorating supplies, and step-by-step instructions for dessert recipes. Ingredients are non-GMO and fair trade.
Delivery Information: Kits arrive the 10th of every even-numbered month, with each month assigned its own theme.
Cost: Foodstirs offers four regular subscription plans ($13.09-$14.99) or three gift plan subscriptions ($13.09-$13.68). Regular plans automatically renew to the Baker's Club 1 kit subscription plans, charging $14.99 + shipping every other month.
5. Gobble
Target: Customers looking for convenience & quickly prepared meals
Overview: Gobble was in the prepared meal delivery service until 2014, when it fully switched over to meal kit delivery services. The company remains a bit of a hybrid, as the ingredients are precooked even though they must still be mixed and heated. Meals typically require just ten minutes in a single pan. Gobble's menus change weekly, with deliveries arriving in secure refrigerated boxes. Meals and serving quantities can both be adjusted online.
What's Inside: Gobble's chefs source local and fresh ingredients from produce to protein to pasta, par-cooked and vacuum sealed. Each meal clocks in at about 700-900 calories, with each delivery containing three dinner kits, each with 2 or 4 meals.
Delivery Information: Gobble currently delivers meal kits within CA, NV, WA, OR, AZ, ID, and UT.
Cost: Gobble charges an all-inclusive price of $11.95 per meal if customers order 6 or more kits, and $13.95 if they order 4. No tax, shipping, or gratuity fees are included. There are currently two subscription plans from which to choose.
6. Good Eggs
Target: People who crave fresh produce but don't want to grocery shop
Overview: Good Eggs is a San Francisco Bay-area grocery delivery service that started in 2013 and in 2016 added meal kits to its mix of fresh produce and locally sourced food. Good eggs is non-subscription and provides same day delivery for orders placed before 1PM. Customers can receive both meal kits and groceries thanks to Good Eggs versatility.
What's Inside: Good Eggs works with Bay Area food-makers to provide consumers with locally sourced organic produce, meat, fish, and other SF Bay staple foods. In addition to its wide-ranging products, Good Eggs also offers weeknight dinner kits that come with 3 meals, 3 servings each.
Delivery Information: Good Eggs delivers every weekday from 10AM to 9PM. Customers can choose a preferred 2-hour delivery window.
Cost: Delivery charge is $9.99 on orders under $60, and free for orders over that.
7. Handpick
Target: The "99%"/less affluent customers
Overview: Handpick was the provider of a recipe app that ended up in meal kit delivery with a proposition that it could supply groceries that could work for three separate recipes. Setting itself up to be the "Ikea" of meal kit delivery," Handpick distributes throughout California, and hopes to bring its meal kits to both the retail and e-commerce spaces in the near future.
What's Inside: Handpick caters to a range of diet preferences and tastes. The service delivers meal kits with ingredients paired for three possible recipes, and its SmartPhone app allows consumers to choose from over 10,000 ingredients to see what they pair well with.
Delivery Information: Handpick's "Smart Groceries" service is currently available through California. Customers receive their bundles 3-4 working days after the order is placed.
Cost: Food bundles ordered from Smart Groceries start at $40 plus shipping and handling. Single meal kits range from $5.50 to $8.50.
8. Kitchen Table (Rebranded to Zoni Foods)
Target: Health-conscious consumers who don't want foodservice
Overview: Zoni Foods emphasizes its plant-based meals' use of flash-frozen ingredients that lock in flavor and nutrients. Kitchen Table's emphasis on frozen foods runs contrary to many other meal kit delivery services' use of fresh ingredients that purportedly retain freshness in their refrigerated containers until preparation. Zoni Foods' frozen produce is picked when ripe and then flash frozen.
What's Inside: Meals take only 30 minutes of the time to craft meals from scratch, with pre-portioned, sliced & diced ingredients ready to go after just 15 minutes on the stove. Zoni Foods' meal kits contain a full serving of plant-based proteins, starches, and unique nut-based sauces.
Delivery Information: Zoni Foods is launching its re-branded products in CT stores starting Aug 2017.
9. One Potato
Target: Families that may also want to involve kids in meal prep
Overview: One Potato is a meal kit delivery service operating in Arizona, CA, CO, Idaho, NV, OR, WA, and UT, positioning itself as "the only meal kit focused on feeding the entire family." One Potato offers adult and kid-sized portions based on each family's needs. Kits include tips and recommendations for parents on how to include their kids in meal preparation, as well as kid-friendly recipes. The company notes that its protein and produce are all organic-certified and locally sourced from farms and vendors.
What's Inside: One Potato provides semi-prepared ingredients. Meats and vegetables are pre-cut, and marinades ready to cook. The website claims that meals take 30 minutes or less to prepare. One Potato is geared for the whole family, but offers child-size portions as well. Kits come with tips and recommendations on how to involve children in cooking, and each box comes with a "cracker jack" prize." One Potato encourages the entire family to get the kids involved so everyone can eat healthily together.
Delivery Information: Meal kits arrive every Tuesday or Wednesday straight to the customer's doorstep between 8Am to 9PM. Currently One Potato delivers in Arizona, California, Colorado, Idaho, Nevada, Oregon, Washington, and Utah. One Potato has a waiting list that will notify you when meals are delivered in your area.
Cost: Consumers get three meals per week, with each adult meal priced at $11.99, and child meals at $4.50.
10. Thai Direct
Target: Customers who want authentic Thai ingredients
Overview: Of all the meal kit delivery services covered, New-York-based meal kit delivery service Thai Direct may be the most niche. The company is dedicated to providing consumers who want to "cook homemade Thai meals and enjoy the authentic Thai food experience without the trouble of finding Thai ingredients, such as fish sauce, kaffir lime leaves, galangal, Thai chili peppers, Thai holy basil, etc., which are readily available at typical supermarkets or grocery stores." Launched in late 2016, Thai Direct has started off by serving customers in its immediate market vicinity.
What's Inside: Customers pick between weekly or biweekly subscription plans, or can buy whenever they like instead. Meal recipes are included in the meal kits. Ingredients are fresh and insulated in cold boxes that preserve them up to midnight on delivery day.
Delivery Information: Meal kits are delivered to the customer's doorstep every Tuesday, Thursday, and Saturday from 1pm to 8pm.
Cost: Weekly and biweekly subscriptions are $19.99. Individual products range from $2.50 to $19.99.
Get More Information
Click to the Packaged Facts website for more information about the meal subscription services. View infographics, videos, and more. You can also find insights on well-known brands such as Blue Apron, HelloFresh, and Plated in our previous meal kits blog post.
To access more detailed data and analysis, read the essential guide Meal Kits Delivery Services in the U.S., 2nd Edition. This 128-page report covers:
Market participant opportunities
Meal kits impact on the food industry
The competitive environment
This report gathers consumer data from a survey of 2,000 U.S. adult consumers conducted in May and June 2017. Click the button below to view the abstract and learn more.
---
About the Author: Noah Miller is a Web Content Editor at MarketResearch.com.