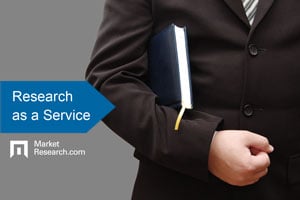 As a leading market research provider, MarketResearch.com offers a full suite of business intelligence solutions to help clients answer their toughest business questions. MarketResearch.com uses a research-as-a-service model, which provides secure cloud-based platforms where users can get instant access to the latest market research while saving time and maximizing their ROI.
Through MarketResearch.com's diverse solutions, clients can pick and choose the right selection of products and services to fit their specific needs and budget.
The benefits of research as a service include:
Significant cost savings
Scalable, enterprise-wide solutions
In-depth industry expertise
Reliable coverage and predictable expenditures
Secure portals accessible from any location
Streamlined, modern interface
Advanced search functionalities
Instant downloads
On-going training and support services
With a wide range of powerful and flexible research tools, MarketResearch.com offers cost-effective support to any business in search of answers. Whether you represent a large multinational consulting firm or own a small to medium business, we've got you covered.
Part of our commitment to providing a comprehensive research service is through access to our knowledgeable and responsive Client Services Team. These specialists help our clients find the research they need and facilitate training and purchasing. Learn more about our different platforms and solutions below.
Knowledge Centers
With a Knowledge Center, subscribers gain unlimited access to an entire catalog of industry-specific market research reports to keep pace with new and updated releases. MarketResearch.com's Knowledge Centers cover more than 20 industry verticals:
Chemicals
Construction & building products
Financial services
Biotechnology
Diagnostics
Medical devices
Education
Professional

Telecom & IT
Automotive
Pets
Food & beverage
Consumer goods
Energy & petroleum
Healthcare & life sciences
Industrial components

Machinery & equipment
Metals, minerals & glass
Packaging
Plastics & other polymers
Security
Services
Textiles & nonwovens
Water treatment
Profound
Profound offers the unique ability to purchase research by the chapter, section, or chart, so you don't have to pay for the research you don't need. Our clients save a cumulative average of $6.15 million every month through Profound.
Profound offers more than one million market research reports across 700 industry segments on a single, easy-to-use platform. On average, 12,500 new reports are uploaded every month, bringing you cutting-edge information to drive business growth.
MarketResearch.com Academic
More than 100 colleges and universities subscribe to MarketResearch.com Academic in order to give their students access to a variety of publishers at the forefront of market research. Our academic solution easily integrates into all campus-wide networks. Pricing is based on per-student equivalent. This month, we expanded our portfolio to add Freedonia Focus Reports to the MarketResearch.com Academic portal.
Custom Market Research
When you need specialized information that's not available in a syndicated market research report, a custom project may be the answer. MarketResearch.com's global team takes the time to understand your exact challenge and tailor the right methodology and personnel to your business need.
Get More Options and Achieve Stronger Results with MarketResearch.com
At MarketResearch.com, we know a one-size-fits-all approach doesn't work. Instead, we offer an array of unique platforms and subscriptions to help our clients obtain high-quality, cost-effective market research.
Whether you have an immediate research need or would like further information, there are a variety of ways to stay connected with us. Check out our free e-books and white papers, or subscribe to our industry update emails to find out more.
---
About the Author: Scott Friedlander is the President of Worldwide Sales & Marketing at MarketResearch.com.