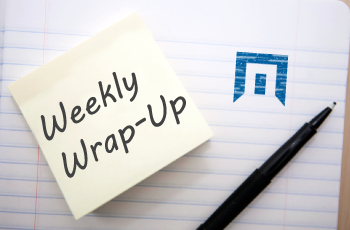 In this week's wrap-up, we bring you the latest blog posts from our publishing divisions.
Read new insights on a variety of markets including virtual reality in healthcare, value grocery retailers, smart technology, edible water packaging, the wedding industry, athletic footwear, millennial consumers, and more.

Virtual reality (VR) takes on a variety of forms in healthcare, but broadly refers to the visualization and manipulation of medical data representative of a real-world object or environment. Along with related augmented reality (AR) technology, VR has found use in surgery, pain management, and other therapy.
While more known for life science research and drug development, the CRISPR-Cas system for gene editing is finding novel applications in diagnostics. Selected developments include CRISPR -related isothermal amplification and in situ hybridization methods.
Butter sales reached their highest level in decades, according to a new report by Packaged Facts.
In the $40 billion market for value grocery retailers, Lidl could represent a major shift, possibly influencing the way many Americans shop for groceries.
The Internet of Things has made its way to the power tools market, by way of smartphone apps, digital customizable tool settings, and digitized tool record keeping.
While asbestos is banned in most applications in the US, it is still allowed in automotive aftermarket brake pads. However, the tide is changing, and asbestos is expected to eventually be phased out.
Despite environmental concerns, water in single-use plastic bottles remains popular. However, an exciting new use for hydrocolloids could help change the tide.
Rising consumer trends toward replacing meals with several smaller snacks means big business for not only packaged food producers, but also pouch packaging suppliers.
A new survey conducted by Simba Information reveals how educators are changing the way they teach reading.
Check out 7 reports on the millennial consumer, covering beauty, travel, food, pets, health care, and more.
Boosted by a rising economy, the U.S. wedding industry hit $72 billion in revenue in 2016.
The style and comfort of knitted uppers have captured consumers, while producers are enjoying the reduced costs and production time compared to conventional uppers.
Thanks to advantageous properties, natural rubber holds fast against synthetic types in many applications, placing the onus on producers to find new ways to boost natural latex harvests.
While boomers withdraw from the wine market, millennials demonstrate interest in obscure, small-batch wines with stories behind them.
---
About the Author: Sarah Schmidt is a Managing Editor at MarketResearch.com, a leading provider of global market intelligence products and services.