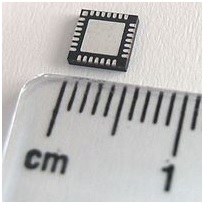 Check any trade magazines such as Microwaves & RF or Microwave Journal, and it rapidly becomes clear that most manufacturers of RF modules offer their products in connectorized form. In this context, connectorized means metal or plastic containers that have standard coaxial connectors screwed into place for the signal lines. But this somewhat old-fashioned approach is steadily coming to an end — or at least toward merely a trickle.
The market success of mainstream electronics, including RF and microwave, demands the following manufacturing criteria be met:
High and repeatable reliability;
The availability of surface-mountable parts, ready for;
Increasingly automated assembly at the lowest possible cost;
Aiming toward subsystems comprising complex integrated assemblies.
Connectorized modules do not achieve any of these criteria.
Therefore, whilst many complex integrated assemblies will likely continue to be manufactured and marketed in connectorized format — parts having lower levels of complexity are increasingly being manufactured in surface-mount packages the most popular of which is the QFN (Quad-Flat No-lead) package. With this type of technology, all connections to the underlying circuit-board and chip are made through matching arrays of surface conducting pads.
The photo above shows a 28-pad square QFN package (inverted) that has side dimensions 5 mm (200-mil). Some RF-oriented QFN packages have as many as 48 pads. The semiconductor chips — assembled within the QFN — are currently mainly gallium arsenide (GaAs) or gallium nitride (GaN), but the strong trend is toward silicon implementations.
Complex integrated assemblies such as frequency converters or synthesizers already implement QFN-based internal parts that currently attract markets valued at several billion dollars — and increasing. Currently over 40 globally based manufacturers supply QFN-based RF technology products, amongst these manufacturers: MACOM (USA), Microsemi (USA), Qorvo (USA) and Transcom (Taiwan).
To learn more about the players and the industry as a whole, check out the reports published by Engalco Research.
---
About the Author: Terry Edwards is the Executive Director of Engalco Research, which provides forecasts for products associated with the RF and microwave industry.