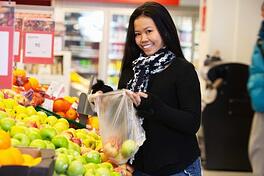 Weight management concerns are top of the mind for a substantial portion of today's grocery-aisle cart-pushers -- consumers, that is. Weight control, weight loss, and obesity are topics that rank among the most urgent health-related drivers: as reported in Packaged Facts' report, "Weight Management Trends in the U.S.", two out of five adults, representing 88 million consumers, are currently watching their diet to either lose or avoid gaining weight.
Weight concerns play out variously across the food and beverage aisles, in terms of the foods we seek out and those we try to avoid.
Wegmans supermarkets, for example, introduced its Greek yogurt in late 2011 following a two-year development period that included consumer input. The company launched six varieties under its Food You Feel Good About label, leveraging the high protein and low carbohydrate content of the yogurt, so that it would appeal to both health and weight conscious consumers. Wegmans' product scored additional points for being free of artificial sweeteners, colors, flavors, preservatives or thickeners.
Consumers Demand Healthy Items
Somewhat paradoxically, although many shoppers officially frown on highly processed or "artificial" foods, consumers continue to respond positively to the development and engineering of food and beverage products that are either explicitly designed to address specific health concerns and nutritional trends, or that amp up the intake of marquee nutrients that are widely associated with specific health benefits. According to Packaged Facts survey data, nearly half of grocery shoppers like the idea of food and beverage products that are formulated to address specific health conditions or concerns, and two out of five like to use nutritionally enhanced food and beverage products.
In part to compete with the rising tide of store-brand products, "name" brands are increasingly innovating in the area of health and wellness. Many recently introduced national or specialty brand food and beverage products feature the addition of ingredients such as antioxidants, calcium, protein, or omega-3 to deliver more nutritional value—and to capture more consumer dollars.
More generally, processed food manufacturers and foodservice operators alike are focusing on offerings that deliver nutritional benefits consistent with the recommendations of the Dietary Guidelines for Americans, 2010. This focus notably includes a priority on children's nutrition and obesity concerns.
Concern Over Children's Nutrition is Paramount
In the National Restaurant Association (NRA) What's Hot 2013 Chef Survey, four of the Top 20 trends relate specifically to children as diners:
Kids' meals (#3 out of 20)
Children's nutrition (#5)
Whole grain items in kids' meals (#10)
Fruit/vegetable children's side items (#15).
For grocery store shoppers, low-sugar, low-fat, and low-salt products continue to claim their place in the shopping cart.
According to the 2012 International Food Information Council (IFIC) Foundation Food & Health survey, for example, 78% of consumers are cutting calories by drinking water or low- and no-calorie beverages. In categories such as fruit juices and drinks, where commodity input costs have risen sharply in recent months, line extensions offering health benefits such as reduced calories from sugar are a key way to capture more sales from consumers, as noted in a Standard & Poor's Current Environment Report (November 15, 2012).
At the same time, allergies and other food restrictions are increasingly in the spotlight—or rather in its glare—when it comes to ingredients that shoppers are seeking to avoid. Over a fourth of food shoppers agree that food restrictions, food avoidances or food allergies play an important role in what their households eat, according to Packaged Facts survey data. Gluten-free has been the most prominent trend here, with Packaged Facts estimating a compound annual growth rate of 28% over the 2008-2012 period for the gluten-free foods market in the United States.
Retailers & Producers Respond With Action
Food retailers are also thinking outside of the box (or package) altogether in addressing the specific wellness concerns of their customer base. Through its pharmacies, for example, Winn Dixie is offering free cholesterol and glucose screenings to Winn-Dixie Reward Card holders, as well as partnering with OneTouch, a manufacturer of blood sugar meters for diabetes management. This initiative is more than a general goodwill gesture: according to Simmons data, adult Winn-Dixie shoppers are half again (index of 149) more likely than U.S. adults on average to suffer from type 1 or type 2 diabetes.
It is also essential to note that, particularly in the wake of the Great Recession, consumer perceptions about wellness are undergoing a sea change, moving beyond purely personal nutrition, healthcare, and fitness goals and concerns to a more thoughtful consideration of the self in relation to the community, the environment, and the broader world. As such, local, organic, natural and sustainable remain key attributes and badges of honor within the broader context of health trends.
Wellness and sustainability concerns will continue as hot topics across farms and food factories, grocery store aisles, and grocery shopping lists both because food and beverage manufacturers seek the higher margins that these value-added products can command, and because our persistently high obesity and chronic illness rates, and the overwhelming healthcare costs these trigger, demand it.
To learn why 70% of adults and one out of three (32%) of school-age children and adolescents are either overweight or obese in America, download out FREE eBook on Obesity below.
Thanks for reading!










David Sprinkle
Publisher
PackagedFacts