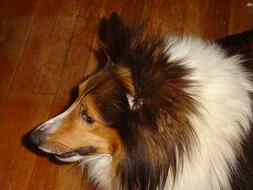 At times, I like to think of Duke, my beloved 11-year-old Shetland Sheepdog, as the canine equivalent of the actor George Clooney. Like Clooney, Duke wears his age with distinguished finesse. His once predominantly chestnut colored muzzle is now a brown/gray salt and pepper mix that broadcasts his elder statesman status. Yet even as an older dog, Duke retains a rascal's disposition -- his dancing eyes convey a whimsical mischief mingled with curmudgeonly weariness (and yes that is Duke's way of brilliantly channeling Clooney's performance in the Academy Award winning film The Descendants).
As unique and special as Duke is to me, he obviously isn't alone in the world as a senior pet. Like the human population, the pet population is graying.
Can the Pet Industry Meet the Needs of Older Pets?
According to survey findings from Packaged Facts' March 2012 Pet Owner Survey, 44% of dog owners have a dog age 7 or older, while 48% of cat owners have a cat in that age bracket.
America's graying pet population is viewed by many industry experts as an important supporter of increased pet market spending. The growing population of older pets means more companion animals are suffering from age-related conditions including joint, coronary, cognitive, and immune-system-related, in addition to diabetes and cancer.
Senior-targeted pet products and services cover all of these needs as well as routine daily concerns. Owing to their more specialized health focus, senior products and services are typically priced well above the market average.
Websites such as SeniorPetProducts.com, which was founded in 2004 on the fundamental ideas that dogs and cats require special care as they grow older and pet owners need a place to go to learn how to take better care of their aging pets, offer an assortment of products serving this market segment.
What Owners Should Know About Aging Pets
Market research shows that pets are living longer because their owners are taking better care of them, both medically and nutritionally, as well as more often keeping them inside where they are less at risk of coming to unforeseen harm.
Even more important perhaps, longer lives mean ever stronger emotional bonds and thus an increased willingness among pet owners to do whatever it takes to keep their pets healthy and happy for as long as possible. The steady, often human-style advancements in veterinary care, medications, and supplements, supported by newer payment options such as pet insurance, are also aiding the longevity of American pets.
Take it from Duke: Market research and pet industry business intelligence provide valuable data on this aging pet population, but Duke is living proof that these trends promise not just longer and healthier lives for pets, but also a rosy outlook for pet health products and services overall.
As pets age, they suffer from age-related conditions such as joint deterioration and cognitive dysfunction (just like humans), which drives the pet supplement market. To learn more about Packaged Fact's latest reports on Pet Supplements, visit our website for insider detailed data.
Thanks for reading!

Daniel Granderson
Research Analyst