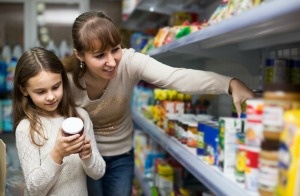 While we know it's important to not judge a book by its cover, this idea disappears when it comes to everyday shopping and buying decisions. With the average supermarket in the US carrying more than 40,000 items, brand owners face a daunting task in attracting attention to their products. In addition, the majority of buying decisions are made in stores. These factors make attractive and distinctive packaging a key component in the marketing of retail products.
The array of choices in many categories further elevates the importance of package appearance when deciding on which product to buy. "Hmm …. Should I just buy the same brand I always get? Or what about that one with the snazzy package that I can reclose? Maybe it'll stay fresher longer?" The look of the package affects how a given product is perceived in terms of quality and palatability. The appearance of the package is also essential in providing a unique identity, enabling a product to stand out from the competition. When viewing shelves of different products, the package essentially is the product in the eyes of consumers.
Retail shelf space is also at a premium for "center store" packaged goods as changing food preferences lead supermarkets to expand their focus on "perimeter" areas such as produce, prepared foods, deli, and bakery. Other retailers have jumped into the selling of food in a bigger way in the past several years. These include supercenters, drug stores, club stores, and dollar stores. After years of stores getting bigger and bigger, smaller stores are now increasingly popular, with Walmart, Target, and Whole Foods Market opening smaller footprint versions of their stores in urban areas. All of these trends are increasing the significance of visually appealing packaging in consumer purchasing decisions.
Club stores and no-frills deep discount grocery stores have seen healthy sales growth in the past decade and continue to open new stores. These stores display most of their merchandise from shipping containers placed on pallets rather than on traditional shelves. This model provides increased operational efficiency and reduces labor costs since items can be brought out for display without the unpacking of inner contents. It also increases the importance of the appearance of the outer packaging in attracting the attention of consumers and getting them to buy various products. Traditional supermarkets and other food retailers have also caught on to the advantages of using display-ready packaging in some parts of their stores as well.
So yes, appearance is not everything, but it certainly does go a long way in helping us choose one product over another.
Find Out More About Packaging Trends
The Freedonia Group, a leading international research firm, publishes a number of studies on packaging topics, including specific products and markets. Topics include:
Retail Ready Packaging
Corrugated & Paperboard Boxes
Food Containers: Rigid & Flexible
Pouches
Foodservice Disposables
Produce Packaging
Meat, Poultry, & Seafood Packaging
Wine Packaging
Labels
---
Related Articles