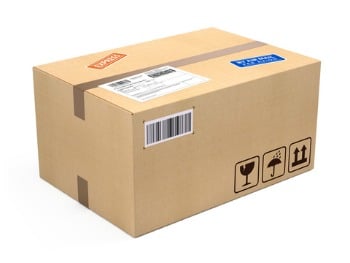 With almost everyone getting great gift deals sent to their inbox these days, it's not surprising that the peak holiday shopping period of November and December brings in 30 percent more revenue for e-commerce retailers than non-holiday months, according to a report by RJMetrics.
This year's Black Friday and Cyber Monday, two of the biggest online shopping days of the period, saw record-breaking sales totaling $6.8 billion in 2016, a 17 percent increase over 2015.
E-Commerce Merchant Perception Driven by Package Appearance
Even after the order is placed, retailers are still out to make an impression on their customers. While rapid delivery definitely adds to the wow factor, the appearance and condition of the package can contribute to a favorable or unfavorable image for a given retailer. According to a 2014 survey by Sealed Air, "Two-thirds of Americans (66%) believe the packaging of their shipment shows them how much the retailer cares about them and their order."
The package offers an additional way for retailers to communicate with customers who choose to forgo the in-store experience. Though most shipping boxes and mailers are generic, some retailers opt for custom-printed products, inserts, and tissue paper to promote their brand's identity, create a positive unboxing experience, and stand out in a sea of plain packages. Subscription box companies such as Blue Apron, Love With Food, and Surprise Ride use custom boxes that convey a sense of excitement for their recipients.
Lack of Damage & Sustainability Crucial to Retailer Image
Consumers have their own expectations. While their first priority is receiving their goods damage-free, many customers also prefer green packaging. Besides the use of recyclable packaging or materials with recycled content, the amount of packaging used relative to the size and fragility of the item is another way that online retailers can promote a more environmentally responsible image.
Excess package material is viewed as wasteful. Though wrapping paper adds to the excitement of receiving a gift, it also adds to the pile in the trash once the gift is opened. Besides, gift wrapping is time-consuming for online retailers, especially those who ship millions of gifts. In 2016, Amazon abandoned its use of gift wrap and instead began offering the option of velvet gift bags to fit different sizes of items, charging the same as the previous cost of gift wrap.
Why Is This So Overpackaged?
Another component of environmental friendliness and maintaining a positive image with consumers is optimizing package size in relation to the contents. A common complaint is when small items like batteries and jewelry are shipped in boxes that are way too large. This is seen as wasteful, especially when shipping costs are calculated by the amount of space occupied in relation to weight. As a result, expect to see greater use of smaller boxes and mailers for items that do not need extra protection.
For more on the outlook for the retail e-commerce packaging market, see Retail E-Commerce Packaging Market in the US, a new industry study from the Freedonia Group. This study includes data and forecasts for:
e-commerce packaging products
e-commerce retailer types
third-party fulfillment & logistics companies
merchandise applications
It also discusses the leading purchasers of e-commerce packaging and analyzes the market share of the leading suppliers of packaging.
---
About the Author: Esther Palevsky is a Senior Industry Analyst at The Freedonia Group, where she writes Industry Studies focused on US packaging markets.