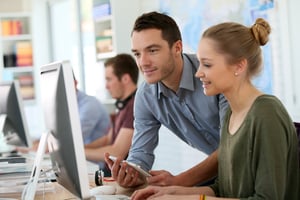 From elementary and secondary schools to colleges and universities, the education industry encompasses a broad range of subsectors that are constantly evolving.
According to Simba Information, a leading market research firm, the demand for instructional materials is shifting as more open educational resources become available. In addition, initiatives to promote science, technology, engineering, and math (STEM) education are on the rise, as well as workforce development programs to help put students on the fast-track to high-paying jobs.
Learn more about these education industry trends in the article below, with insights from several recent reports by Simba Information.
1. The Rise of Open Educational Resources in K-12 Classrooms
The adoption of open educational resources (OER) has gained momentum in recent years.
But what is OER, exactly? Open educational resources are learning materials that anyone can use, update, and share. OER instructional materials have an open license and may range from a single lesson plan to a full curriculum.
Because most OER instructional materials are available for free or a low cost, it's no surprise that they are gaining traction in K-12 classrooms. But there are other important factors that contribute to their growing popularity as well.
According to Simba Information, "One of the top reasons for OER adoption is the fit with current pedagogical and standards, namely the move from teacher-led to student-led learning."
What's more, OER is flexible enough to support personalized learning. OER materials can be easily adapted to the needs of students, teachers, or an entire district.
Find Out More → For a closer look at this trend, read Simba Information's report Use of Open Educational Resources in K-12 Schools 2018.
2. Efforts to Support STEM Education
According to the Bureau of Labor Statistics, about one million new jobs related to science, technology, engineering, and math (STEM) are expected to be created between 2012 and 2022. STEM careers are not only in high demand, they also tend to pay better salaries than non-STEM careers.
However, many of today's students may not be prepared to enter the STEM workforce. According to data from the Department of Education, about 80% of eighth-grade students attend a school that offers Algebra I, but only 24% are enrolled in the course. Because Algebra I is the gateway to more advanced math and science courses, this gap can have negative long-term effects on a student's education and future career possibilities.
It appears policy makers are aware of this problem and are pushing for change. In 2018, the Department of Education awarded $279 million in STEM discretionary grant funds, which includes funding for a variety of programs, including GEAR UP Competition: New Partnership Awards ($108 million), Education Innovation and Research ($66.8 million), Supporting Effective Educator Development ($28.2 million), Innovative Approaches to Literacy ($26.7 million), and several others.
Funding for STEM education will have an impact on textbook and curriculum providers as well, as schools look for resources to help students build the skills sets used by scientists and engineers.
Find Out More → For more information on this topic, check out K-12 Science Market and STEM Outlook Report 2018.
3. The Need for Workforce Development Solutions
Increasing STEM education for K-12 students is not the only effort to boost the career outlook of students. Another leading trend is a focus on workforce training programs designed to help people get good-paying jobs without necessarily having to earn a bachelor's degree.
In March, the White House pushed an initiative to prioritize workforce development to promote jobs in skilled trades, manufacturing, and technology. Many of these jobs do not require a college degree, but emphasize skills training or credentials such as certificates instead.
"The attraction of credentials as an alternative to degrees is gaining traction but still mainly as part of business/community college partnerships aimed at specific industry workforce goals," said Kathy Mickey, senior analyst and managing editor of the Education Group at Simba Information. "What is developing is the move by larger universities into certificate programs, particularly online, with the goal of strengthening workforce quality and providing opportunities to earn certifications as part of undergraduate degree programs."
Find Out More → To learn more about this trend and others like it, check out College Course Materials Trends and Outlook, 2019-2021.
Get More Education Market Research
These three trends are just a few of the changes to watch in 2019 and beyond in the education industry. For more detailed information, see Simba Information's market research reports. Since 1989, Simba Information has been widely recognized as the leading authority for market intelligence on the education and professional publishing industries. Simba's experts give you critical analysis derived from years of experience in the field and quality data of the kind only available to industry insiders.
Visit the Simba Information website to see the full collection of studies.
---
Related Articles