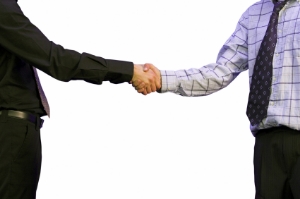 There is a reason why people repeatedly return to the same restaurant. Is it the food? Clearly if the food is sub-par, then any establishment will soon be out of business since no one will return to an eating establishment for a lousy meal. But, given that the food that is served is good, one can then argue that there are probably many other restaurants located in the vicinity of our favorite eating place. Why would we repeatedly return to the same one? It's the service! It's the people who serve the food; it's the manager of the restaurant who comes over and personally greets you. It's the wait staff that serves you as though you were the most important person in the room. And, most of all, it's the high quality food served at a price we are willing to pay. That's what brings us back, time and time again. And, those factors are what make you loyal to any business.
The bottom line is that we have in any city, town or village a choice of where we want to spend our money on food, clothing, etc., yet we usually return to the same establishments that take our business seriously by people who understand the concept that the customer is always right. And, by the way, if the customer is wrong, a smart business will do everything possible to help make the customer "right."
All of us have had, at one time or another, the dreaded task of calling a large company for any number of issues related to the service they are supposed to provide. I recently had occasion to call my internet provider. Having called them before, I was prepared for a gut-wrenching, long involved discussion that would inevitably bounce me from one extension to another in search of the elusive answers I needed. Much to my surprise, the waiting time was minimal, the person I was connected to was intelligent, respectful and mindful of my time which meant that all my concerns about the service they provide were solved in a relatively short period of time. I liked dealing with the person on the other end of the phone.
As a result of this experience, I will not hesitate in the future to call this company when the situation arises. Maybe I was lucky that day that the moon and the stars aligned just so and that is what brought me to the right person in the right amount of time to provide me with the right answer. Don't know. However, what I do know is that this particular call made me feel that this huge company actually was concerned about me, the customer, and was doing everything possible to earn my business for now and in the future. Because all the millions of dollars they must have spent on marketing campaigns, customer service training, etc., it all comes down to one inescapable fact: people buy products and services from other people. If you, as a consumer do not like or feel uncomfortable with the person trying to sell you something standing across the counter from you, over the phone or in the mall, you probably won't buy whatever it is they are selling.
People buy from other people they like and trust; People do NOT buy from people they dislike and mistrust.
MarketResearch.com is much like the restaurant we visit on a frequent basis, the internet provider that continually earns our business or the shop in the mall we repeatedly return to. The strength in MarketResearch.com is in their people. Any number of companies can provide market research reports. You can even find those reports in a University library, as well. But, the main factor that differentiates MarketResearch.com from everyone else is their people. The company has made a significant investment in the people who serve the world-wide customer base who use market research as an integral part of their daily business routine.
In our complex world of the way business is conducted today, none of us can expect to be successful all by ourselves. By virtue of the amount of data that is out there, we inevitably need assistance. The answers to all our market research questions are out there to be taken. The question is who can help the researcher find what they need quickly and efficiently. The good folks at MarketResearch.com know where to find those elusive answers and deliver them expeditiously.
It's no accident that each day employees from major global corporations call MarketResearch.com to acquire data that is necessary for the successful completion of their internal market research activities. The people at MarketResearch.com understand that they are providing a valuable service and realize that they are only as good as the last bit of research they were able to unearth for their customer.
It's a "people business." What sets this company apart from their competitors is simply the MarketResearch.com people who interact with the customers and provide timely, intelligent and relevant information. More than ever before, the axiom for every business is "time is money." To deal with a company that understands this concept and has employees dedicated to making the acquisition and delivery of market research data is most refreshing and vital.
For information on how the team at MarketResearch.com can help your organization, schedule a free consultation with a Research Specialist.
Editor's Note:
This blog post was written by Michael Gruenberg, president of Gruenberg Consulting LLP.
About Michael:
MICHAEL GRUENBERG is president of Gruenberg Consulting LLP, which provides services in the areas of sales force training and assessment, organizational reviews, executive coaching, event planning, market/product evaluation, and negotiation skills. He has more than 30 years of experience as a senior sales executive in the information industry. His new book, "Buying and Selling Information: A Guide for Information Professionals and Salespeople to Build Mutual Success" is available on AMAZON. www.gruenbergconsulting.com