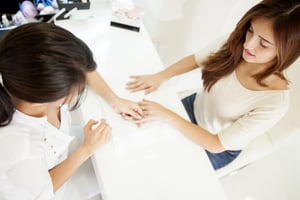 The $8+ billion U.S. nail salons industry, like many other personal services, took a hit last year. The Covid-19 pandemic shuttered many of the nation's nail salons and revenues plunged. However, as customers began to get vaccinated, salons have re-opened and demand is still strong from American women, who think of nail care as an affordable luxury.
Some salons have closed permanently, but this is a lucrative business that's fairly easy to enter, and there is an ample supply of nail technicians out there that will quickly replace any drop-outs, as they invest in their own salons.
The industry was posting double-digit growth from 2024 to 2019, with the number of establishments rising steadily. Asian immigrants in the 1970s really started the business and changed nail salons from luxury spas to discount walk-in businesses, making nail treatments accessible to millions of American women via nearly every retail strip mall.
Top Nail Salon Industry Statistics for 2021
Nail salon industry size and growth: Marketdata estimates that the U.S. nail salons industry was worth $6.5 billion in 2020, down 19% from the prior year. Actually, when considering the earnings of nail technicians that don't operate in a brick & mortar retail salon (non-employers), the industry's true value is $14 billion. The total market is forecast to rebound and grow 18% this year, with 9% average yearly growth through 2025, to a value of $22.6 billion.


Typical nail salon revenues: The "average" nail salon nationwide was estimated to gross $287,000 in revenues in 2019, with a 17% profit margin. However, salons in some states, and those that are part of a franchise, can average up to $575,000. A substantial share of revenues come from cash payments and is not reported.
Number of U.S. nail salons: There were 27,963 U.S. nail salons with payroll (employers) in 2019, up 50% from 18,600 just five years earlier. Most are "mom & pop" establishments.
Franchising: Only 3.5% of all nail salons are part of a franchise. The top 10 franchises (including Regal Nails, Davi Nails, etc.) operate about 990 units.


Nail Techs: There are approximately 262,000 sole proprietor nail technicians in the nation, a number that has grown steady since 2007. Many of them will fuel future growth, as they aspire to open their own salon. They generated additional sales of $9.3 billion in 2019.


States to watch: California and New York have the greatest number of nail salons – 9,500 combined in 2019.
Latest Nail Salon Market Research
To learn more about this market, check out a new report titled U.S. Nail Salons: An Industry Analysis, which covers the nature of the industry, market sizing, growth forecasts, industry ratios, operating metrics, information on nail salon franchising, and more.
---
About the Author: John LaRosa is the President of Marketdata LLC and is the author of 100+ industry and market studies. His research appears in top media outlets including ABC, CNN, Fox, Forbes, USA Today, The Wall Street Journal, The New York Times, and a variety of trade journals.