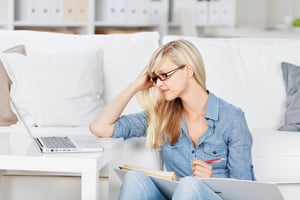 PreK-12 professional learning and development played a critical role in facilitating the shift to remote learning during COVID-19.
In a recent webinar The Transformation and Funding of PreK-12 Professional Learning in the COVID Era hosted by edWeb.net, Kathy Mickey, Managing Editor and Senior Analyst at the market research firm Simba Information, discussed key changes impacting the professional learning market in 2020 and the outlook for 2021.
Mickey presented research from a recent report titled PreK-12 Professional Learning Market 2020, which explains factors influencing change in the market, challenges facing the sector, and forces driving demand.
The Impact of COVID-19 on Professional Learning
Sales of professional learning materials and services used in preK-12 schools were projected to hit $5.59 billion in 2020-2021, down 2% due largely to education budget declines, according to Mickey.
The COVID-19 pandemic disrupted the market initially but also created a huge need for professional learning as schools shut down and teachers scrambled to help students adapt to a remote environment.
Teachers will continue to need long-term support on a variety of topics related to COVID-19:
How to deal with equity issues
How to address social-emotional needs
Developing plans amid uncertainty
How to support parents
How to meet the needs of students falling behind
Top Trends in Professional Learning for 2020 and 2021
Professional learning has become "much more personalized." The market has seen a clear philosophical change—from top-down to educator-led—with more flexible, personal tools such as coaching, learning communities, and digital learning hubs.
Foundational literacy, foundational math, and STEM will remain evergreen topics. Social studies—and guidance for how to deal with differing views—will be another hot subject area. Mickey also expects to see ongoing demand for professional development that addresses personalized and differentiated learning, project-based learning, maker spaces, and the needs of special-ed and English-learners.
Professional learning is increasingly expected to go beyond the basics, especially when it comes to technology use. Instead of simply describing how to use a device or program, professional learning content should explain how to use the technology to spur learning.
Competitive Landscape and Market Outlook
The competitive landscape for professional learning includes a wide range of players such as independent consultants, pure-play professional development providers, nonprofits and associations, instructional materials providers, higher education institutions, and K-12 educators.
The good news is there is plenty of federal funding available for the professional learning industry, at least temporarily, due to the extensive pandemic relief offered through the CARES Act, CRRSAA, and the American Rescue Plan.
Where to Learn More
For more in-depth data and analysis, read PreK-12 Professional Learning Market 2020. This report draws on Simba Information's ongoing research, data collection, and interviews with officials from state education departments, school districts, schools, professional development vendors, and advocacy groups.
---
About Simba Information
Since 1989, Simba Information has been widely recognized as the leading authority for market intelligence on the education and professional publishing industries. Our experts give you critical analysis derived from years of experience in the field and quality data of the kind only available to industry insiders.