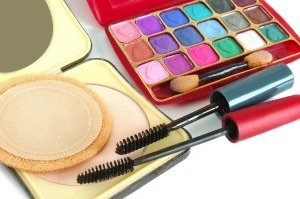 The United States is the largest cosmetics market in the world, and its total revenue is expected to exceed 62 billion in 2016. However, the global market is still growing, with opportunities in emerging markets throughout Asia, Latin America, and Eastern Europe.
The beauty and cosmetics industry can be broken down into smaller segments including make-up, skin care and lotions, hair products, and fragrances and perfumes. Together, these segments form an industry that continues to grow year after year. To learn more about specific segments and find out about new industry trends, read the post below.
Make-Up
The make-up market consists of eye make-up, face make-up, lipsticks and glosses, and nail polishes. According to a MarketLine report, the U.S. make-up market had total revenues of approximately $7 billion in 2013, with a compound annual growth rate (CAGR) of 3.7 percent between 2009 and 2013. The market is expected to maintain this growth pattern, with an anticipated CAGR of 3.8 percent for the five-year period of 2013-2018, which will bring the market to a value of $8.4 billion.
Skin Care and Lotions
The skincare market is the largest category in the global cosmetics industry, accounting for 35.3 percent of the global market in 2014. The skincare market consists of facial care, hand care, depilatories, and make-up remover products. These products create a $121 billion global industry. According to a recent report by Euromonitor International, Indonesia and India will be important growth markets in the next few years.
Hair Product
Hair care products represent a large segment of the beauty market, holding 24 percent of the market overall. Hair care grew 2 percent in the U.S., reaching $11.6 billion in 2014. Shampoos and conditioners have driven growth in this market — especially with their advanced formulas — but this growth, coupled with increased salon visits, has cannibalized sales in salon hair care, colorants, and styling agents.
Fragrances and Perfumes
According to TechNavio - Infiniti Research Ltd, the global fragrances and perfumes market is expected to grow at a CAGR of 2 percent by 2019. The demand in Asia Pacific, Latin America, and Eastern Europe has increased over the years, creating a growing market for distributors. Recently, it has become more common for consumers to purchase their products online instead of in store. The rise in online sales of fragrances and perfumes will help drive growth in the forecasted period.
Premium Beauty Products
The Washington Post reported that the prestige beauty category saw a 7 percent increase in sales last year, boosted by consumers' desire for a "selfie" ready image.
Many brands and manufacturers are entering the market for premium beauty care products. For instance, Marc Jacobs and Tom Ford have extended their presence into this segment by offering premium make-up, bath products, and even nail polishes. The global premium cosmetics market is expected to reach over $126 billion by 2019.
One of the fastest growing sub-segments of the premium beauty market is sun care. Premium sun care products are expected to see positive growth through 2019. The growing worldwide health and wellness trend is a key contributing factor.
Online Beauty Stores
In 2013, approximately $17.3 billion was generated through online shops and mail-order beauty product sales. Many global companies are offering new and exciting products that are being marketed through social media sites such as YouTube and Instagram. By strictly selling online, these new companies are able to reach a wider range of consumers without the struggles of creating new physical store locations.
Find Out More
NEW UPDATE: Please check out our new article "5 Top Cosmetics Industry Trends to Watch in 2023 and Beyond" for the latest information.
To learn more about the market for beauty and cosmetic products, check out all our reports:
Thanks for reading!
Caitlin Stewart
Marketing Coordinator
MarketResearch.com