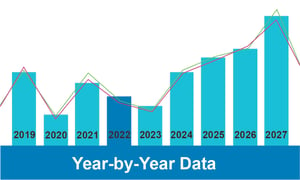 The Freedonia Group is now publishing annual data in addition to 5-year forecasts in our industry studies going forward, which will double the amount of tables in each new report.
"We have long generated annual data as part of our rigorous data development process," explained Jennifer Mapes-Christ, Industry Studies Manager at The Freedonia Group. "However, we are now providing it to customers within the published reports."
Reasons for the Change
This shift came as a response to client needs and the tumultuous market environment of recent years. "Client focus used to be more on long-term trends, but with the rapid changes of the past few years—including the global pandemic, supply chain challenges, and price volatility—clients expressed more interest in short-term assessments to better understand not only the immediate picture, but also the assumptions that underpin our longer-term forecasts," said Mapes-Christ.
What Data Will Be Included in Reports
Clients will now see tables that show year-by-year data 3 years back from the base year and 5 years forward from that point.
So for example, a report with a 2022 base year will include:
Annual data for 2019, 2020, 2021, 2022, 2023, 2024, 2025, and 2026
A 5-year forecast to 2027
Historical data 5 and 10 years back (in this example, 2017 and 2012)
In addition, some reports may also include a 10 year-forecast to help explain the birth of a new industry or market or to better illustrate cyclical trends.
How We Calculate the Data
Whether clients are looking at long-term forecasts or annual data, The Freedonia Group's methodology provides an accurate and reliable picture. Using a trusted brand name like The Freedonia Group saves clients from the headaches and risks associated with low-quality research providers.
"We don't just apply the average growth rate for our long-term forecasts to get the annual data for the in-between years," Mapes-Christ explained. "We start with the macroeconomic consensus forecasts developed by our in-house economics team, then consider where we are with cyclical and long-term trends and evaluate the effects of short-term disruptions."
The Value for Our Clients
Drawing on the data and analysis in our reports, clients can quickly evaluate both short-term and long-term market trends while accounting for near-term volatility and broader cyclical patterns.
"Based on client feedback, we understand our clients find value in both year-by-year data as well as long-term historical data to understand the past trends and how it could affect the future," said Jodi Marsh, Executive Vice President of Sales & Marketing at MarketResearch.com, the parent company of The Freedonia Group. "Our industry studies bridge the current macroeconomic environment in comparison to historical trends, providing an informed holistic view of the industries we write about."
Annual data helps clients to see and understand the market cycle trends that could be masked by 5-year averages, but there are still important benefits to the 5- and 10-year forecast perspectives. "Durable, long-term trends are more visible when you step back from year-by-year volatility," according to Mapes-Christ.
By offering a robust methodology, insightful analysis, and the full range of data clients are looking for, Freedonia is an easy choice when it comes to market research.
To explore our industry studies, please visit freedoniagroup.com.