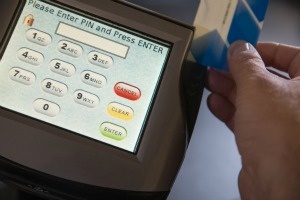 For consumers all across the U.S., the day after Thanksgiving marks the official start to the holiday season — and what better way to celebrate than buying presents? The term "Black Friday" was coined in the 1960s, and today it has become one of the busiest shopping days of the year. In the past few years, Friday is no longer the only shopping day promoted during Thanksgiving weekend. Now, consumers can get deals all weekend long on Small Business Saturday and Cyber Monday.
According to a report by Mintel, retailers are going to have their work cut out for them in 2015 in order to keep up with the holiday revenue generated in 2014. But, luckily for retailers, the National Retail Federation projects 2015 holiday sales to rise by 3.7 percent.
In this blog, we are going to cover retail trends and consumer behavior patterns from recent years, as well as what we can expect in 2015.
Thanksgiving Day
It is becoming a common tradition for families to go out shopping after Thanksgiving dinner. In 2014, 35 million shoppers hit the stores on Thanksgiving, and out of those, approximately 74 percent also shopped on Thanksgiving Day in 2013. A significant proportion of millennials shopped on Thanksgiving Day — an estimated 36 percent.
Because many stores open late on Thanksgiving, around 5:00 or 6:00 pm, many choose to remain open all through the night into Black Friday and offer different deals at different hours.
Black Friday
Black Friday has evolved over the years to fit consumer demands and technological changes. An estimated 134 million people shopped online and in stores on Black Friday 2014, a number that decreased since 2012 and 2013. However, retailers don't need to assume Black Friday is going to disappear any time soon — it's just changing.
New retail trends have emerged over the past few years and will be used again in 2015 to generate the most revenue possible. More companies are opting to use promotion deals on their websites and mobile apps so consumers have access to door-buster sales without actually heading out into crowded stores. Last year, online retailing on Black Friday witnessed record-breaking sales, so stores need to prepare to catch web traffic. Other stores have chosen to offer promotions the entire week leading up to Black Friday, so consumers have the option to shop even earlier.
Small Business Saturday
Since Small Business Saturday emerged, many small businesses and start-ups have taken advantage of the opportunity to promote their businesses and show off their merchandise. Last year, 33 percent of holiday shoppers said they specifically went out on Small Business Saturday to support local businesses. This year, an estimated 24 percent of holiday shoppers over the age of 18 plan on buying their holiday purchases at local or small businesses.
Let's Not Forget About Sunday
Although the Sunday after Thanksgiving is not recognized as any official shopping day or holiday, it's still an extremely busy shopping day for retailers. Similar to the Sunday before Christmas Day, many stores and malls have extended hours, and some promotions will last through the day to encourage consumers to buy merchandise. Even though most Americans spend the Sunday after Thanksgiving traveling home, many still brave the crowds and make it out to purchase more goods.
Cyber Monday
It's no surprise that consumers are becoming more reliant on online shopping for their holiday purchases. With the easy ability to make purchases on mobile devices, consumers can buy anything anywhere. Unfortunately for many retailers, there has been a decline in purchases on Cyber Monday, because consumers can buy online anytime, not just that day. But that doesn't mean Cyber Monday isn't an important opportunity for retailers. Approximately 127 million shoppers made online purchases on Cyber Monday 2014.
This year, digital shopping is still expected to be high. Nearly half of holiday browsing and purchasing will take place online, so retailers will benefit from keeping up with the latest e-commerce trends and having their online shops easily accessible for computers, tablets, and smartphones.
Consumers are more knowledgeable and informed when it comes to shopping. The recession taught consumers how to shop smart and get the best bargains. We will see plenty of shoppers take advantage of the after-Thanksgiving deals all weekend long.
To learn more about how market research can help benefit you and your business during the holidays and the rest of the year, download our free eBook.
Thanks for reading!
Caitlin Stewart
Marketing Coordinator
MarketResearch.com