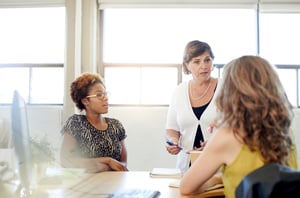 American mothers make the majority of household purchasing decisions and spend more than $2 trillion per year. Given the vast spending power these moms yield, it's no surprise that companies in a broad array of industries are eager to appeal to this influential demographic.
However, motherhood has changed significantly over the last few decades, and moms face a unique set of opportunities and pain points. According to research from Mintel International Group, a leading market intelligence agency, moms today tend to be older. A larger percentage of moms continue to work after they have kids, and the cost of raising kids is also increasing.
Moms are also inundated with more information than previous generations, with a rabbit hole of parenting advice ever-present on the Internet and social media. Millennial parents, in contrast to Baby Boomers, often strive for perfection as parents and seek to "live their best life." Given these pressures, many moms believe that raising children is harder than it used to be.
Understanding what matters to moms, including their consumer preferences and behaviors, can be a challenge, particularly because moms are such a large, diverse group of people. But marketers must stay up to date and share brand messaging that is in sync with the challenges that modern moms face — or risk having their marketing campaigns blend into the background unnoticed, or sound tone-deaf.
To help marketers engage effectively with this demographic, Mintel International Group recently released a series of syndicated market research reports about marketing to mothers that is available on MarketResearch.com. Learn more about each of these reports below.
Marketing to Moms – US
Overview: This report explores the common tension points and challenges moms face along with current parenthood trends. It also shares specific examples of how brands can stand out to this demographic.
Key Insight: "Moms are being pulled in a million different directions and may not have the time or the inclination to research brands when making purchasing decisions. When fighting for moms' attention, brands need to get it right the first time or they can easily be overlooked."
— Dana Macke, Associate Director of Lifestyles & Leisure
Marketing to Black Moms – US
Overview: Marketing to Black Moms – US shares research on black moms' attitudes and behaviors toward motherhood, the media's depiction of black families, and black moms' hopes and dreams for their children.
Key Insight: "Black moms accept primary responsibility for all aspects of their children's lives — from household management to their education and entertainment … But for now, her main concern is instilling a sense of happiness, positive imagery, and resilience in her children as they face bias now and certainly in the future."
— Toya Mitchell, Multicultural Analyst
Marketing to Hispanic Moms – US
Overview: This report looks at household dynamics for Hispanic moms, their top responsibilities, parenting pain points, and post-kid plans. The report also shares insight into what will resonate with this group of consumers.
Key Insight: "Compared to all US women, Hispanic women are more likely to be moms, making their current impact on household purchasing disproportionately stronger than their population share would indicate."
— Juan Ruiz, Director of Hispanic Insights
Find Out More
The reports cited above by Mintel from 2019 are no longer available, but MarketResearch.com offers a wide variety of newly published reports that provide insightful information on consumer demographics. The findings in these reports can help you sharpen the focus of your marketing initiatives and product planning. Here are a few recent demographic reports that may interest you:
---
About the author: Sarah Schmidt is a Managing Editor at MarketResearch.com, a leading provider of global market intelligence products and services.