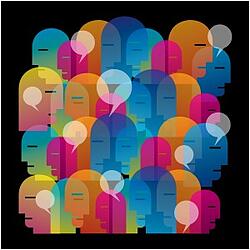 Companies are continually searching for ways to stand out from the crowd and capitalise on new technology to promote themselves. What's clear is that the mobile phone, the device sitting in everyone's pockets, is vitally important for the future of marketing. Firms need to go where their audience is, and their audience, invariably, is on their smartphone – be it for browsing the internet, sending an SMS, making a call, using a social media app, taking photos or any of the many other multitude of functions these ubiquitous devices can perform.
So, how do you reach your customer base through the device that is so tightly help in their clutches? There are two increasingly popular ways:
Ads in a person's social media feed

Text messages
Let's weigh the pros and cons when it comes to mobile marketing versus social media marketing in the following key areas:
Visibility
Social media allows you to market frequently to a wide audience. But, still, how do you ensure your tweet or post is actually seen by your target market? Twitter and Facebook are two of the most popular social media channels, so they're pretty busy and saturated. It's easy for someone to lose your post amid the crowd, even if it is promoted and targeted. A text message, on the other hand, is treated differently by consumers. By sending an SMS, you'll reach the person you want – the first part of the battle – and they're likely to read it. While a bit more intrusive, a text is more of a novelty than a tweet or a Facebook post and is usually treated as a less disposable commodity by the recipient. As a result, although more targeted, many companies find more visibility through SMS-based marketing.
Connectivity
There's always a danger that when trying to contact customers directly your efforts could backfire. Marketing campaigns need to engage the audience, not annoy them – a sometimes difficult balance to strike. When it comes to mobile messaging, there's always the chance the customer could opt out of receiving future messages, but social media needs to be even more wary of this. People love to share good content but, equally, are easily turned off by poor material. It's perilously simple to unfollow any brand – easier than opting out of texts – and 55.7% of people say they have unfollowed brands on social media for 'boring or salesy' content. Social media content is more likely to interrupt someone's stream whereas a text can be saved and read later if necessary.
Convenience
Social media and texts both list speed and ease among their benefits. On social media one swift post, in theory, makes your material available to your a wide audience instantly. But, that isn't the same as direct contact. SMS marketing methods can mean a large tranche of messages are sent within a matter of minutes meaning it's quick, easy and direct. So, while both offer convenience, text messaging provides more direct contact for same level of effort.
Cost
A standard tweet or Facebook post will be free, and you can share content, build followers and engage with customers for no cost. However, that doesn't mean that there is no cost involved in social media marketing. Facebook ads and promoted tweets cost money but ensure prominence, and you might reach an even wider audience if your customers like and share your posts. It's important to weigh the cost as promoted tweets carry a fee of up to a couple of pounds per engagement and could stretch beyond the price of a text message package. With GlobalMessaging mobile marketing packages cost anywhere from 2.4p upwards – meaning mobile can win over social when it comes to cost, too.
To learn how social media can impact your market research efforts, download our free white paper!
Editor's Note:
This post was written by Debbie Fletcher.
About Debbie
Debbie Fletcher is an enthusiastic, experienced writer who has written for a range of difference magazines and news publications.