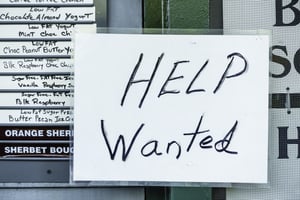 In the U.S., the ongoing labor shortage is having far-reaching effects, from intensifying inflation and supply chain disruption, to extending wait times for online orders and home renovation projects, according to Peter Kusnic, Research Analyst at The Freedonia Group.
In a recent webinar, Kusnic sat down with Industry Studies Manager Jennifer Mapes-Christ to discuss the causes and repercussions of labor shortages, the impact on the economy, and how companies are coping with these challenges. To learn more about these important topics, watch a recording of the webinar or read our recap below.
What Is the Great Resignation?
The so-called "Great Resignation" is a result of increased worker mobility, Mapes-Christ explained. During the volatile economy of the pandemic era, many workers stayed put if they could, but the widespread upheaval related to the pandemic also caused many workers to re-evaluate their lives. Some workers decided to seek more flexible work-from-home or part-time jobs, better pay, or an employer that helped them feel more valued.
"The pandemic made many people realize that life is too short, and they don't want an unhappy work-life. A lot of people were looking to make a change," Mapes-Christ stated.
Why Is There a Labor Shortage in 2022?
The pandemic prompted many people to leave the workforce. Some of the reasons include:
Nearly a million Americans died from the pandemic itself, including many working age adults, and still others were disabled by their encounter with the virus.
Many people retired early and didn't want to work during the pandemic.
Many workers had to take on additional care-giving responsibilities, such as parents with children at home dealing with homeschool or remote schooling, or reduced access to daycare.
Other people left the workforce due to high stress and burnout related to the pandemic, especially healthcare workers and people in education, foodservice, retail, and e-commerce fulfillment and delivery.
Some immigrants were unable to access work in the U.S. due to border closures, limited international mobility, and political concerns.
How Has the Labor Shortage Impacted the American Economy?
The effects of the labor shortage are far-reaching. As Mapes-Christ explained, "If you think about, number one, there are a lot of production impacts. There aren't enough workers to produce the goods that we need. Second, if you think about if transportation is compromised, if there's not enough fulfillment to delivery workers, and then you think about service being slowed, if there's not enough retailer foodservice workers to handle customer demand, and all of these come together to really raise the cost of doing business and add to the pressures from supply chain issues to rapidly rising energy prices that contribute to forcing prices upwards."
In addition, consider the workers who enable other workers to stay in the workforce, such as daycare teachers. A lack of daycare teachers has meant that some childcare facilities have closed or raised prices to attract more teachers, which is a challenge for parents who can't work without that level of support for their family.
A lack of nurses or other medical support staff means that healthcare may be harder to access, or care might be delayed, or the quality of care might suffer leading to poorer outcomes for patients.
A shortage of workers will also be a particular challenge for medium and smaller size companies who have a harder time competing for workers. According to Mapes-Christ: "If you have deeper pockets, you can offer higher wages. You might have a greater ability to provide the perks that workers want, or you can afford the automation technology that is a work around. This increased concentration of sales among big firms who already enjoy market leadership to begin with can have their own cascading economic impacts on prices, innovation, and local economic activity."
The bottom line is that if there aren't enough workers, the economy can't generate the level of production it needs for growth. "For instance, I was just reading the other day that Pizza Hut reported that their first quarter sales were down, and company leadership attributed it very heavily to not having enough delivery drivers, and they're not the only ones feeling that level of pinch," said Mapes-Christ.
What Industries Are Most Impacted by Labor Shortages?
The industries facing the biggest hits either saw very rapid increases in business due to COVID-19, or experienced their own special challenges related to the pandemic. These include foodservice, healthcare, education, retail, and e-commerce fulfillment and delivery. Workers in these industries suffered from extra stress due to the pandemic.
In addition, industries that previously relied very heavily on immigrant labor are experiencing worker shortages. For this reason, agriculture and tourism have been particularly challenged.
How Are Companies Handling Worker Shortages?
Companies are responding in a variety of ways:
Some companies are offering higher wages to attract and retain workers.
Others are providing increased flexibility and work-from-home options. Remote work is a popular perk for employees, and it also allows a company to cast its net more widely and find potential employees in a much larger geographic area.
In the case of foodservice and retail businesses, many are instituting more predictable and consistent scheduling—something workers have long called for.
Other companies are using contractors to supplement their workforce, particularly in the healthcare industry through nurse and nursing aid agencies and traveling RNs.
Other businesses are hiring semi-retired and formerly retired workers on a part-time basis.
Companies are also turning to automation and artificial intelligence, such as using robots for fulfilling orders in a warehouse, or automated software for processing online orders.
Businesses are also bringing customers into the process to reduce the need for labor, such as with self-checkout lines at the grocery store or paying customers to pick up their own pizzas rather than use a delivery driver.
Sign Up for Our Webinar Series
Don't miss another webinar from our industry analysts! Sign up to hear about upcoming webinars that cover hot topics across a wide range of global markets.