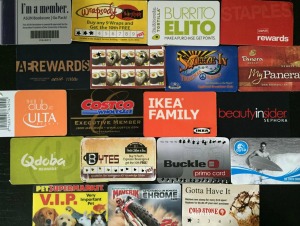 Customer loyalty programs are one of the fastest growing marketing techniques among various different industries. American Airlines was one of the first companies to launch a successful loyalty program in 1981, and since then, loyalty programs have only increased in popularity and diversity. Because such programs are so common, not to mention the number of types of loyalty programs to choose from, it is important that you use market research to help you understand which program works best for your organization.
Loyalty programs are successfully utilized in all different industry retailers, including: department stores, home centers, book stores, and even local retailers. In the U.S., nearly 7,000 grocery stores have loyalty programs. And, almost all store loyalty programs are seeing large success. For example, since launching their loyalty program, Rewards Zone, in 2003, Best Buy has acquired 7 million members.
As "frequency" loyalty programs, those that accrue rewards based on frequency of transactions, become more popular, marketers are going to face new challenges in using them to differentiate their product, service, business, or store from the competition. According to George Belch, the average American belongs to 12 different loyalty programs but is only active in about 40% of them. Market research projects will be necessary to determine how to best keep customers engaged in your loyalty program, which, in turn, will help you gain business over your competition.
Determining a type of loyalty program
There are five main types of loyalty programs, these include:
Members receive discounts at the register – These programs are open to all customers, and all receive the same discount, regardless of purchase history. These programs are most popular in grocery stores or supermarkets.
Members receive a free item after so many purchases – These type of programs are also offered to all customers and normally require customers to purchase a certain amount of units to receive one free unit. These are common at coffee shops, chain hair salons, nail salons, restaurants, etc. These do not normally include a customer database that links purchases to specific customers, so no data is collected.
Members receive points or rebates based on multiple purchases – These programs are designed to get customers to spend enough to qualify for bigger discounts. Companies with more expensive products more commonly use these programs, such as airlines, hotels, credit card programs, and big chain stores such as Office Depot or Staples.
Members receive target discounts/offers/mail – Loyalty programs like this include large data gathered in order to separate groups of customers into segmented groups based on demographics and purchase history.
Members pay for benefits only received by membership – Programs that require an annual/monthly fee to be a member. These programs usually offer large discounts to members that non-members do not get to receive. An example is Amazon Prime.
Based on the types of customers an organization has, as well as the products offered, determining the best loyalty program is key to getting the best use of the program offered. By conducting market research, you can assess which program types are currently being successfully used in your market as well as which types have failed. It will also help you better understand your customers' motives in purchasing your products or services, which will help you determine which type will be the most attractive to them.
Determine the best platform
More and more companies are moving towards using technology for their loyalty programs. Smartphones and loyalty apps are easier for customer's to use, and they are also more convenient. For example, Starbucks's app is able to track giftcards, pay for drinks, track purchases, and reward customers with free drinks and food after so many purchases.
Even social media is playing a large part in loyalty programs. The option to "check in" to locations and "like" things online gives customers immediate discounts and benefits.
Determining which platform is the most widely used by an your target audience can play a beneficial role in determining which loyalty methods will be most effective for your business and customers.
Using data gathered through loyalty programs
Many companies have been able to create large databases based on the information gathered through their loyalty programs. Having access to such large quantities of data can create the opportunity for companies to determine the best discounts to give, how to best engage customers, and how to create the best customer care.
Because companies are getting data on their most ideal customers, or ones that frequently shop at their stores, they can develop strategies to better target these customers and potential new ones.
Based on the different types of programs, platforms, and data gathered, loyalty programs cannot be chosen lightly. It is important to determine what type of program will give the best results for your organization.
To learn more about how market research can help your company achieve success, download our free eBook.
Thanks for reading!
Caitlin Stewart
Marketing Associate
MarketResearch.com