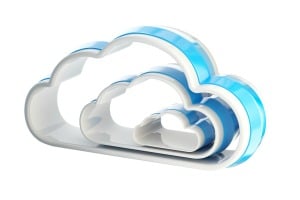 Unquestionably, the leading infrastructure as a service (IaaS) cloud hosting service provider is Amazon Web Services (AWS). The company began offering data storage services in 2006, launching Amazon S3 (Simple Storage Service) in March of that year, and Amazon EC2 (Elastic Compute Cloud) in August.

The service has now been operating for over 10 years, and starting in the first quarter of 2015, Amazon began reporting AWS as a separate segment. In its 2015 Annual Report, Amazon disclosed that AWS net sales expanded from just over $3.1 billion in 2013 to nearly $7.9 billion in 2015. AWS's revenues have continued to expand rapidly, with the segment experiencing average quarterly growth of 12.5% over the period between Q1 of 2014 and Q2 of 2016, and its revenues for the first half of 2016 already nearly match the first three quarters of 2015.

Before AWS, companies that needed to store large amounts of data either had to build their own data centers, or rent chunks of space from hosting services, making sure to rent enough extra space to leave room for expansion. This was a tedious balancing act, as it was possible that the extra space could be too much — in which case the company was paying for unused capacity — or too little, leaving insufficient room for large expansions.
Amazon, however, began offering AWS with a utility pricing model, in which customers pay only for the space they use. AWS also maintains plenty of extra capacity and allows customers to scale up on short notice. As a result, this business model provides opportunities for companies to expand rapidly without having to spend on unused capacity. Other storage service providers have since adopted this pricing method, and the flexibility it allows has proved beneficial to developers and startups, such as Rovio and Airbnb, that required infrastructure with the capability to scale dramatically.
After a few years watching AWS's success, Microsoft entered the game, introducing a preview of its cloud hosting service offering, Windows Azure, in October 2008. The platform was made generally available in February 2010 and renamed Microsoft Azure in April 2014. Since Azure's launch, Microsoft has been aggressively developing its service and rapidly rolling out new features. Azure has become number two to AWS in the IaaS cloud hosting services industry, but even it is a long way behind.
Learn More
Interested in the US hosting services industry? For numbers and analysis covering US data processing and hosting by source of revenue and by market for 2005-2015 with projections to 2020, see Data Processing & Hosting: United States, a report published by the Freedonia Focus Reports division of The Freedonia Group.
---
About the Author: Luke Hickman is an Analyst with Freedonia Focus Reports. He conducts research and writes a variety of Focus Reports, which offer concise overviews of market size, product segmentation, business trends, and more.