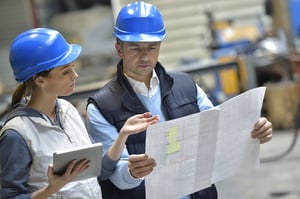 Energy-efficient building products not only help curb carbon emissions and reduce waste, but they can also save people money on their utility bills and create a more comfortable space with the climate controls and indoor air quality that consumers want and need.
The Freedonia Group's Industry Analyst Matt Zielenski recently recorded a video with Research Analyst Peter Kusnic to discuss key trends in green building products. An expert with more than 20 years of market research experience, Matt has written more than 70 studies on the building materials and construction products industry, covering roofing, plumbing, fencing, lumber, solar power, and more.
Watch the video to learn his insights or read a summary of key points below.
Energy-Efficiency as the New Standard
Zielenski explained that although green building materials used to be somewhat less than common, they are now standard. ENERGY STAR windows and doors are installed without a second thought to maximize the energy performance of a home and commercial structure.
As Zielenski said, "In many cases, consumers themselves will ask to have green products installed in their homes—that means more energy-efficient heating systems, cooling systems, water heaters, and solar assembly. People are even considering geothermal heat for their homes."
What's Next for Green Building Products
With green building requirements growing stricter around the country, a variety of products are expected to benefit, including:
Roofing that minimizes energy consumption such as cool roofing materials, insulated coverboards, and radiant barriers.
Insulation that maximizes thermal performance with proper air and water barriers to prevent moisture from accumulating in a home and causing rotting or molding and negatively impacting indoor air quality.
Indoor air quality systems (IAQ) that allow fresh air to flow through a building. More consumers are concerned about good ventilation due to COVID-19, and IAQ is also a part of LEED, a widely used green building rating system.
Automated climate control systems that enable you to program a thermostat from your smartphone and easily reduce energy consumption when it is not needed, such as during the night or when a building is not occupied.
Solar panels, particularly in California, which now mandates the installation of solar panels on all new homes and commercial structures, but the trend could also grow in other states such as Arizona, Florida, New Mexico, and Texas.
In addition, the lifecycle of materials is getting more attention. "Consumers are looking to use materials that last longer, that you don't need to replace as much so less waste ends up in landfills," Zielenski explained. "They are also looking for materials that can be recycled such as metal building products—including metal roofing and metal siding—because you can recycle that at will."
Concrete isn't recyclable, but it can be made with reclaimed materials such as coal ash or other components, and concrete also lasts a very long time, whereas a material like wood is made with renewable material but can be prone to rotting. There are pros and cons of different materials, and much depends on the preference of the builder and where they are located in the country. Some products may be more suitable than others depending on the conditions.
Buildings That Offer Unique Challenges and Opportunities
It's also important to note that some types of buildings that are becoming more widespread are particularly challenging from an energy-efficiency and indoor air quality standpoint.
Service warehouses and distribution centers have increased in number alongside the rise of e-commerce, but these large buildings have high ceilings, which makes them more difficult to heat and cool properly. They also have multiple doors that frequently open and close as trucks drop off and pick up deliveries, which allows hot or cold air to move into the building. The idling trucks can also negatively impact indoor air quality when their emissions flow indoors. The use of insulation on siding and roofing, extra internal walls to disrupt the air flow, and centralized climate control can help improve air quality and conserve energy.
Data centers and server farms are also growing in number and require proper climate controls for a consistent temperature. Intensive use of remote-control thermostats and higher insulation can help keep operations running smoothly.
Healthcare facilities are increasingly under construction as well, including senior centers, care facilities, hospitals, and COVID wings, which all require careful monitoring of indoor air quality to reduce the risk of spreading disease. These buildings need the right mix of windows and doors, heating, and cool systems to allow for adequate air flow and keep people safe.
Where to Learn More
To learn how sustainability is impacting other key industries, check out our recent blog post "5 Industries Benefiting from Going Green."
To stay on top of new industry research in the fields of your choice, subscribe to monthly Industry Update Emails from MarketResearch.com. Use this link or the button below to sign up for free.

---
About the Author: Sarah Schmidt is a Managing Editor at MarketResearch.com, a leading provider of global market intelligence products and service