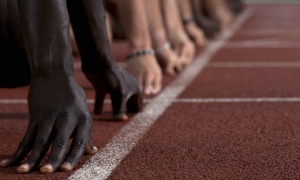 A quick downfall for many companies is competition. Even if your company or brand is offering an amazing product, if the competition does it better, than your product might die out. Knowing who your competitors are and understanding how you compare to them in the consumer's eye is a crucial part in creating a great marketing campaign.
A simple way to know what your competition is up to is by researching it. Different market research solutions can provide you with the information you need to know in order to stand out, be different, and be better. Understanding both your direct and indirect competition will determine whether your business model can remain, or claim, the top spot in your market or if it must be altered to do so.
Here are four ways that market research can help you size up your competition:
1. Assess the market to identify both key players and those on the rise.
When thinking about your current and potential competition, a quick way to answer the basic questions is refer back to Michael Porter's 5 Forces, a concept that is discussed in almost all marketing business classes. Think about:
Threat of new entrants
Threat of substitute products or services
Bargaining power of customers
Bargaining power of suppliers
Competitive rivalry
These considerations take a look into the market and the entire competitive landscape that is out there. By considering both key players and other potential threats, you will be better prepared to compete long term.
2. Focus on your key competition's strengths AND weaknesses.
Your competition isn't just a problem, they are a resource, too. Understanding your competition's ups and downs can help you better determine what your company can do to be successful. Different syndicated reports and analysis identify key leaders in industries and provide in-depth assessments on companies' different business strategies. Custom research projects can also be an effective way to examine SWOT analyses for your competitors.
Create a grid with the key benefits customers receive from your product or service along the top, and then make a list of direct and indirect customers along the side. Fill in which competitors offer which benefits. This is a simple task that can tell you directly what your competitors are offering that you aren't, and vise versa.
3. Analyze any failures by your competition.
There have been many companies who have either had to completely pivot their business strategies or have failed all together. It's important to be able to study business failures so you are better equipped to avoid them. Determine what factors led to a problem arising for a company and their decisions that ultimately did not solve the issue. Ultimately, knowing what caused businesses to fall can help you avoid the same mistakes.
4. Use your target market to your advantage.
If you are at this point in your business, you should have a clear definition of who your target audience is. And, their opinions matter. You can begin by doing simple research such as checking social media to see what is being said about your competition. Next, you can reach out to employees that are in contact with your customers, such as sales representatives. Find out if they have discussed competitors with clients, for example, if a sales rep hears a customer talk about your competition offering different promotions. And lastly, you can even reach out to your customers through surveys. Getting feedback from them directly can help you determine whether or not your company is appearing better or worse than the competition.
No matter what information you are looking for, market research will ultimately guide you to the data you need to make your business successful. MarketResearch.com's newly upgraded research solution, Profound, can help you find the information you need to better understand your competitors and your market's competitive landscape. This cost effective solution gives users access to individual sections, chapters, tables or charts from syndicated reports without having to purchase the entire report, making it easier to acquire the bits and pieces of data you need of a variety of competitors for an affordable cost.
To learn more about how Profound can help you, visit our website and sign up for a free trial.
Thanks for reading!
Caitlin Stewart
Marketing Associate
MarketResearch.com