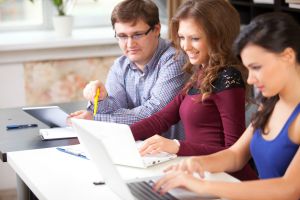 "Experiential education is all the rage," observes Steven Mintz, executive director of the Institute for Transformational Learning, in a recent article for Inside Higher Ed. From internships to study abroad programs to service-learning projects, universities are offering a wide variety of hands-on learning opportunities for students.
The experiential education trend is partly driven by demand from employers. According to the Association of American Colleges and Universities, 79 percent of employers would like colleges to place more emphasis on internships and field experiences in order to help teach students critical thinking skills. Currently, more than half of all college seniors have engaged in experiential learning activities such as a practicum or internship.
Through experiential learning, students have a chance to use the tools of the trade and pick up in-demand skills. Market research is frequently integrated into experiential learning programs, particularly for students studying business, communications, or marketing. Here's a look at the ways universities are helping students to learn market research fundamentals through a range of hands-on projects.
Applying Business Intelligence to Real-World Challenges
At the Carlson Brand Enterprise at the University of Minnesota, undergraduate and MBA students develop data-driven solutions for real clients such as Delta, United Healthcare, DreamWorks, and Land O'Lakes.
"Small teams of students consult with companies 15-20 hours a week," explains Dave Hopkins, managing director of the Carlson School of Management. "This isn't a fake classroom exercise. With faculty guidance, students apply market research best practices to solve real business challenges. At the end of the 14-week session, students present their strategic recommendations to the management team."
In the past, students have developed pricing strategies for a major power-sports company. They also researched how to revive a nostalgic brand called Felix the Cat for DreamWorks. They analyzed the consumer demand behind the cartoon's popularity in Asia to determine how to best promote it in the U.S.
"Through these projects, students have the chance to perform much higher level work than most entry-level professionals do on a day-to-day basis," Hopkins says. "They also walk away with networking contacts and memorable stories that help them stand out in job interviews."
Developing Marketing and Communications Plans
Hands-on learning also plays an integral role at Husson University, which was ranked by U.S. News & World Report as one of the top 10 colleges in the country with the highest percentage of students who participate in internships.
"As part of experiential education, our students create communications plans for area nonprofits. Surveys or focus groups will be conducted to get an idea of the public's perception of the organization, what their target audience thinks of them, or how well their service is being utilized," says Nancy Roberts, the director of the marketing communications program at the New England School of Communications at Husson University.
During a capstone course, students also have the chance to participate in a national competition to develop a marketing campaign for a product. In the process, students use market research to gain an understanding of consumer demographics and customer satisfaction levels.
Last spring, students worked on a competition to revamp DIRECTV's customer referral program. "Market research identified that current customers don't refer their friends because they don't want to feel like salespeople," Roberts says. "The students suggested an app that would make a referral easy and less awkward."
Uncovering these golden insights is what market research is all about. Digging into complex questions and developing data-driven strategies is a powerful lesson for students.
Identifying Market Research Solutions
Although experiential learning is a more recent trend in higher education, the perceived educational value of market research is nothing new. For more than 12 years, MarketResearch.com has been partnering with colleges and universities to give students access to the same market research used by professionals in the field.
"MarketResearch.com was the first business intelligence provider to enter the academic sphere and offer market research subscriptions designed specifically for universities," says Lisa Raker, senior account manager for MarketResearch.com Academic. "We now work with more than 100 major universities."
By searching MarketResearch.com's comprehensive database, students can gain market intelligence on consumer demographics, market size, industry forces, product trends, and more. Whether students are writing papers or participating in experiential learning activities, they can use these market research reports to meet a variety of challenges.
To learn about the Academic solution, visit our website.