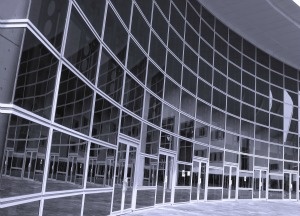 Design trends in nonresidential buildings are increasingly making energy efficiency and environmental friendliness a priority. In few markets is this more evident than in the commercial window and door market.
How is the commercial market different from the residential market?
The residential market is more directly impacted by energy standards, such as those of the ENERGY STAR program. These are regularly updated and often come with federal tax breaks for homeowners. Additionally, homeowners immediately benefit from the energy bill savings and more comfortable indoor environments associated with efficient windows and doors.
In the commercial market for windows and doors, adaption of energy efficient products has been slower — building owners typically pay for window and door replacements or upgrades, while building tenants reap the benefits of lower energy costs. However, environmental friendliness is becoming a greater priority, and products available for the commercial market come with a wide variety of technologies and certification programs.
How does the commercial window and door market go green?
Installing curtainwall can make buildings attractive and energy efficient. Glass building fronts with well-sealed panes and frames allow natural light to penetrate buildings, reducing the need for indoor lighting and creating a sense of the outdoors.
Tinting glass products, such as the electrochromic SageGlass and the thermochromic RavenWindow allow daylight to come in while reducing glare and solar heat gain.
Energy efficient and low cost plastic windows and doors have become increasingly available in stronger, more durable designs that can be used in many light commercial settings.
Why do commercial building owners choose energy efficient products?
Commercial building owners and tenants increasingly want to be perceived as environmentally friendly companies. Energy conservation is important, particularly when it can also save costs. Energy efficient window and door products can pay for themselves in utility bill savings. Additionally, the number of commercial buildings that boast LEED (Leadership in Energy and Environmental Design) qualification, a well-known standard for environmentally friendly buildings, or meet the standards of other green building programs is on the rise.
The United States Green Building Council's (USGBC) recently developed LEED v4 rating system will become the only set of standards used by LEED in November 2016. The new standards revised existing LEED standards and expanded ways for buildings to earn credit toward green practices. In the window and door market, the new standards allow for a wide variety of products to be used to qualify for LEED points in various categories.
For example, windows and doors can earn points toward LEED certification via the Energy and Atmosphere category by being well-insulated, limiting the energy consumption of a structure. Additionally, windows and skylights that provide daylight — reducing the need for artificial lighting — can help earn Indoor Environmental Quality LEED points. Window and door products can also earn points under LEED v4 by being manufactured close to the construction site and by offering a sustainable product lifecycle.
Find out more
If you need in-depth data and analysis to make informed, analytically driven business decisions about this market, be sure to check out Freedonia's industry study Commercial Windows & Doors, which provides comprehensive coverage and deep expertise in one convenient package. The study includes the following:
Historical demand data and forecasts

Key market environment factors

Industry structure and company market share

Profiles of top industry players
---
About the Author: Mariel Behnke is an Industry Analyst at The Freedonia Group. She writes off-the-shelf market research studies on various industries in the construction segment.