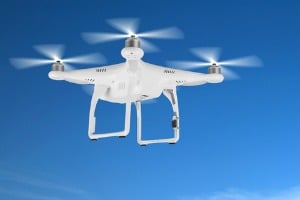 Baseball managers have long kept tabs on their star players to make sure they stayed ready and rested for the big series.
Back in 1892, for example, when the Cleveland Spiders played the Boston Beaneaters in what was then called the World's Championship Series, their star pitcher was Cy Young. Young was generally clean living, but he would occasionally get up early to go hunting for wild turkey in nearby woods, a potentially troublesome activity his manager had to watch out for.
Unsanctioned hunting is less of an issue in the Major Leagues now. Today, however, a manager has to make sure his starters don't injure themselves by fiddling with a drone.
An Unkind Cut
That's unfortunately what happened to Cleveland Indians pitcher, Trevor Bauer, who was scratched from his start in Game 2 of the American League Championship Series after a spinning prop on a homemade drone cut his hand.
The injury to his right pinky required ten stitches to repair. Bauer started Game 3 but left in the first inning when his wound opened and he began to bleed profusely. Bauer expects to be ready to go when the Indians face off against the Cubs in the World Series.
Safety First
The safety of drone operation is a key concern of the Federal Aviation Administration. However, its regulatory efforts have thus far focused on ensuring the safety of other aircraft and bystanders, not the safety of the drone operator.
Understandably, the FAA rarely permits small consumer or commercial drones to be operated near airports or public gathering places such as ballparks. Back in March 2014, for example, the agency issued a cease-and-desist letter to the Washington Nationals for using a small drone to take publicity photos at their Grapefruit League stadium in Viera, Florida without authorization.
Bauer also ran afoul of these rules in February, when he was banned from flying drones over the Indians' spring training facility, which is located next to Phoenix-Goodyear Airport, by MLB Security.
A Market Expected to Hit a Home Run
Both recreational and commercial demand for drones is projected to increase considerably over the next several years, and FAA rules regulating their use may either help or hurt overall market growth.
According to The Freedonia Group study, Drones (UAVs), the FAA has to walk a narrow path that keeps the public safe but also allows consumers to use drones for personal enjoyment and commercial operators to use drones to conduct business in new, more cost-effective ways.
Bauer developed an interest in unmanned aircraft after watching a video of drones racing through the forest, a clip that reminded him of the speeder bike chase scene in Return of the Jedi. Racing drones are expected to post strong market advances through 2020, according to the Freedonia study. Sales of first-person view and racing drones will more than double between 2015 and 2020, representing the largest dollar gains of any non-military market outside of photography.
Drones capable of being used for fishing are also available, and a number of firms are developing delivery drones that will one day eliminate the need to make a beer run when stocks run low. However, no one has yet designed a drone that can be used to hunt wild turkey, a product that Cy Young might be interested in, if he were still pitching for Cleveland today.
The Freedonia Group study, Drones (UAVs), provides detailed information on the US drone market. In addition to presenting historical demand data and forecasts, the study analyzes market environment factors, industry structure, and company market share. Among the drone manufacturers profiled in the study are SZ DJI Technology, General Atomics, Parrot, and AeroVironment.
---
About the Author: Ken Long is the Manager of the Capital Goods unit at The Freedonia Group. This department produces industry studies on machinery equipment for the agricultural, mining, and construction markets, among other areas.