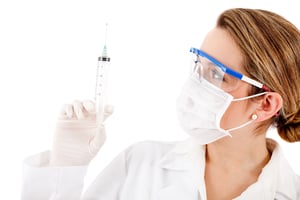 For the pharmaceutical industry and the broader scientific community, creating and producing effective COVID-19 vaccines has been a challenge and opportunity of a lifetime — a chance to help save humanity from an urgent global crisis.
But from a commercial standpoint, just how vast is the market for COVID vaccines? New research from Kelly Scientific, a leading market research firm specializing in pharmaceutical, biotechnology, and medical diagnostics industries, sheds light on the revenue potential of these critical technologies.
The COVID vaccine market size is expected to reach $59 billion in 2021, according to Kelly Scientific's recent report SARS-CoV-2 COVID Vaccine Market Analysis & Forecast to 2026.
"From having zero vaccines available and knowing little about SARS-CoV-2 at the start of 2020, to having a handful of vaccines authorized for use at the start of 2021, the COVID market literally has broken every pharma and global trend," the report states.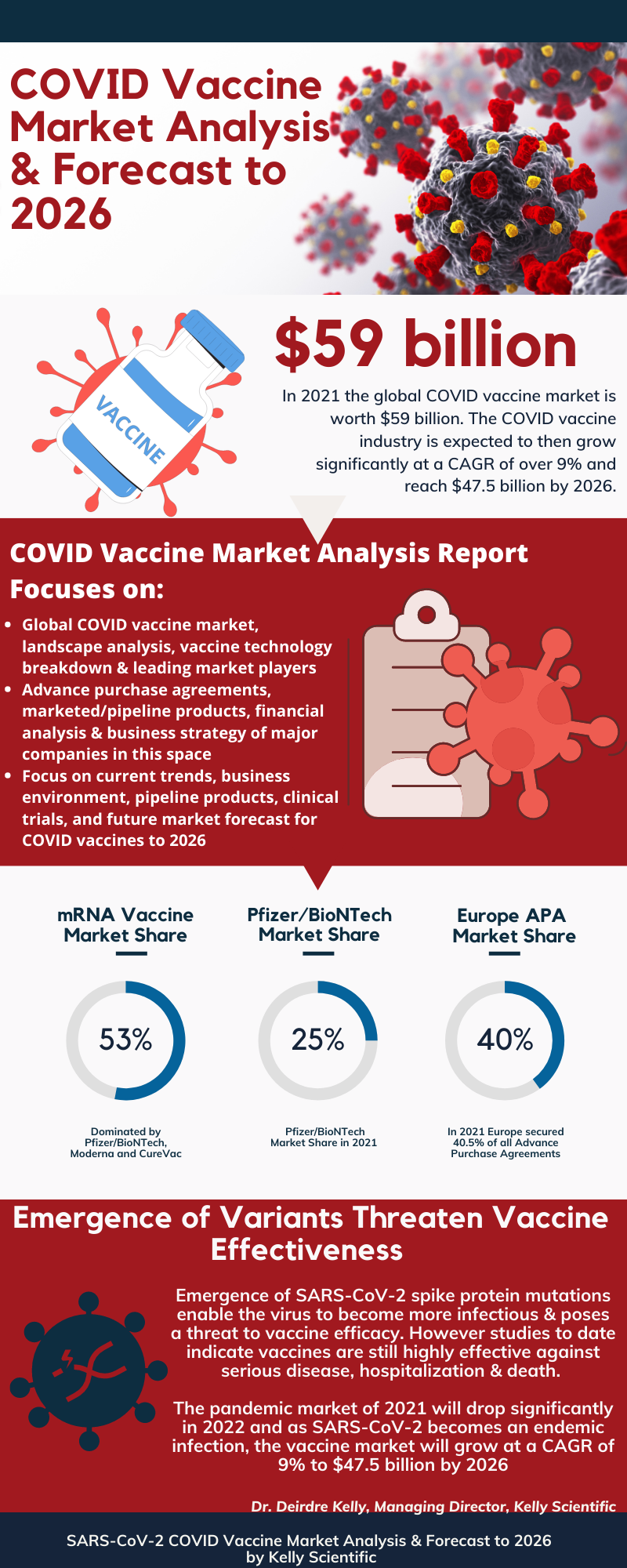 The following includes additional insights into the COVID vaccine industry and its evolution, based on the report's rigorous analysis:
COVID vaccine industry forecast: The year 2021 is expected to see a revenue peak because it aligns with the pandemic phase of the infection. Kelly Scientific forecasts an initial decline in 2022 due in part to the use of single booster shots as opposed to two shot vaccines and lowered vaccine prices. However, from 2022 to 2026 as the market opens and shifts away from a government-dominated space, the COVID vaccine industry is projected to increase significantly at a compound annual growth rate of more than 9% to hit $47.5 billion by 2026.


COVID vaccines in the pipeline: There are currently 94 Phase III clinical trials for SARS-CoV-2 vaccines registered across the globe. Pfizer/BioNTech, Moderna, AstraZeneca, Gamelaya, Johnson & Johnson, Novavax, Sinovac, and Curevac have developed the main vaccines in the pipeline.


COVID vaccine market share estimates: Kelly Scientific predicts Pfizer/BioNTech, Moderna, and Novavax will generate the most revenue in 2021, followed by Gamaleya, CureVac, Johnson & Johnson, and AstraZeneca.


Regional COVID vaccine market analysis: The European Union has committed $24.19 billion of advance purchase agreements and investment to pharmaceutical companies for the development and production of COVID vaccines for 2021. The United States has provided $10.7 billion, followed by Japan with $7.64 billion, and the UK with $2.88 billion.


COVID vaccine technology: Currently, mRNA vaccine technology leads the market, and Kelly Scientific expects this trend to continue, as the mRNA vaccines are very adaptable and efficient.
Learn More About the COVID Vaccine Market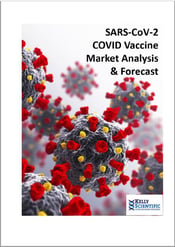 For more in-depth information, see Kelly Scientific's 137-page report SARS-CoV-2 COVID Vaccine Market Analysis & Forecast to 2026, which provides a comprehensive overview of the size of the SARS-CoV-2 COVID vaccine market, segmentation of the industry (by geography and vaccine technology), key players, and the vast potential of vaccines that are in clinical trials.
Using the link above, please visit the report page on MarketResearch.com, where you can download a free sample or purchase the report in full.
---
Additional Articles