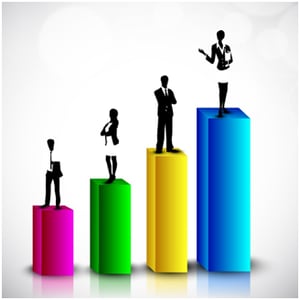 Driven by a dramatic increase in the global internet penetration, online surveys are becoming a popular method for collecting primary research. Delivering faster responses and higher response rates at substantially lower costs, online surveys streamline the methodology of collecting survey data versus traditional telephone and print surveys.
There are two types of collected data—quantitative and qualitative. Qualitative research is more exploratory or opinion-based and requires fewer respondents. Interviews and focus groups are ideal for collecting this type of data. Quantitative research, or numerical data, requires more structured questions and typically a higher number of respondents to develop a statistically significant sample. Surveys are a great methodology for developing quantitative data.
Benefits and challenges of online surveys
The benefits of online surveys include:
Convenience – Surveys can be conducted at any time of day, so respondents can complete at their leisure.
Automatic Reporting – Results are submitted immediately and allow for real-time reporting of results.
Quicker Results – Results and analysis can be delivered in a shorter time frame by eliminating recruiting time for telephone surveys and mailings of print surveys.
Reduction of Bias – Respondents can express their thoughts anonymously and it eliminates the interviewer's bias.
Lower Costs – Online surveys can be completed for substantially lower costs due to the simplification of the recruiting process and the elimination of postal costs.
Higher Response Rates – A high number of respondents can be surveyed in a shorter amount of time.
Use of Visual Materials – Web-based surveys offer the use of visual aid materials, such as pictures, sounds, video, etc.
The challenge with online surveying is finding an adequate email list of target respondents and convincing them to complete the survey. This is where online panels come into play. Market research panels are comprised of pre-recruited individuals that meet specific demographic criterion. Instead of calling and recruiting respondents, pre-screened panelists can be contacted by email or telephone if need be. These individuals have expressed interest and willingness to participate in a survey, and typically, are offered a monetary incentive in return for their participation in a survey.
Online panel surveys in the B2B space
Most panels that have been developed have been B2C focused since the most common usage of panels is for consumer market research. However, there is an evolution of B2B panels moving toward specialized online B2B panel companies that focus on developing the B2B solution.
Companies can recruit their own panels, and, in some instances, there might be an advantage to owning a proprietary panel. However, it is difficult to build and sustain a successful B2B panel. The drawbacks include restrictions on scope and demographics as well as limitations on how the panels can be used. On the other hand, there are specialized online panel companies that recruit and maintain a database of panelists. Their large databases allow for multiple demographics, locations, and areas of expertise to be selected. This flexibility allows a panel to be built that closely matches the narrow targeted respondent groups often needed for B2B research, and different panels can be selected based on a company's evolving research needs.
B2B research panels are geared toward the business environment with specialized panels created for specific markets. Some firms have more targeted panels available on a regular basis. Other firms generate specialized B2B panels by taking a sampling of panelists as needed to determine the feasibility of creating a targeted panel.
Four B2B panel considerations
Things to consider when choosing or creating a B2B panel:
1. Because B2B surveys have narrow respondent targets, B2B respondents are more challenging to recruit compared to B2C respondents, and it is advised to rely on a more experienced firm for recruitment.
2. Response rates for B2B panels have been historically low, so 3-4 times more respondents may need to be recruited to compensate for these low incidence rates.
3. A monetary incentive may not be enough to entice a B2B respondent, so information-based incentives (e.g. a summary of survey results) might be used to engage the respondents' interest.
4. Survey design needs to be brief and to the point while following a logical flow. The most prevalent deterrent for responses is a poorly designed survey.
B2B panels streamline the recruitment of narrowly defined respondent groups, since the panelists are pre-recruited and pre-screened based on their demographics, job titles, and expertise. Panels allow fast access to pertinent contacts and fast delivery of results for analysis. Because of the predetermined expertise of the respondent, higher quality responses are collected from the process, and you do not have to do any of the recruiting in-house.
Conclusion
To conclude, B2B panel surveys are a great tool used in understanding attitudes of the market, addressing technology-related objectives, creating pricing or conjoint exercises, and other topics that require quantitative, primary data collection. Participants are categorized based on various attributes such as job title or function, job role, decision making capability, knowledge and experience, etc., and as a result, panel companies can segment their recruits according to customized market needs through a sampling of their current database.
For more information on determining how to successfully navigate the market research process, download our free eBook. If you have questions about our custom research, find out more about our services.
Editor's Note:
This post was written by Priority Metrics Group (PMG), a MarketResearch.com partner in custom research.
About PMG:
Priority Metrics Group (PMG) is a professional marketing consulting firm based in Spartanburg, South Carolina. PMG provides customized research, analysis, and consultation services designed to generate profitable growth for clients. They work with leading organizations in a variety of manufacturing and service industries. They are experts at gathering and processing market information, analyzing data, and translating information into actionable growth initiatives.