The last discussion we featured on Custom Research covered the structure and timing aspects of a custom research project. This post looks more closely at the components of project structure, specifically research methodologies and techniques.
Any custom research project will have as the main deliverable the data analysis and recommendations based on the data acquired during the project. How that data is acquired (typically through a combination of secondary and primary research) is critical and very important in terms of project validity. Through the combined research approach, the project, most often, will be designed to acquire both qualitative and quantitative information.
Triangulation Research Technique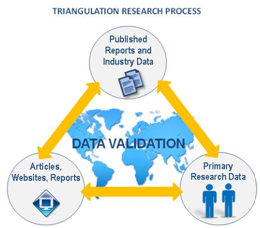 In custom research, a triangulation research technique or process is used to strengthen and validate data and research findings from various sources. Custom market research uses the process of triangulation to cross reference the same information through multiple source material to leverage the value of various information sources and achieve a higher level of confidence in final results. Triangulation properly employed will cross verify the same key information points from different perspectives, thus, yielding accurate and defensible data points.
A solid triangulation process will use data source triangulation as well as methodology triangulation. In other words, the project will use a variety of data sources for the secondary and primary research combined with different methods of information gathering – interviews, surveys, focus groups, published information scans, etc. And, combining data collection methodologies not only allows triangulation to validate research, but it also captures different dimensions of the same market.
Secondary research provides the base or foundation for a custom project, and primary research can be structured to provide pieces of information or explanations that prove valuable in understanding market dynamics. The triangulation of collected data through primary and secondary data collection methods can strengthen the results of the project through the following benefits:
A more comprehensive understanding of the market can be developed by combining primary and secondary research to explain different market aspects.
Using multiple sources can expand on the same data point, giving a more comprehensive understanding of the market.
Combing and analyzing data from multiple sources on the same topic can reduce bias from using a single source.
Inconsistencies can be identified and minimized when multiple sources confirm the same findings.
Data points can be validated, elevating the confidence in source materials and ultimately the final results.
Secondary Research
Secondary research techniques are fairly direct – search of relevant web sites, case studies, analyst reports, articles, published syndicated reports, government statistics, census data (industrial and consumer), etc. While a general but detailed web search can be very comprehensive, advances in technology, search tools and new software have resulted in more highly efficient results. For example, native language search capabilities have resulted in more comprehensive information to be available. New tools designed to aggregate information from social media sites can be very productive – e.g. a scan of LinkedIn to identify possible contacts for interviews can effectively deliver individuals with very relevant industry and functional experience.
Primary Research
The primary research project component is typically divided into qualitative and quantitative research with each having a different function as follows:
Qualitative – Usually observational techniques dealing with exploratory information regarding product/service concepts and involving a smaller number of respondents. Deliverables are generally directional in nature and are not considered statistically relevant.
Quantitative – Structured questions with value-directed answers. Often used to evaluate attitudes or behaviors, size and importance of market segments or other measurable market-related attributes, and normally used to develop numerical analysis and conclusions. Most often a larger sample base will be used determined by the level of statistical relevance required.
The nature, scope and specific objectives of the custom project will determine the mix of qualitative and quantitative research. Typical primary research techniques and methods are as follows:
Interviews – Normally face-to-face (F2F) or by telephone. While utilizing a set discussion guide, this technique allows the respondent more latitude to respond, and the interviewer can effectively manage the interview to gain the maximum amount and quality of information. F2F interviews, while very effective, tend to be more costly; however, telephone interviews are a strong second choice, especially if conducted by a skilled analyst.
Surveys – Can be designed for mail, computer-aided telephone interviews (CATI), web based or panel implementation. Most surveys tend to be quantitative in nature and can be structured for effective information gathering and database creation. Qualitative questions can be included but tend to be more closed ended. Typically lower cost than interviews, a survey can be designed for a larger target response and can be implemented in a shorter time frame.
Focus groups – An effective qualitative technique involving a limited number of participants (8-10) guided by a moderator and designed to explore perceptions, attitudes, and application issues relating to a specific product or service. The moderator will guide the respondents during the session and, while there is an air of spontaneity, the moderator will focus on very specific objectives. This technique is very effective in market introduction, new product/service development, product modifications and similar situations. If you need to find out how potential customers feel about a specific issue, this is a very effective technique. While most focus groups are F2F, more are being conducted online and this trend will grow.
Market Research Online Communities (MROC) – Growing in use and application in the B2B area but still somewhat limited. An MROC is a targeted group of people who are recruited into a private online venue to participate in research-related activities over an extended period of time. This type of respondent group can be effectively utilized when periodic updates, say quarterly, of a specific set of market-related questions are required as part of a tracking project.
Ethnographic research – While typically used in the domain of consumer research, ethnographic research observational techniques are more often being used in the B2B environment in combination with interviewing and field observation to observe the real world situations of buyers.
Analytical Techniques
Once all the data is collected and structured, a number of analytical techniques can be applied. All are not relevant to a given project, and these techniques are normally applied to the quantitative data.
Derived importance
Regression analysis
Attribute mapping
Conjoint analysis
Gap analysis
Other multivariate analysis
For more information on determining how to successfully navigate the market research process, download our free eBook. If you have questions about our custom research, find out more about our services.
Editor's Note:
This post was written by Priority Metrics Group (PMG), a MarketResearch.com partner in custom research.
About PMG:
Priority Metrics Group (PMG) is a professional marketing consulting firm based in Spartanburg, South Carolina. PMG provides customized research, analysis, and consultation services designed to generate profitable growth for clients. They work with leading organizations in a variety of manufacturing and service industries. They are experts at gathering and processing market information, analyzing data, and translating information into actionable growth initiatives.